Hurricane Florence From Above: Aerial Photos Reveal Scale of Carolinas' Flooding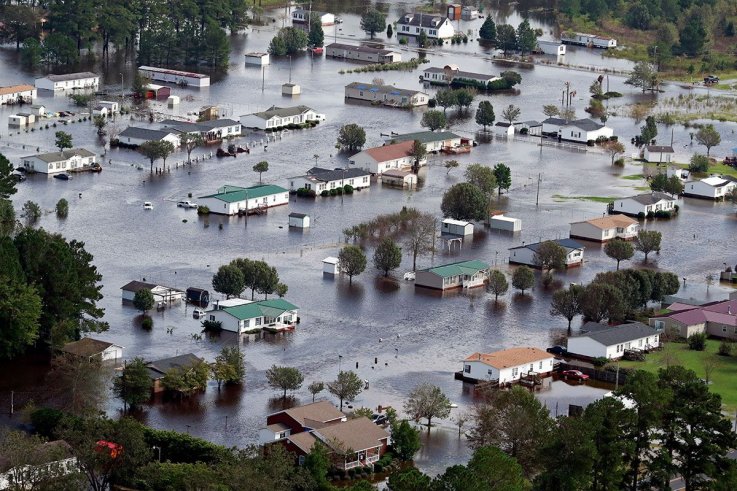 Rescue teams have been trying to reach hundreds of stranded people and racing against rising rivers and floods that could last for days after Florence dumped record rain on the Carolinas and killed at least 31 people.
As the remnants of Florence moves into the U.S. northeast, residents of the Carolinas are confronting its after effects, including power outages, impassable roads, and sewage spilling into flooded areas.
With 1,500 roads closed across North Carolina, fire and rescue crews have been waiting to go into many areas to assist with structural damage. Flooded roads have also prevented some North Carolina farmers from accessing their fields and livestock to assess damage, said Andrea Ashby, spokeswoman for the North Carolina Department of Agriculture and Consumer Services.
A North Carolina environmental group focused on clean water has expressed concern over flooding from Florence after flying over the eastern part of the state to assess the damage.
Larry Baldwin of the Waterkeeper Alliance flew over eastern North Carolina to gauge the damage to hog and poultry farms. He said he saw several facilities "already in serious trouble", but added that the situation will only worsen in the coming days as the floodwaters travel downstream.
North Carolina is a top producer of poultry, hogs and tobacco. Two North Carolina hog waste pits suffered structural damage, four were inundated with water and seven had discharges, according to the North Carolina Department of Environmental Quality. When the manure pits overflow, they risk contaminating water supplies with bacteria like salmonella and e. coli.
North Carolina Governor Roy Cooper said 2,600 people were rescued in North Carolina, along with 300 animals, and that the rescues were continuing. About 14,000 people are in shelters, officials said.
Over 450,000 homes and businesses in North and South Carolina were still without power on Monday evening, down from a peak of nearly 1 million outages.
Major rivers are expected to remain flooded for the next two to three weeks as rainwater drains into already engorged rivers across the state, said Steve Goldstein of the National Oceanic and Atmospheric Administration.
Property damage from the storm is expected to total at least $17 billion to $22 billion, but that forecast could be conservative depending on further flooding, risk management firm Moody's Analytics said.
— Reuters.