Hurricane Florence Damage So Far: Topsail Beach, New Bern, Morehead City, Atlantic Beach
Hurricane Florence made landfall as a Category 1 storm shortly before 8 a.m. EDT on Friday morning, bringing damaging winds and flooding to various areas of North Carolina.
Ahead of the storm, officials repeatedly warned residents of the severity of the impending hurricane, urging them to get out of its path and estimating that damages could reach upwards of $170 billion. Hurricane Florence is expected to stall over the area, bringing a torrent of rain. Even during the early hours of the storm, Florence's strength has already been seen wreaking havoc along the coast.
See the latest updates on Hurricane Florence's path, forecast and impacts.
Here's the latest damage the hurricane has caused, including at Topsail Beach, New Bern, Morehead City and Atlantic Beach.
Topsail Beach
Located on the southern coast of North Carolina, Topsail Beach began taking a beating from Hurricane Florence before the storm even made landfall. Videos from the area showed storm surges knocking down the wall of a home on the beach and immense winds causing the collapse of the pump overhang at a BP gas station.
In a video, the wind is seen forcing the overhang downwards before it collapses, ripping one pole out of the ground and detaching it from another. The clip ends when the wind pushes the overhang away from the pumps, seemingly coming to a rest against the side of a building.
WSOC reporter Mark Barber shared photos on Twitter of the damage including a billboard that had snapped and another gas station overhang that had been knocked over.
Ahead of the storm, Topsail Beach was under a mandatory evacuation order.
New Bern
Since the storm's arrival, over 150 people in New Bern, North Carolina, were trapped and are awaiting rescue. The riverfront city is located along the Neuse River, which overflowed on Thursday. The National Weather Service in Newport, North Carolina, called the storm surge "catastrophic" and the National Hurricane Center recorded over 10 feet of inundation.
A woman who was staying at the Courtyard Marriot sent a photo to WCTI that showed a boat run aground right outside the hotel.
"Woke up to see one of my favorite towns in [the] USA, New Bern, NC, beautiful and hospitable, getting pounded by Florence," former Arkansas Governor Mike Huckabee tweeted. "One of many places along coast needing our prayers and help."
Before 5:30 p.m. EDT on Thursday, Union Point Park in New Bern had been completely flooded with the water, covering previously visible benches completely and reaching the midway point on trees.
"In a matter of seconds, my house was flooded up to the waist, and now it is to the chest," resident Peggy Perry told CNN. "We are stuck in the attic."
A video of the area showed the roof blown off of a store and Twitter users calling for help wrote that cars were under water and homes were starting to flood.
Morehead City
Videos of Morehead City, North Carolina, located along the coast, showed debris floating in the water and a gas station completely demolished.
Other videos showed businesses that had suffered damage including blown-off roofs, smashed windows and practically total collapses. Trees had been uprooted and snapped in half by 8 a.m. EDT on Friday morning and Fox News correspondent Griff Jenkins said the wind and rain haven't stopped since it began.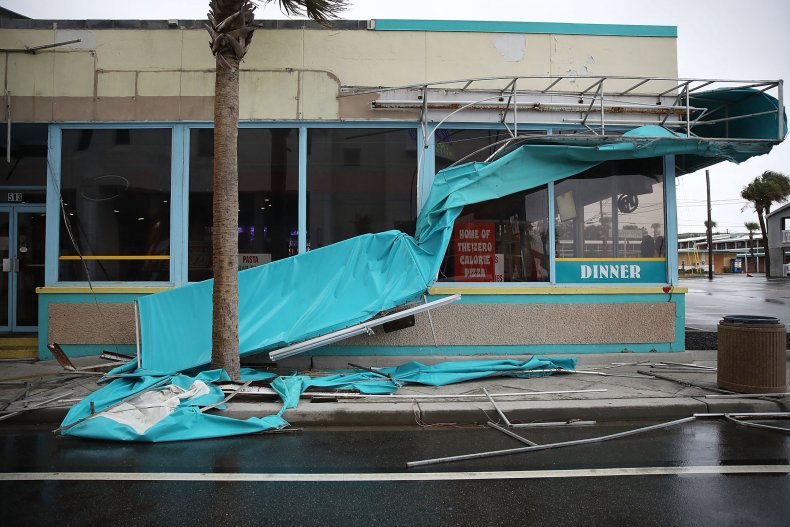 "One thing is for sure, Morehead City has taken a significant wind damage," Jenkins said. "It's gonna take a long time to clean this up."
The National Weather Service in Morehead City reported that the city received 13.81 inches of rain as of 10 a.m. EDT on Friday morning with heavy rain continuing to soak the area.
Atlantic Beach
By Friday morning, Weather.com reported that over 20 inches of rain had fallen on Atlantic Beach, North Carolina.
WRAL reporter Jeff Gravley posted a photo on Twitter of the Crows Nest Marina in Atlantic Beach, located on the North Carolina coast, which showed significant damage. Boats had been turned on their sides and the storage docks had collapsed in multiple areas.
Other photos showed homes with significant roof damage, debris strewn about on the ground. Gravley posted a photo of the Oceanana Pier with the explanation that it looked like the Barnacle Bar "didn't make it."
Hurricane Florence made landfall near Wrightsville Beach, North Carolina, bringing with it maximum winds of about 90 miles per hour and leaving about 300,000 people without power. The storm was expected to stall over the area for about 24 hours.