Hurricane Florence Death Toll: Storm Claims Lives in Carolinas
The first fatalities related to Hurricane Florence were reported on Friday, the same day the storm made landfall on the coast.
According to local media reports, a woman died in Pender County, North Carolina. Soon afterward, it was confirmed that two people—a mother and infant—died in Wilmington, North Carolina. It later surfaced that two others had died in Lenoir County, North Carolina.
Pender County, North Carolina
Pender County Emergency Management Director Tom Collins told WWAY that a woman had a heart attack Friday morning, but emergency crews could not get to her because of fallen trees. Local station WMAR reported the same.
Officials at Pender County Emergency Management did not immediately respond to Newsweek's request for comment.
Wilmington, North Carolina
Two people, a mother and an infant, died after a tree fell on a home in the area, authorities said.
The Wilmington Police Department tweeted: "[Wilmington Police Department] can confirm the first two fatalities of Hurricane #Florence in Wilmington. A mother and infant were killed when a tree fell on their house. The father was transported to [New Hanover Regional Medical Center] with injuries."
Previous updates from police described rescue efforts.
"A large tree fell on a home on Mercer Avenue around 9:30 this morning," Wilmington Police wrote in a statement. "Officials believe the incident involved a family of three... Rescue officials are on scene trying to remove the tree from off the home."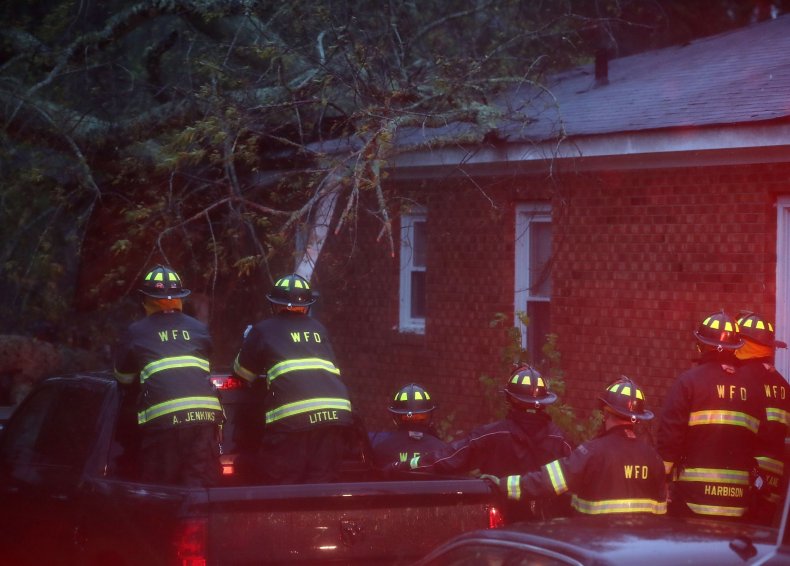 Neither the Wilmington Police Department nor the Wilmington Fire Department immediately responded to Newsweek's request for comment.
Lenoir County, North Carolina
A person died in Lenoir, North Carolina, on Friday while plugging in a generator, according to multiple reports.
"Our hearts go out to the families of those who died in this storm," North Carolina Governor Roy Cooper said, according the Washington Post. "Hurricane Florence is going to continue its violent grind across our state for days. Be extremely careful and stay alert."
Another person in Lenoir County, a 77-year-old man, was found dead on Friday, according to NBC News, which reported it was believed he was blown over by the wind when going to check on hunting dogs outside.
Florence made landfall over the Carolinas on Friday. Reported damage has been widespread and could continue to pile up over the coming days as the storm stalls and flooding continues. A number of towns across North Carolina were also struck by devastating storm surge as Florence made landfall.
"Life-threatening storm surges and hurricane-force wind gusts continue," the National Hurricane Center wrote in an alert published Friday. "Catastrophic freshwater flooding expected over portions of North and South Carolina."
This is a developing story and will be updated as more information becomes available.