Hurricane Florence Flood Map: Flood Zones, Watches, Warnings in South Carolina, North Carolina, Virginia
Hurricane Florence is less than 24 hours out from making landfall along the coast of the United States near the Carolinas. On Thursday morning, some areas of North Carolina's Outer Banks had begun to see rain and wind from Florence, some of the earliest weather signs of the approaching storm.
Florence was downgraded Thursday from Category 3 to Category 2 when its wind speeds slowed, but that didn't make it any less of a threat to those in its path. The storm was massive as it approached the U.S. and was predicted to bring record rainfall and flooding.
Those conditions would bring flooding to those along the coast as well as inland, which prompted evacuation orders for the area. The National Weather Service warned that Florence was expected to slow down over the next 24 hours and then start moving west late in the day on Friday into early Saturday, causing "torrential rainfall across sections of the southern Piedmont, Coastal Plain and Sandhills."
The alert from the National Weather Service Thursday morning said there was a significant threat of prolonged "torrential rainfall" and that rainfall could cause "life-threatening flooding," along with river and creek flooding.
Flash Flood Potential Map
A message from the National Hurricane Center Thursday morning said, "Life-threatening, catastrophic flash flooding and prolonged significant river flooding are likely over portions of the Carolinas and the southern and central Appalachians late this week into early next week, as Florence is expected to slow down as it approached the coast and moves inland."
The map of the flash flood potential for Florence showed the highest risk was in North and South Carolina. Virginia, along with Maryland and West Virginia, also showed some potential for flash floods.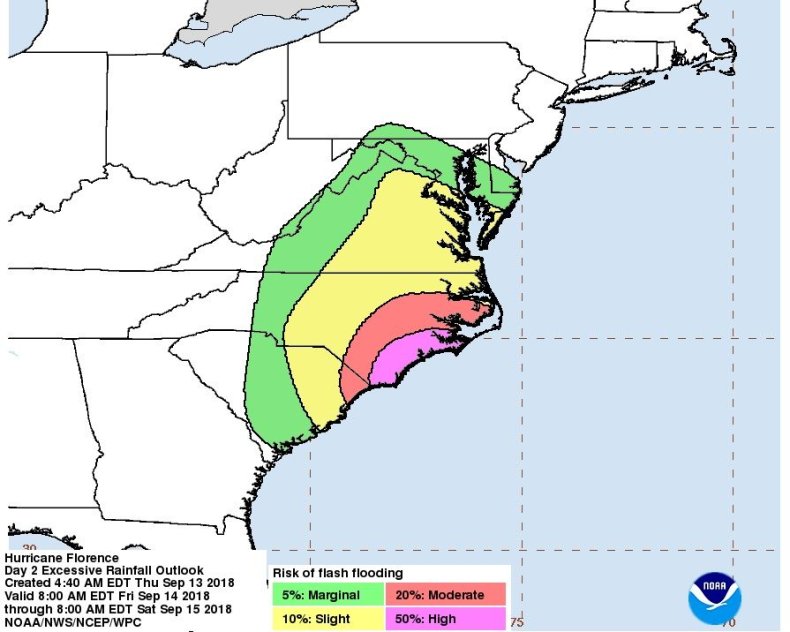 Flash Flood, Flood Watches Effective Thursday
The flash flood watch was expanded Thursday to include far more land than was previously included in Wednesday's forecast. Those warnings issued Wednesday were still in effect, in addition to new ones. Flood watches are issued when conditions indicate a potential for flash floods; they do not mean a flash flood will definitely occur. Weather Underground has compiled all of the flash flood warnings on its site.
North Carolina
Anson, Beaufort, Bladen, Carteret, Chatham, Columbus, Craven, Cumberland, Coastal Brunswick, Coastal New Hanover, Coastal Pender, Davidson, Duplin, Edgecombe, Franklin, Greene, Harnett, Hoke, Inland Brunswick, Inland New Hanover, Inland Pender, Johnston, Jones, Lee, Lenoir, Mainland Hyde, Martin, Montgomery, Moore, Nash, Onslow, Outer Banks Dare, Outer Banks Hyde, Pamlico, Pitt, Randolph, Richmond, Robeson, Sampson, Scotland, Stanly, Tyrrell, Wake, Washington, Wayne, Western Dare, Wilson.
South Carolina
Coastal Georgetown, Coastal Horry, Darlington, Dillon, Florence, Horry, Inland Georgetown, Marion, Marlboro, Williamsburg.
Coastal Flood and Flood Warnings Issued Thursday:
A flood warning poses a more imminent threat than a watch.
North Carolina
Pender, Duplin.
Virginia
Charles City, Chesapeake, Eastern Essex, Gloucester, Hampton/Poquoson, Isle of Wight, James City, Lancaster, Mathews, Middlesex, Newport News, Norfolk/Portsmouth, Northumberland, Prince George, Richmond, Suffolk, Surry, Westmoreland, York.
How to Check Whether You're in an Area at Risk of Flooding
North Carolina has a Flood Risk Information System that lets users select a county in the state or type in an address to see the flood risk for a specific area of the state. The database shows users the county, the flood zone, the flood source in the area, as well as the base flood elevation. This can be particularly helpful to those who evacuate but want to see what their home or business can withstand when the storm hits.
Those in South Carolina should use the Map Service Center from the Federal Emergency Management Agency. Users can also put in the FEMA ID or the jurisdiction to find the flood risk..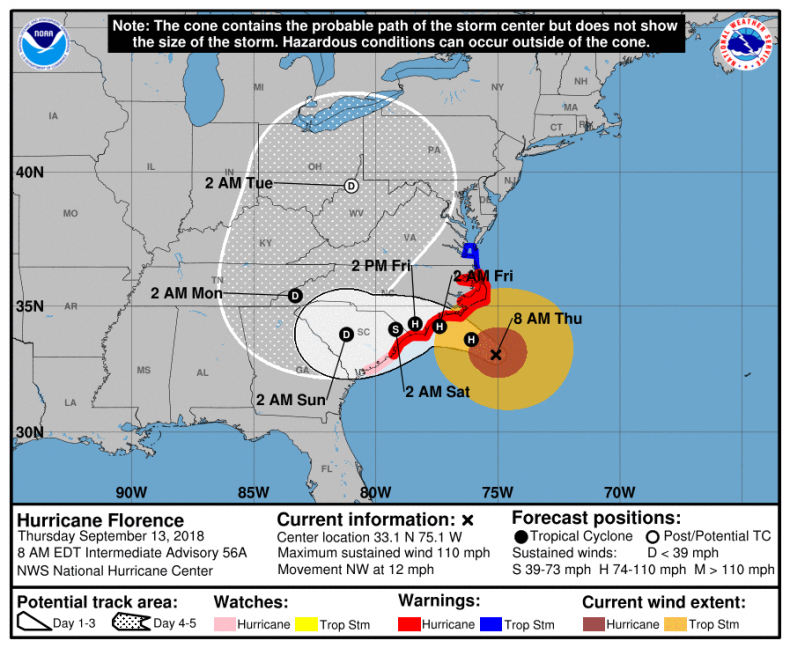 This is a developing story and will be updated as more information regarding flooding caused by Hurricane Florence becomes available.