Hurricane Florence Flooding Map: Latest Forecasts, Predictions for North Carolina, South Carolina
As parts of the Eastern United States brace for Hurricane Florence, those close to the coast might see the impacts of the storm first—but that doesn't mean that people inland shouldn't be concerned.
Florence is expected to affect both North and South Carolina, Virginia and possibly parts of Georgia.
The storm was expected to make its approach to the Carolinas Friday into Saturday with hurricane-speed winds, plus the threat of heavy and consistent rains.
In addition to hurricane watches, North and South Carolina both had flash flood watches ordered in some counties as of Wednesday afternoon, according to the National Weather Service.
Here are the latest flooding forecasts, predictions and maps as the Atlantic prepares for Florence's arrival.
Flash flood watches issued Wednesday
The following flash flood watches are issued from Thursday morning until Saturday afternoon local time in the Carolinas:
Southeast North Carolina
Bladen, Coastal Brunswick, Coastal New Hanover, Coastal Pender, Columbus, Inland Brunswick, Inland New Hanover, Inland Pender, and Robeson
Northeast South Carolina
Central Horry, Coastal Georgetown, Coastal Horr, Darlington, Dillon, Florence, Inland Georgetown, Marion, Marlboro, Northern Horry, and Williamsburg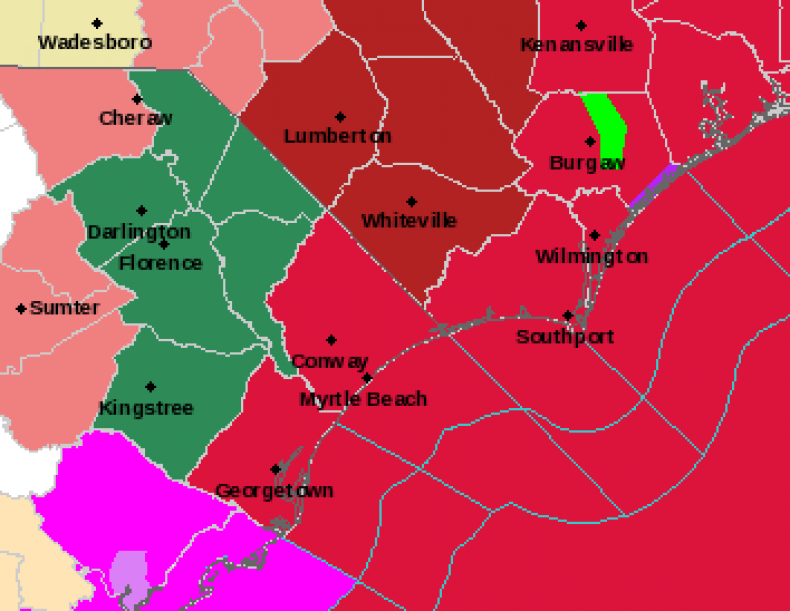 Some watches in North Carolina were changed Wednesday evening to also include tropical storm warnings on the map from the National Weather Service. The tropical storm warnings are indicated by deep red on the map while the flash flood watch is indicated with deep green.
A flash flood watch means that the conditions necessary for a flash flood to develop could happen, but not that a flash flood is definitely going to occur, according to the NWS. The warnings should be taken seriously, as should warnings about flooding in general.
The NWS warned that nobody should ever try and drive through a flooded roadway—the motto is "turn around don't drown"—as flooding is one of the biggest threats during a storm.
By Tuesday evening, the NWS was already warning people about the risks associated with the flooding Florence would bring. The threats are serious even for those living far from the coast due to the fact that Florence was expected to bring heavy rain lasting for hours and could cause "catastrophic" damage. That risk was greatest in South Carolina, North Carolina and Virginia, but is possible in other states as well.
In North Carolina, where 2012 legislation banned the use of climate data in the creation of state-wide policies like those used in protecting new construction against rising waters, some areas were expected to receive 20 to 30 inches of rainfall from the storm. As much as 40 inches of rain was expected in isolated areas across the state where the storm tracked directly, the NWS Weather Prediction Center warned. The flooding was also expected to last well after the storm made its initial landfall late this week and could stretch up to the southern and central Appalachians.
In South Carolina, there were five to 10 inches of rain expected in most areas, with 20 in isolated areas. The Mid-Atlantic and other areas of the Appalachians should expect to see anywhere from three to six inches of rain with isolated areas receiving a foot of rainwater. Though some smaller amounts of rain are expected in certain areas, there is still a flood risk due to the fact that water can build up, overflow and unexpectedly rise in some flood-prone areas.