Hurricane Florence Flooding Map: Watches, Warnings Issued for North and South Carolina, Virginia, Washington, D.C.
The hurricane that was threatening the Eastern coast of the United States for days made landfall Friday morning as a Category 1 storm. The eye of Hurricane Florence reached Wrightsville Beach, North Carolina—its first point of landfall—at about 7:40 EDT, according to the National Hurricane Center.
Through its formation, Florence reached several different categories on the Saffir-Simpson wind scale, which is used to classify storm strengths. But even though the hurricane was downgraded to a Category 1 by the time it made landfall, its threats—especially of flooding—were still severe.
Rain remains one of the major threats. The areas that could see the most rainfall are North and South Carolina, and parts of Georgia and Virginia. Through the weekend and into early next week, the rain could even reach Tennessee, Kentucky and possibly West Virginia as the storm travels inland, according to the National Hurricane Center's Friday forecast.
As the storm barreled down on the Carolinas Friday, the risk of flooding was already high. Warnings about possible flooding were issued days before Florence made landfall, as were evacuation orders in some areas.
Flood warnings, including flash floods and coastal floods, were issued for the states set to receive Florence's impact. The warnings meant that flooding was imminent or already occurring. Those in the areas that received flood warnings need to be aware of the risks and prepare to take the necessary precautions. For some, that could mean going to the highest point in their home, even if it's the attic.
Weather Underground has kept an updated list of all flood warnings. Here are the latest flood alerts from Hurricane Florence:
North Carolina
Beaufort, Craven, Jones, Lenoir, Pender, Duplin, Bladen, Eastern Currituck, Greene, Pitt, New, Hanover, Brunswick, Columbus, Carteret, Sampson, Onslow, Pamlico, Wilson, Wayne, Cumberland, Harnett, Robeson
South Carolina
Horry, Williamsburg, Marion, Dillon, Florence, Darlington
Virginia
Charles City, Chesapeake, Eastern Essex, Gloucester, Hampton/Poquoson, Isle of Wight, James City, Lancaster, Mathews, Middlesex, Newport News, Norfolk/Portsmouth, Northumberland, Prince George, Richmond, Suffolk, Surry, Westmoreland, York, Accomack, Northampton, Virginia Beach
Washington, D.C.
Flood watches expanded to larger areas in the states and regions listed. Be aware that a warning differs from a watch. A warning is far more imminent than a watch, which means only that the potential for flooding is there.
Tennessee residents were warned Friday of possible flooding where heavy rain was expected along rivers in the state, according to the NWS, but not watch or warning had been issued by 3 p.m. EDT. Right across the border with South Carolina though, there was a flash flood watch in effect.
The National Hurricane Center provided an updated map of flash flooding potential Friday morning that was updated after the storm made landfall. Large portions of North and South Carolina had the highest risks of flash flooding, while Virginia had a "slight" risk.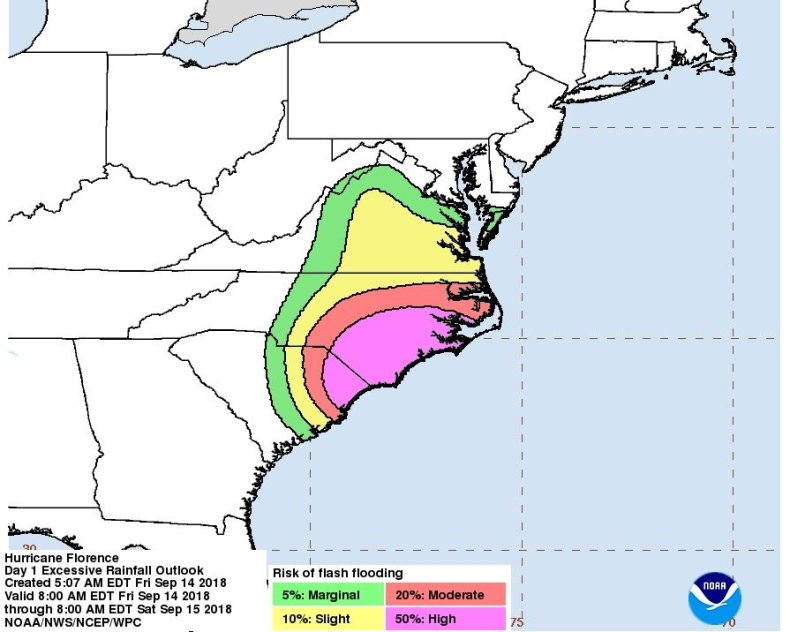 The National Weather Service and the National Hurricane Center will update the watches and warnings throughout the day as conditions change.
Areas along the coast saw the impacts of flooding and storm surges early on Friday. New Bern, North Carolina, along the Trent River, was hit incredibly hard by a storm surge that appeared meters high already.
The National Weather Service warned Friday that this type of flooding could continue for days before it subsided. "Very heavy rain in the coming days will bring a number of rivers into flood well inland," said a notice from the service.
The NWS warned Friday that where there were heavy rains there could be threats of landslides as well. In the western Carolinas, specifically areas prone to landslide, the NWS advised that those who live on a mountainside, or a cove at the base of a mountain should be prepared to evacuate ahead of the worst of the storm reaching them.
This is a developing story and will be updated as more information becomes available.