Hurricane Florence Flooding: Sandbags, Insurance, How to Protect Home
With Hurricane Florence's landfall looming, officials have been warning residents in the path of the storm to evacuate and batten down the hatches. Residents were urged to take precautions to try to minimize destruction to property and loss of life.
The storm's direction and force have changed over the past few days and on Wednesday afternoon it was downgraded to a Category 3. Officials from various agencies, however, cautioned residents to not take the warnings lightly.
"I want to impress the importance of our citizens to take action now," Jeffrey Byard, Federal Emergency Management Agency (FEMA) associate administrator for response and recovery, said during a press conference on Tuesday. "This is a dangerous storm. This storm will and has the potential to cause loss of life."
While hurricanes can be unpredictable and there's no way to prepare for every scenario, there are a series of preventive measures residents can take to better arm themselves against the storm.
Barricade the Windows
Wind speeds that accompany a hurricane can take down power lines, uproot trees and easily smash any glass on a home, so AccuWeather stressed the importance of reinforcing windows.
"This is one of the most important things you can do, considering a broken window would leave the rest of your home [exposed] to wind, rain and flying debris," Roman Zrazhevskiy, founder and chief executive officer of Ready To Go Survival, told AccuWeather.
If a home isn't built with storm shutters, plywood is a valuable alternative that can be nailed on the outside of the window to establish a barrier between the glass and the extreme wind.
Preventing Flooding
Hurricane Florence has been predicted to bring up to 40 inches of rain, and in an effort to help guard homes against flooding, sandbags should be placed around the entrance. No measure guarantees flooding won't occur—but the Army explained sandbag construction dates back centuries.
Sandbags measure about 14 inches wide and 24 inches long and if filled one-half to two-thirds full, they should be left untied. Before placing sandbags, any debris from the area should be removed. Bags should be placed lengthwise at vulnerable entrance areas and the open end of the bag should face upstream. Sandbag stacks should not be generally more than three layers high.
If sandbags aren't available, the Army recommended using straw bales, concrete Jersey Barriers or Ecology Blocks, or even plastic sheeting with sand placed along the fold.
"In emergencies, other materials such as silt, clay, gravel or a mixture of these may be used, but none work as well as sand," the Army stated.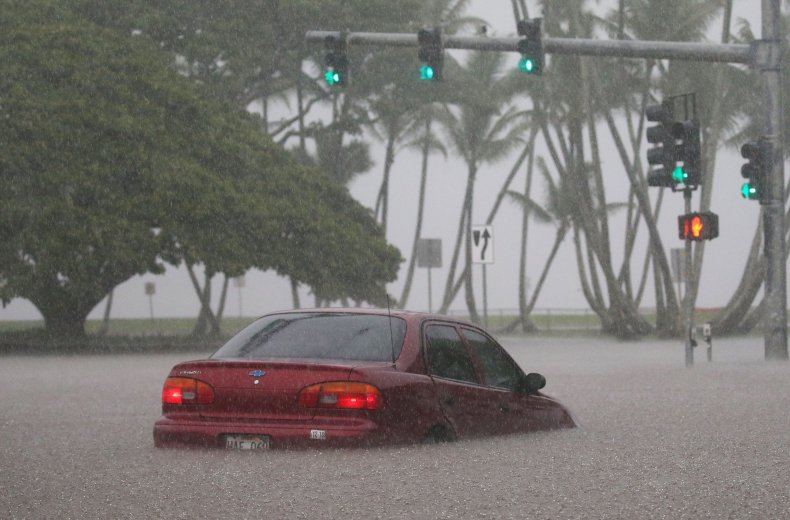 Insurance
In 1994, Congress passed the National Flood Insurance Reform Act, which lengthened the waiting period for a National Flood Insurance Policy to take effect to 30 days.
Unfortunately, for those facing the possibility of flooding because of Hurricane Florence without insurance, it's too late to get it, unless one of the following exceptions apply, according to Encharter Insurance:
If flood insurance is being purchased in connection with the making, increasing, extending or renewing of your loan.
If a building has been newly designated in the SFHA and flood insurance is being purchased within the 13-month period following a map revision.
If flood insurance is required as a result of a lender determining that a loan that does not have flood insurance coverage should be protected by flood insurance.
If an additional amount of insurance is selected as an option on the renewal bill.
If a property is affected by flooding on burned Federal land that is a result of, or is exacerbated by, post-wildfire conditions when the policy is purchased within 60 days of the fire containment date.
For those who do have a flood insurance policy, Greg Isaacs, the head of insurance at Blend, told Forbes it's beneficial for homeowners to take pictures and videos of damages to use as a frame of reference during the claims process. In the event of a pending flood, homeowners should gather all the paperwork related to their policies and make sure it's in a protective waterproof covering.
Preventing Electrocution
Drowning, carbon monoxide poisoning and hypothermia are all life-threatening dangers associated with flooding, but another threat is the possibility of being electrocuted inside your home.
Melanie Hart, senior underwriter for USAA, told AccuWeather that residents should unplug all household appliances and electronics and shut off the electricity to prevent an electrical surge and electrocution.
What to Do With Pets
While families can get in their cars and drive away during a mandatory evacuation, many are unsure what to do with their pets, as some shelters don't permit animals.
FEMA recommended that people searching for a place to go with their pet visit Go Pet Friendly, which provides a list of locations in the area that are pet friendly. Family pets aren't required to be allowed into shelters, but FEMA explained that the Americans With Disability Act requires hotels and shelters to accept service animals.
Ahead of the storm, the Cajun Navy told Newsweek it worked to relocate 19 animals from a shelter in South Carolina to Florida to ensure their safety.
Hurricane Florence is expected to approach the southeast on Thursday and possibly stall near the coast into the weekend, bringing days of heavy rainfall and storm surges that could reach 13 feet.