As Hurricane Florence gathered strength and churned toward the U.S. East Coast, the National Hurricane Center warned Monday that conditions could be life-threatening. Storm surges are expected on the coasts of North Carolina, South Carolina and Virginia, along with major flooding that could be fatal. Hurricane-force winds are also predicted in the Carolinas.
But how does Florence compare to recent hurricanes that hit the U.S.?
Hurricane Florence is currently a Category 4 hurricane, with winds of 115 miles per hour. The storm is about 1,240 miles from the coast of North Carolina and is expected to approach the East Coast on Thursday and make landfall as a Category 3 or 4 hurricane. Hurricanes Harvey and Maria, both Category 4 storms, caused a total of about $215 billion in damage.
The past five hurricanes to hit the U.S. have resulted in significant loss of life and caused over $276 billion in damage, according to reports from the National Oceanic and Atmospheric Administration.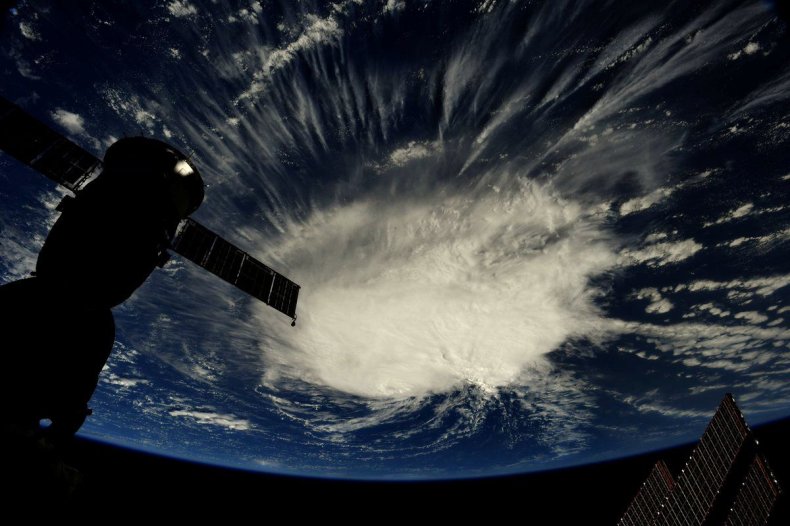 Hurricane Matthew
Matthew spun along the coast before making landfall in South Carolina as a Category 1 storm on October 8, 2016. Hurricane-force gusts and heavy rains struck both North and South Carolina. Forceful winds reached Florida and Georgia as well. More than 10 inches of rain poured down on coastal areas of the Carolinas and the Virginia Tidewater region. Surge inundation and flooding damaged more than 1 million structures, and the hurricane caused $10 billion in damage in the U.S. Matthew killed 585 people, with more than 500 of the deaths in Haiti, where it landed as a Category 4 hurricane on October 4. It caused 34 deaths in the U.S.
Hurricane Harvey
Harvey was the second-costliest hurricane in U.S. history, inflicting $125 billion in damage across the states. It slammed into Texas as a Category 4 storm on August 25, 2017. More than 60 inches of rain cascaded on southeastern Texas during the storm. Flooding damaged more than 300,000 buildings.
The powerful hurricane catalyzed 52 tornadoes, with many occurring near the Houston metro area. Harvey caused 68 deaths in Texas and an additional 35 indirect deaths from causes such as electrocution.
Hurricane Irma
Irma tracked near Puerto Rico on September 6, 2017, knocking out power for more than 1 million people. Electricity outages persisted for days. The rain brought flooding of between 10 and 15 inches, and 56,000 people were left without drinkable water.
Its second U.S. landfall occurred in Florida. Irma crossed the Florida Keys on September 10, 2017, as a Category 4 storm before losing strength and making landfall as a Category 3 hurricane on Florida's mainland the same day. The hurricane caused 25 tornadoes. Irma caused 47 direct deaths across the Caribbean islands and southeastern United States. In the U.S., the storm's effects led to an additional 82 deaths.
Wind and water from the storm caused $51 billion in damage in the U.S., making Irma the fifth most expensive hurricane in U.S. history.
In the graph below, Statista has visualised the comparitive effects of recent hurricanes.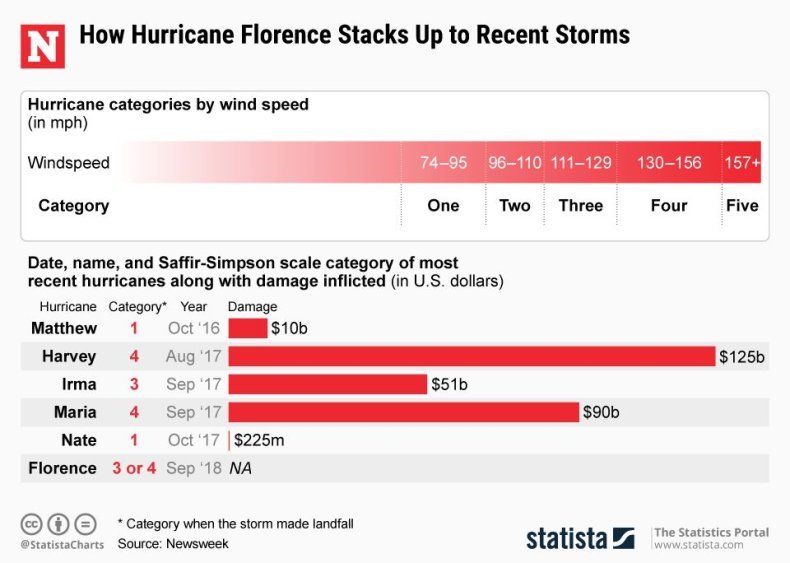 Hurricane Maria
Maria followed on the heels of Irma, making landfall in Puerto Rico on September 20, 2017. High winds and lashing rains ravaged the commonwealth, cutting power across the island. The death toll has been controversial, but recent study commissioned by the Puerto Rican government dramatically increased the estimated number of deaths caused by the storm and its effects on the island to 2,975.
The Category 4 hurricane damaged or destroyed more than 160,000 houses and left hundreds of thousands without electricity for months. Winds reaching 155 miles per hour ripped roofs from houses and led to collapsed power lines, while heavy rain led to 30-inch floods. The storm caused $90 billion in damage, making it the third costliest in U.S. history.
Hurricane Nate
Nate reached U.S. land at the mouth of the Mississippi River around midnight on October 7, 2017, as a Category 1 storm. Significantly weaker than other hurricanes that struck earlier in the season, Nate dropped between 3 and 7 inches of rain in the central Gulf Coast and southern Appalachian Mountains. The hurricane caused 16 tornadoes. The storm killed 44 people in Central America before reaching the U.S., but it did not cause any deaths in the States. Financial damage was significantly less than other recent hurricanes, with wind, storm surges, flooding and tornadoes wreaking $225 million in damage.
This article was updated to include an infographic.