How to Help During Hurricane Florence: Ways to Volunteer, Donate Money, Blood and More
With Hurricane Florence expected to make contact with the Carolinas Friday morning, leaving a path of destruction in its wake, many Americans are looking to help the thousands of people likely to be affected by the storm. Below are a number of ways to donate, volunteer and offer support.
Donate Money
North Carolina Disaster Relief Fund
The State of North Carolina recommended donating directly to this fund, run by the governor's office. They ask that donors send cash only, as food and clothing or other goods will not be processed.
Send checks to:
North Carolina Disaster Relief Fund
Office of the Governor
20312 Mail Service Center
Raleigh, N.C. 27699-0312
Or donate online.
American Red Cross
There are many simple ways to donate to the Red Cross Disaster Relief Fund, which last year raised more than $520 million in the wake of Hurricane Harvey. Text REDCROSS to 90999 to donate $10, which will be billed to your phone. You can also donate online here.
Habitat for Humanity
The housing organization will be on the ground working on long-term storm recovery efforts. You can donate here to help them renovate flooded homes and provide shelter for those whose homes were destroyed.
National Voluntary Organizations Active in Disaster
Founded in 1970, the National VOAD is an organization made up of over 100 local and national member groups that work together to assist communities affected by disasters. You can donate here.
The Salvation Army
The Salvation Army is already on the ground preparing to assist those in need after Florence.
To contribute to The Salvation Army's Hurricane Florence disaster relief efforts visit HelpSalvationArmy.org, call 1-800-SAL-ARMY, ask Amazon Alexa to, "make a donation to The Salvation Army," or text "STORM" to 51555.
World Hope International
The Virginia-based development and relief organization, World Hope International (WHI) is on the ground and accepting donations on their website: https://www.worldhope.org/hurricane-florence.
The organization has passed out 1,100 emergency hygiene kits, as well as high-quality tarps and generators. They have created two relief staging areas in North Carolina (High Point and Tabor City) to collect and distribute emergency supplies, food and water after the storm. They are also preparing to send a Fresh Water Response Team after the storm passes to deliver and set up water filtration systems on the ground.
Other Organizations
See Charity Navigator's verified list of Florence-related charities to donate to here.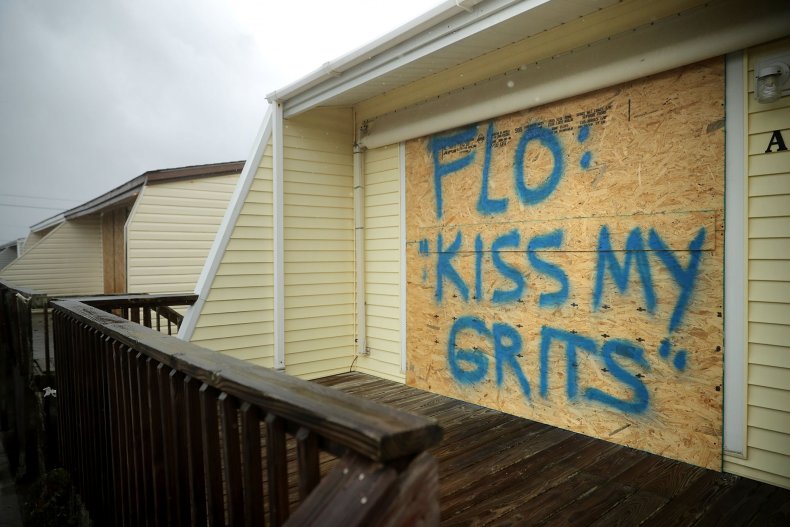 Volunteer Your Time
North Carolina Governor's Office
Fill out this form, and you will be contacted shortly.
American Red Cross
The Red Cross is currently looking for volunteers to help at shelters in the Carolinas and Virginia. Volunteer here.
National Voluntary Organizations Active in Disaster
The VOAD will evaluate your skills and where you're willing to work and set you up with one of their 100 member organizations. Click here to fill out a request to volunteer.
Donate Blood or Platelets to the American Red Cross
The Red Cross is always in need of blood after natural disasters; find your closest blood drive here.
The Red Cross is also in need of extra platelets which are used during cancer treatment to prevent potentially life-threatening bleeding. "The expected landfall of Hurricane Florence may force platelet donation cancellations in affected areas. It's critical that donors from around the country step up and [donate] platelets this week. We need to prepare," they wrote.