Hurricane Florence: Infant, Children Evacuated from North Carolina Hotel After Roof Blew Off
A hotel in Jacksonville, North Carolina, was evacuated in the early hours of Friday morning after Hurricane Florence's powerful winds blew off portions of the roof and compromised the building's structural integrity.
The Triangle Motor Inn at 246 Wilmington Highway made a 911 call at about 12:45 a.m., requesting assistance after the storm damaged the building. A press release from the local government's website said that 62 people were evacuated in total, including an infant, "many" children and their pets.
Emergency responders found a "basketball sized" hole in at least one corner room, according to local NBC affiliate WITN. Other portions of the roof had collapsed and several rooms had flooded. Firefighters also discovered "life-threatening" problems with the hotel's structure, including crumbling cinder blocks that were integral to the building. Despite the severe damage, many of the hotel's rooms were still occupied, leading to the emergency evacuation.
Due to the hurricane force winds, emergency responders had some difficulty evacuating the hotel occupants, reportedly finding it difficult just to enter some of the rooms, the Jacksonville Daily News reported. The occupants were however safely transported to the Center for Public Safety using emergency vehicles as well as some of the evacuees own cars.
Around 11 a.m. local time, Jacksonville Public Safety published photos of the evacuees being transported on Facebook, saying they "have now been transported from Jacksonville Public Safety to a location with better accommodations." It added that the local Red Cross would "now provide their needs."
Local news sources reported that winds in the area were expected to remain above 74 mph. City officials said that they are responding to emergency calls as best they can, despite the powerful storm.
"Public Safety, other emergency response teams and crews are responding to reports of downed trees, power lines, structure damaged and citizen distress calls as they are able under current severe weather conditions," they said.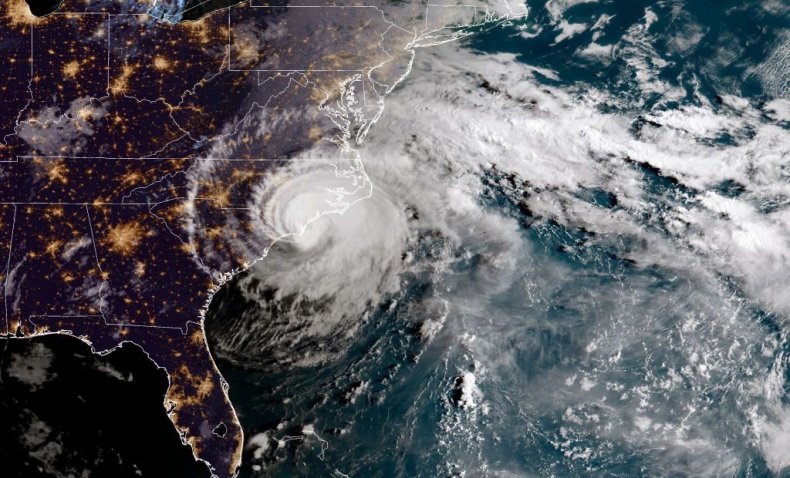 The city's Mayor Sammy Phillips issued a mandatory curfew for residents, requiring them to remain indoors after 7 p.m., starting on Thursday evening and extending until Sunday morning. Public Safety also urged all residents to remain indoors and to avoid driving.
"We urge you to stay inside and off the roadways even after the storm passes to allow cleanup and rescue crews to do their jobs," it said on Facebook on Friday morning. "Traveling will not be safe until high water recedes and crews can clear debris and address downed power lines."
In total, city emergency workers conducted about 60 rescues throughout the area on Thursday night and early Friday morning, including the hotel evacuation, Jacksonville Daily News reported.
Hurricane Florence: Infant, Children Evacuated from North Carolina Hotel After Roof Blew Off | U.S.