'Nightmare Coming for You'—ISS Astronaut Shares Picture of Hurricane Florence From Space
Astronaut Alexander Gerst has shared images of Hurricane Florence from space, saying the view is "chilling" and that the storm is "a no-kidding nightmare coming for you."
"Ever stared down the gaping eye of a Category 4 hurricane? It's chilling, even from space. Watch out, America! Hurricane Florence is so enormous, we could only capture her with a super wide-angle lens from the @Space_Station, 400 km directly above the eye. Get prepared on the East Coast, this is a no-kidding nightmare coming for you."
Hurricane Florence is expected to make landfall over the next two days. An update from the National Hurricane Center (NHC) said there had been little change to the temperatures surrounding the eye overnight.
"Florence is expected to remain a dangerous major hurricane as it approaches the coastline," the alert said. The hurricane currently has wind speeds of around 130 miles per hour.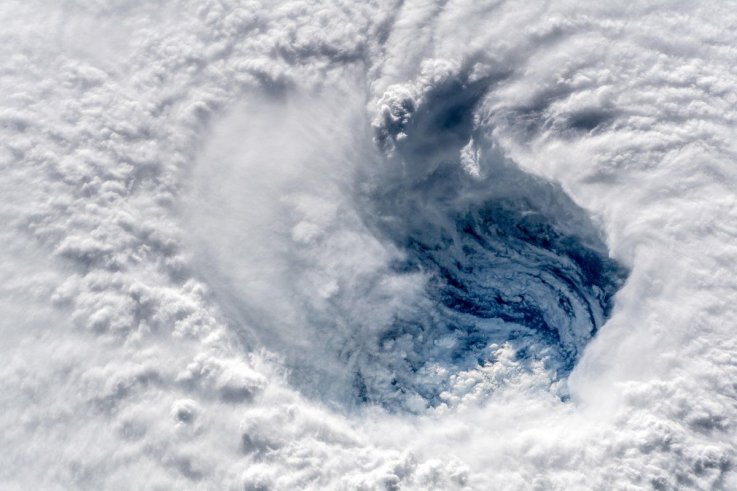 Florence is currently over 500 miles southeast of Cape Fear, North Carolina. It is moving west-northwest. "By late Thursday, a mid-level ridge is forecast to begin building over the east-central United States, which is expected to cause Florence to slow down significantly by 48 hours," the NHC said.
"The track guidance is in good agreement through the first couple of days of the forecast period, and the NHC track forecast again brings the center of the hurricane very close to the coasts of North and South Carolina within 48 hours."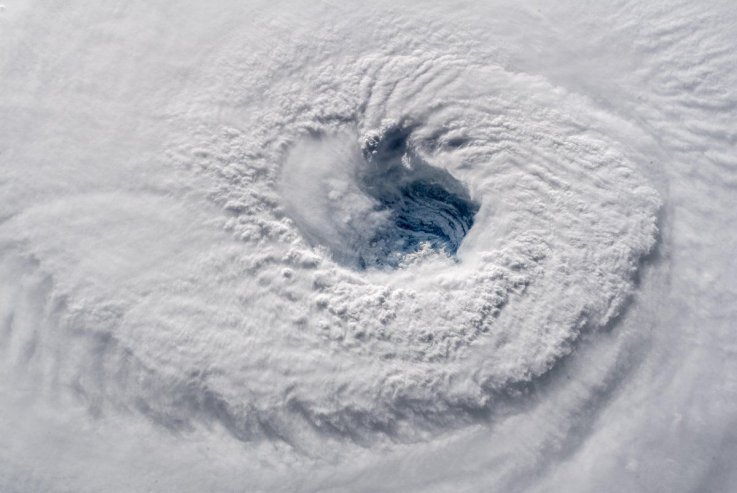 The center said it is important people realize dangers from the hurricane extend beyond where Florence hits. "A life-threatening storm surge is now highly likely along portions of the coastlines of South Carolina and North Carolina, and a Storm Surge Warning is in effect for a portion of this area," the NHC said.
"Life-threatening, catastrophic flash flooding and significant river flooding is likely over portions of the Carolinas and Mid-Atlantic states from late this week into early next week, as Florence is expected to slow down as it approaches the coast and moves inland."
It said hurricane-force winds should be expected along the coasts of North and South Carolina, while large swells will affect Bermuda and parts of the U.S. East Coast.
The infographic below, provided by Statista, explores the comparative cost of damage caused by recent hurricanes.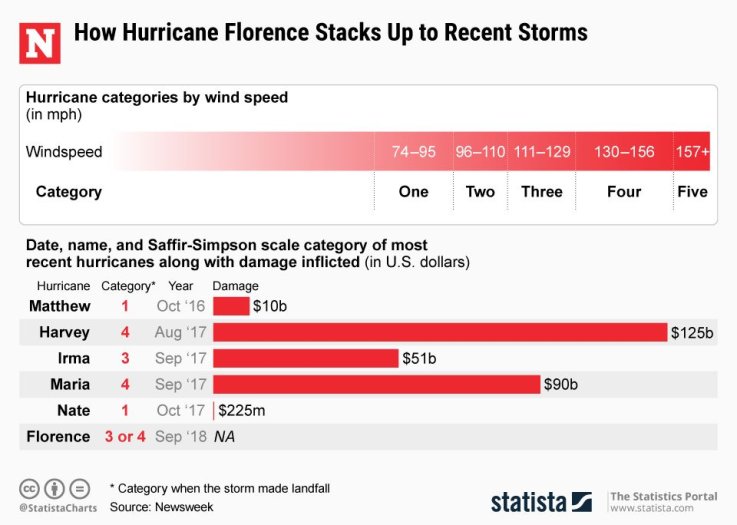 'Nightmare Coming for You'—ISS Astronaut Shares Picture of Hurricane Florence From Space | Tech & Science