Hurricane Florence Latest Path Update: Restrengthening Expected Day 5; U.S. East Coast Impact Unclear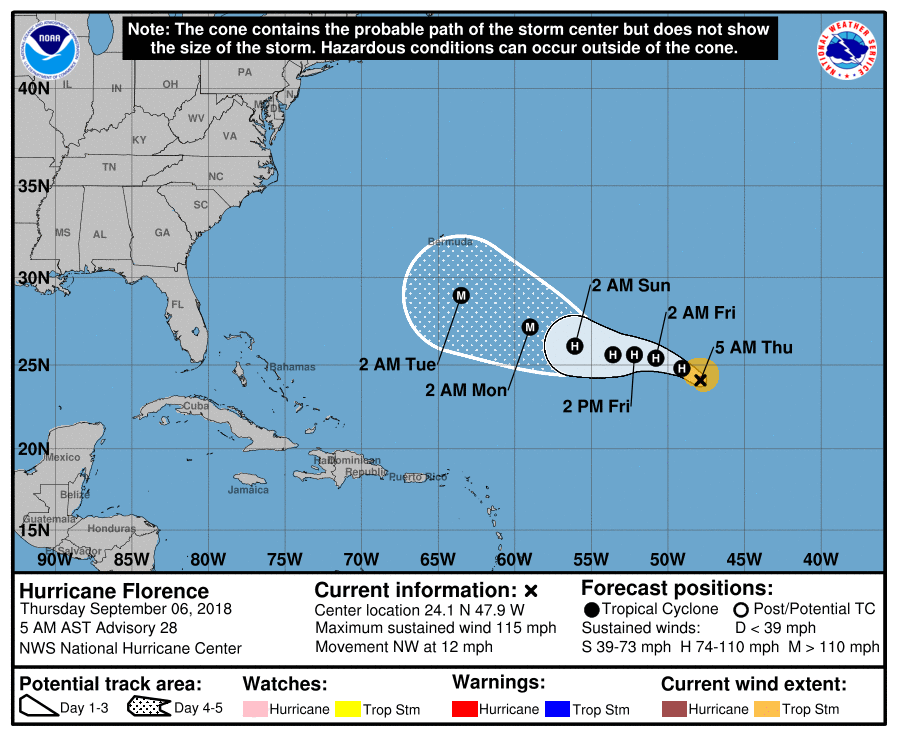 It's too soon to speculate if Hurricane Florence's path will impact or strike the U.S. East Coast next week, the National Hurricane Center said today in its latest forecast path update. But the slightly-weakened storm is forecast to get stronger next week and will likely be a formidable force if it does track toward land.
Hurricane Florence, the first major hurricane of the 2018 Atlantic season, weakened a bit overnight but it is expected to restrengthen in five days due to warmer waters and lessened wind shear. It may still pose a threat to Bermuda and to the U.S. East Coast next week. The latest forecast tracks just don't agree, however, leading to considerable uncertainty beyond day 5 of where Florence will go.
"About 800 miles separates the northernmost models from the southernmost models, which is why our confidence is very low beyond a couple of days," the Weather Channel forecasters said Thursday.
Florence is currently moving northwestward and models predict it will continue to move westward in the coming days. After that, some models suggest Hurricane Florence's path will be a recurve, turning out into the Atlantic away from the U.S. East Coast, while other models show the storm taking a westerly turn toward the coast. With the uncertainty, the National Hurricane Center remains neutral on its longer-term track prediction.
"There is still considerable model ensemble spread for Florence's track beyond day 5. Given the large uncertainty at these time ranges, it is far too soon to speculate what, if any, impacts Florence may have on the U.S. East Coast next week.
"Regardless of Florence's eventual track, large swells emanating from the hurricane will reach Bermuda beginning on Friday and portions of the U.S. East Coast this weekend, resulting in life-threatening surf and rip Currents," the NHC reported Thursday in its latest forecast update."
Swells will begin to impact the U.S. East Coast this weekend as the strong storm moves nearer, causing potentially life-threatening surf and rip currents.
On Thursday morning Florence, with winds of 115 miles per hour, was centered just over 1,000 miles east-southeast of Bermuda, moving northwest. On Wednesday, Florence became a category 3 storm with winds of 130 after rapid intensification. Wind shear is currently slightly lowering the storm's intensity, however.
That won't last, however, and the NHC said the latest forecast models show Hurricane Florence restrengthening.
"By day 5, all of the guidance calls for Florence to restrengthen," the NHC said Thursday "The guidance envelope and consensus is lower with this model cycle, but the NHC intensity forecast has only been adjusted slightly lower, mainly in the first 72 h of the forecast.
"The official forecast is now a little above the IVCN intensity consensus and HCCA at most forecast hours, generally favoring the stronger solution of the dynamical models."