UPDATE: 1:11 p.m. EDT—Hurricane Florence was beginning to affect the coast of North Carolina, the National Oceanic and Atmospheric Administration said at noon. Water levels from the entrance to the Chesapeake Bay to Wrightsville Beach, North Carolina, were running one to two feet above normal levels, while further south and up the Cape Fear River, water levels were about one foot above normal levels.
UPDATE: 11:51 a.m. EDT— Hurricane Florence's winds slowed to 105 mph on Thursday morning, the National Hurricane Center said in update—five miles slower than previously recorded on the same day. The storm is still a Category 2, moving northwest at 10 mph.
The NHC also said a life-threatening storm surge was "highly likely" along parts of the North and South Carolina coast. The greatest storm surge was expected between Cape Fear and Cape Hatteras, including the Neuse and Pamlico Rivers and western Pamlico Sound.
In one of the first reports of power outages in the area, Duke Energy said 1,400 customers in Northwest Brunswick and Acme-Delco were without power.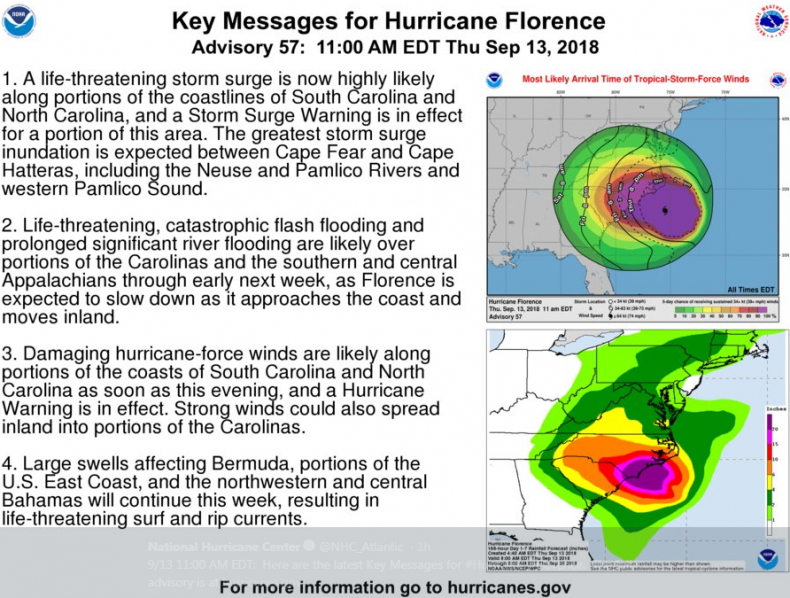 Original story:
Hurricane Florence continued on its path toward the Eastern seaboard on Thursday morning as South Carolina, North Carolina, Virginia and other states braced for the storm's impact. Florence was downgraded to a Category 2 storm, packing maximum sustained winds of 110 miles per hour as of 5 a.m. on Thursday.
Despite being downgraded, the storm was still considered extremely dangerous and had the potential to bring life-threatening conditions to parts of the East Coast. The outer bands of the storm will start hitting the coast within hours, NOAA liaison to FEMA Neil Jacobs said at around 9:30 a.m.
Here are the latest updates on Hurricane Florence's path, timeline, the affected areas, evacuations, airport and roadway closures, and more.
Path and Timeline
The latest model from the National Hurricane Center showed Florence continuing on its westward path, poised to hit the coast of North and South Carolina at 2 a.m. EDT on Friday. The latest potential timeline showed the storm moving slightly closer inland to the west and south at 2 p.m. Friday through 2 p.m. Saturday, before moving farther inland by 2 a.m. Sunday.
On the fourth and fifth days of the storm, wider impacts may be felt as far away as Kentucky, Ohio, Pennsylvania, West Virginia and other states located farther inland.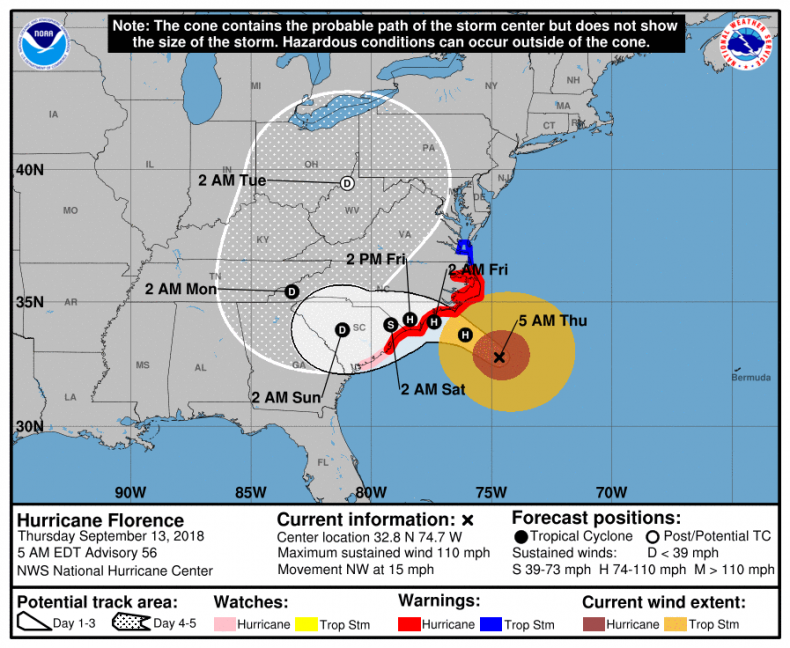 Rainfall and Flooding
Florence was expected to produce rainfall of anywhere from 20 to 30 inches in some places, with as many as 40 inches in coastal southeast North Carolina into far northeastern South Carolina, according to the latest forecast update from the National Oceanic and Atmospheric Administration.
Inland across the central and western Carolinas, 6 to 12 inches of rain with "isolated maxima of 24 inches are possible." Three to 6 inches of rain were also possible elsewhere in the Appalachian and Mid-Atlantic states, with potential for some areas to get as many as 12 inches.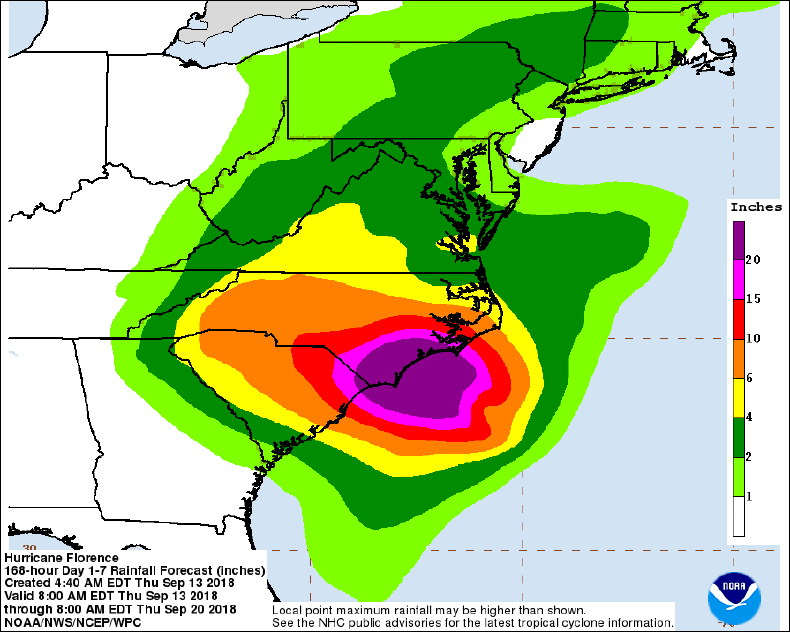 After Landfall
One of Florence's many dangers is that it could stick around after making landfall. The storm could stall for hours or days once it hits, pummeling the region with winds and rain. National Weather Service Tropical Rainfall Program Coordinator Joel Cline previously told Newsweek that just because the storm is moving inland "doesn't mean it stops."
"We could have a second maximum of rainfall," said Cline.
Evacuations, Airline Cancellations
Some 1.7 million people are under mandatory or voluntary evacuation orders. In an update on the situation Wednesday, President Donald Trump urged everyone in the path of the storm to heed authorities' warnings and evacuate if necessary.
At least 800 flights and counting were canceled in the region, including a number at Charleston International Airport and Raleigh Durham International Airport.
Storm Surge
Storm surges could pose the most dangerous threat from the storm. Despite weakening winds, the National Hurricane Center said storm surges could still be "life-threatening." The latest forecst showed surges could be as high as 9 to 13 feet in some coastal areas.
Storm surge warnings and watches were issued in a number of places, including South Carolina and North Carolina. A summary of surge watches and warnings in effect on Thursday was available on the National Hurricane Center website.