Florence: Online ads Show that While Some Sought Help, Others Just Wanted to Hook Up
As Hurricane Florence approached the Carolinas, and before it was downgraded to a tropical storm, legitimate cries for help online -- "family seeking shelter from hurricane" -- were often drowned out by ads, on Craigslist and elsewhere, with more sinister aims.

Examples included: "Any woman in need of a place to stay?" one of a spate of men attempting to barter a free room so that the woman in need can have "extra money to save."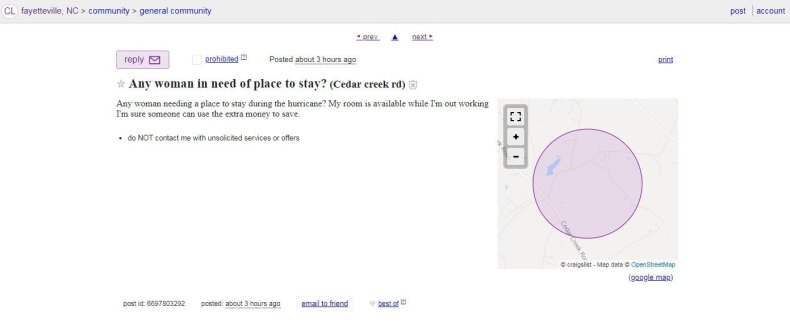 Others, too, sought to lend a hand by offering a lift or a place to stay, typically with a catch.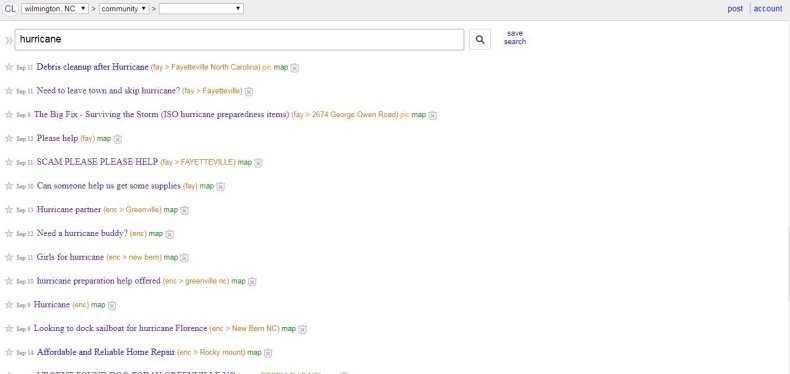 Several posts came with specific requirements such as posed pictures, "no weirdo crap" or requests for a "woke girl." Others offered vague opportunities to "hang out" as the storm passed overhead.
In one titled, "Looking for a storm partner," the Craigslist poster touted his home's ability to stand up to the 100 MPH winds.
"Any women wanna hunker down for the storm? Gotta sturdy house and more than enough supplies to make it through. Too many friends evacuated so it's about to be boring over here lol... Hit me up early...," wrote one person.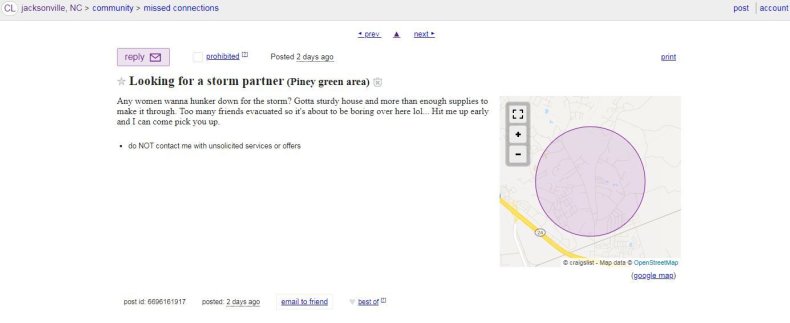 Although Newsweek reached out to several more ominous posters, many of those seeking sexual or cuddling companionship didn't respond and their posts were subsequently deleted.

Some posts were straightforward about attending to their loneliness during Florence.
"it [sic] would be nice to find a lady to watch tv with during the hurricane. [sic] any race," a Myrtle Beach resident wrote.

"
A seemingly-innocuous post titled "hurricane florence" asks if anyone needing "an escape from the hurricane" to "let me know, i have space."
The poster claims to be "a guy" and that he wants to make the storm an excuse to have a soiree. "Let's make it a party, bring favors."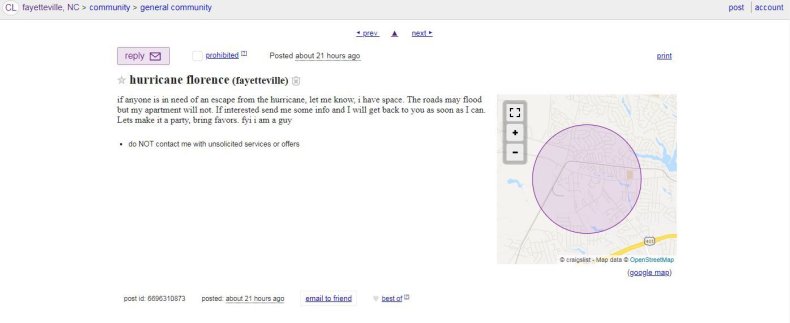 Another Wilmington-based post titled "Hurricane bored" is asking for companionship.
"Mature kind Caucasian[sic] single gentleman missing conversation with drinks and the sexy feel of a mature woman that wants to kiss, touch and cuddle," it reads. "Reply back if you think this [sic] something you would like to do."
Another post, "Mature companion needed for the storm" bluntly asks for "a lady to watch tv with during the hurricane. any race."
A self-proclaimed 22-year-old woman apparently was seeking some safety in numbers.
"Need a hurricane buddy?" the post's headline reads. "I have to evacuate and have nowhere[sic] to go. I'm 22 years old, female and hoping to find somewhere to stay until this all blows over."

Newsweek's attempts to reach these and other odd Craigslist posters were unsuccessful.
Among such efforts were more serious ads, often buried. In one case, a Norfolk resident wrote that a Lionhead bunny rabbit "blew in" to their yard during the storm. A Southport, North Carolina mobile home resident named Alpha and who identified as a military veteran, made a frantic post about leaving 9 cats, a black lab and a Jack Russell terrier behind in a trailer.
Reached after Florence made landfall on Friday, the owner communicated to Newsweek in a text saying that only one person reached out from Louisiana. And as the storm was raging, Alpha was full of uncertainty.
"I have no means of knowing what happened to my trailer [sic] and pets," read a follow-up text message. "I live alone so they r my family. This is horrific. I have to save batt. Will text whenever this ends."
That was Friday as Florence was still punishing the region.
Four days before Florence was set to pummel Wilmington, Dana Younger's family was ordered to check out of their motel.
That meant finding shelter for her 11-year-old, his 19-year-old Autistic brother, and Lupus-stricken husband plus his 2-year old service dog Lily.
Without many options, the 48-year-old registered nurse's husband posted a Craigslist ad
He explained that the family is facing a hardship because his son 19-year-old Nicholas "is autistic which makes shelters impossible."
The dad pleaded that they hoped for some charity and promised they weren't scam artists.
The post continued: "We are good people with strong work ethic and can help in anyway. We only need a place to ride out the storm until next weekend we have our own food and water and can be a blessing to anyone else who might need help getting through the storm. Thank you for reading our post and God bless us all..."
The post proved to be a backstop, since the Youngers threw their possessions in a storage facility and then headed out on the road and took cover at a small, pet-friendly shelter inside Burgaw Middle School.
They were third in line when they arrived four hours before the middle school opened its doors to Florence evacuees on Tuesday.
But Nicholas refused to get out of the car and was almost arrested.
"My son refused to go inside," Dana told Newsweek, recalling how police were called. "He was so scared about the situation."
The standoff subsided and the shelter who had to turn others away after it was already over twice its capacity with 200 people (many sleeping on the floor ) cordoned off a corner spot for Nicholas to sleep.
The accommodations have been makeshift, but full of care; mostly by the hardworking hands of the cook who Dana said was able to feed the masses with three hot meals each day.
"She has been cooking by herself for all these people and serving three meals a day," she said. "She's been a godsend."
In the thick of the storm on Saturday, Dana said the cozy conditions were overcome by "bad flooding" that was backing up the toilets and threats that they were going to have to evacuate from the shelter.
In Fayetteville, North Carolina, Beth Braschler is almost 4 miles from the Food Lion.
Normally she would walk to the store or get a lift from a friend. But with the hurricane, few were left to ask.
"I had a friend leave yesterday to go to a shelter," the 58-year-old woman told Newsweek. "I'm taking care of my husband and our four chihuahuas and we don't have any transportation; no car. Right now I can't even get my husband's medication.
So she tried to post on Craigslist for help and said so far, she hasn't received any replies to help bring her a lantern, meatballs in a can, D batteries, water, and soda.
Braschler, who rode out Hurricanes Lance and Matthew, said that if she had a way out of the home that they have lived in for five years, she evacuate. "If we could find somebody that would take our dogs as well as us we probably would," she said. "We're trying the best we can."
There was also 30-year-old Jake Messina who posted for the first time on Craigslist. His offer was to pet owners scouting for a "temporary home" on his one-acre farm in the Outer Banks as shelter for any Florence-affected owners that needed to board their pets during Florence — nobody took him up on his offer
"I was just reaching out to people who did decide to evacuate that didn't have any other option," the military veteran said in an interview with Newsweek.
He and his girlfriend live on the property that he inherited from his grandmother and hoped to lend a hand to those who likely have to make a fateful decision to save themselves and forsake their pets.
"They're focused on food and shelter and often forget about the vital pieces of the family, like their dogs," he said.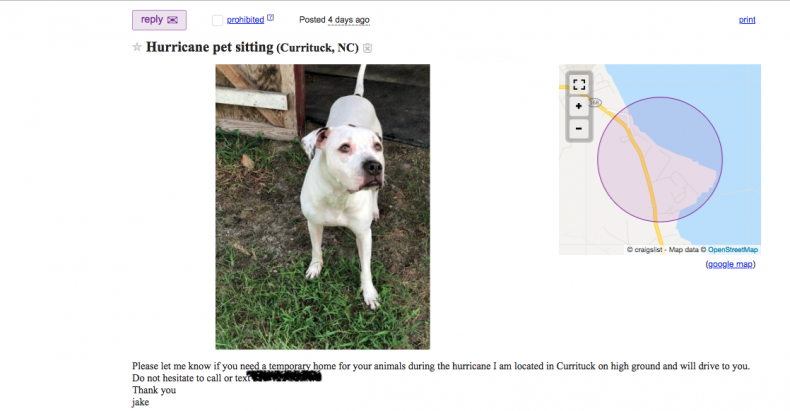 Nobody contacted him. But Messina found a hound dog mix (with one blue eye, and one brown eye) that he ended up taking back to his farm and caring for.
"He was walking along the highway and didn't have any collar," he said. "I'm just fostering him right now. He's in a good home."
Once the storm recedes, Messina said he is going to try to find the dog's rightful owner. "I do want to take the proper steps to make sure he doesn't belong to anyone.
"If we can't succeed he'll have a good home."