Hurricane Florence Forecast, Path: Where Is Storm Going and When Will It Hit?
What started as Tropical Storm Florence in the Atlantic turned into Hurricane Florence Tuesday. The storm became the third hurricane of the season in the Atlantic basin, the National Hurricane Center (NHC) announced.
A storm officially becomes a hurricane once its sustained wind speeds reach 74 miles per hour or more, according to the Saffir-Simpson scale. Florence's wind speeds were around 64 miles per hour before they increased Wednesday and reached hurricane classification at 75 miles per hour. The storm was a Category 1 storm, meaning it was accompanied by strong winds that could cause damage on land, but Florence was only in the ocean as of Tuesday.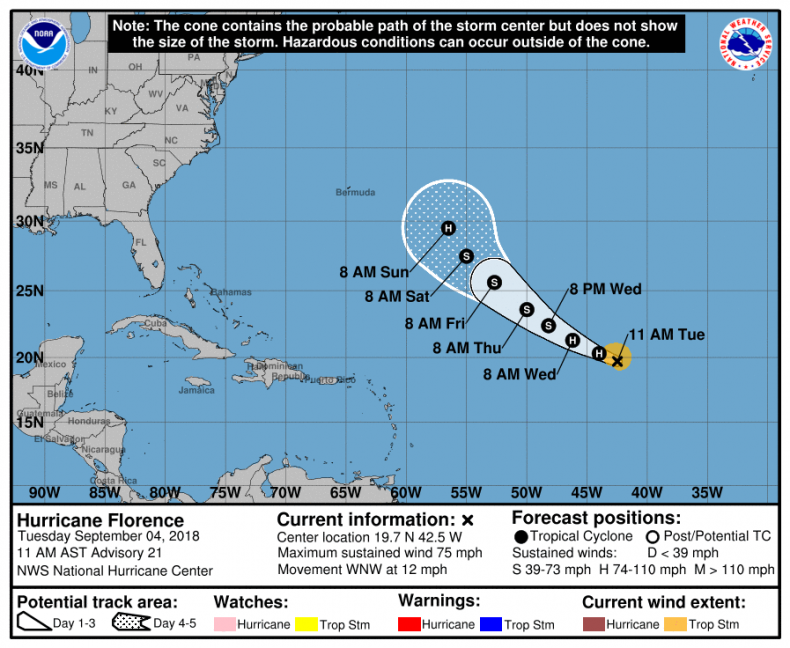 The NHC did not expect that the storm would make landfall anywhere through the weekend. The storm was traveling west-northwest at 12 miles per hour on Tuesday in the direction of Bermuda, off the coast of the Carolinas.
A map of the storm's predicted path showed that as of Sunday morning it was still expected to be far from Bermuda, though the island might see some winds from the storm as early as Sunday.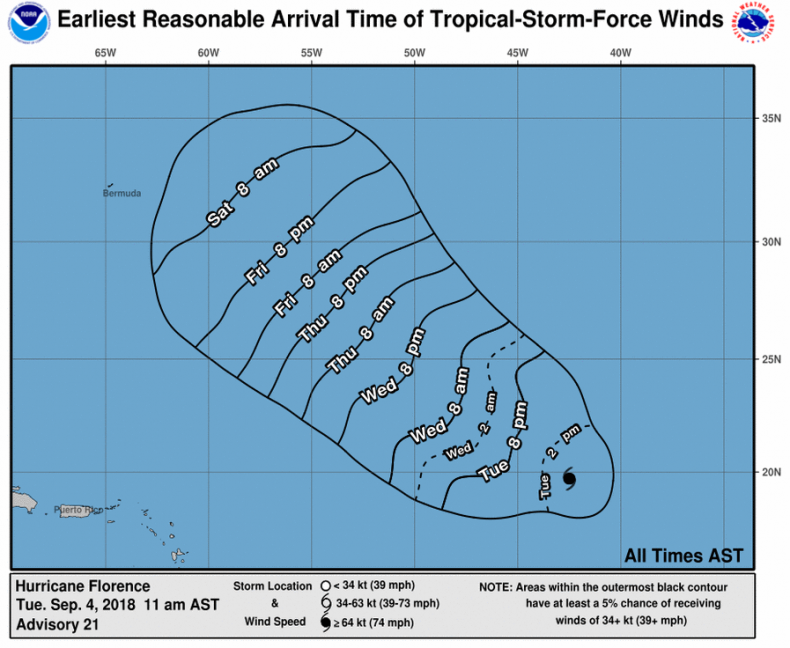 For the 2018 hurricane season in the Atlantic, the National Oceanic and Atmospheric Administration (NOAA) originally predicted there would be five to nine hurricanes and 10 to 16 named storms total. But the NOAA revised the hurricane season outlook in August to predict four to seven hurricanes with nine to 13 named storms total.
With Florence as the third hurricane of the season, the outlook is close to being on track within the estimates for the season. The Atlantic hurricane season begins June 1 and runs through November 30, according to the NHC.
The 2017 season was above average and extremely active, according to NOAA with 17 named storms and 10 hurricanes.
If Florence continues on the west-northwest path and ends up passing over Bermuda, it could continue up the Mid-Atlantic to the Northeast of the United States. In order to do that, the storm would need to maintain its energy and power while traveling over the waters of the Atlantic on its way up from Bermuda and not lose steam. Updated forecasts available later in the week will provide more information about whether Florence is a threat to the continental U.S.
Those in Bermuda and along the East Coast of the U.S. should monitor warnings from the National Weather Service and NOAA in preparation for the storm possibly making it to land.
​​