Hurricane Florence Path Update: Latest Tracker Predictions, Evacuation Zones
Hurricane Florence remains on course to batter the East Coast of the United States later this week.
The Category 4 hurricane—which could be upgraded to Category 5 by Thursday—is expected to bring life-threatening storms and torrential rainfall. Florence is currently southeast of Bermuda and is expected to strike North Carolina early on Friday. South Carolina and Virginia will also feel the effects of the hurricane.
According to the latest update from the National Hurricane Center, Florence has already sustained maximum wind speeds of 140 miles per hour. At the time of the update (5 a.m. Atlantic Standard Time), it was 975 miles off the coast of Cape Fear, North Carolina.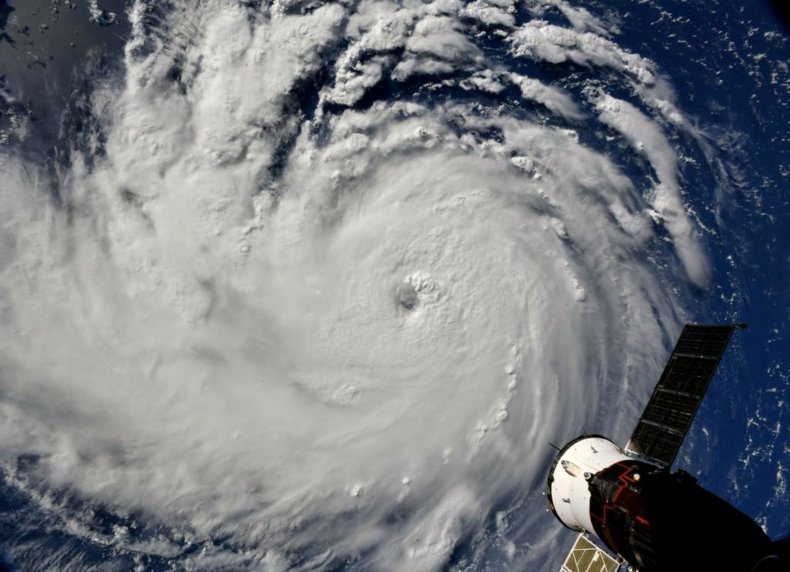 Official warnings have now been released for parts of the East Coast. A storm surge watch and hurricane watch has been issued from Edisto Beach, South Carolina, up to the North Carolina-Virginia border—which includes Pamlico and Albemarle Sound.
"A Storm Surge Watch means there is a possibility of life-threatening inundation, from rising water moving inland from the coastline, in the indicated locations during the next 48 hours," the National Hurricane Center explained. "A Hurricane Watch means that hurricane conditions are possible within the watch area. A watch is typically issued 48 hours before the anticipated first occurrence of tropical-storm-force winds, conditions that make outside preparations difficult or dangerous."
Florence is forecasted to drop up to 30 inches of rain in sections of North Carolina, Virginia and northern South Carolina. The hurricane center has warned that the rain could lead to flash flooding. The next update will be posted at 11 a.m. (Atlantic Standard Time).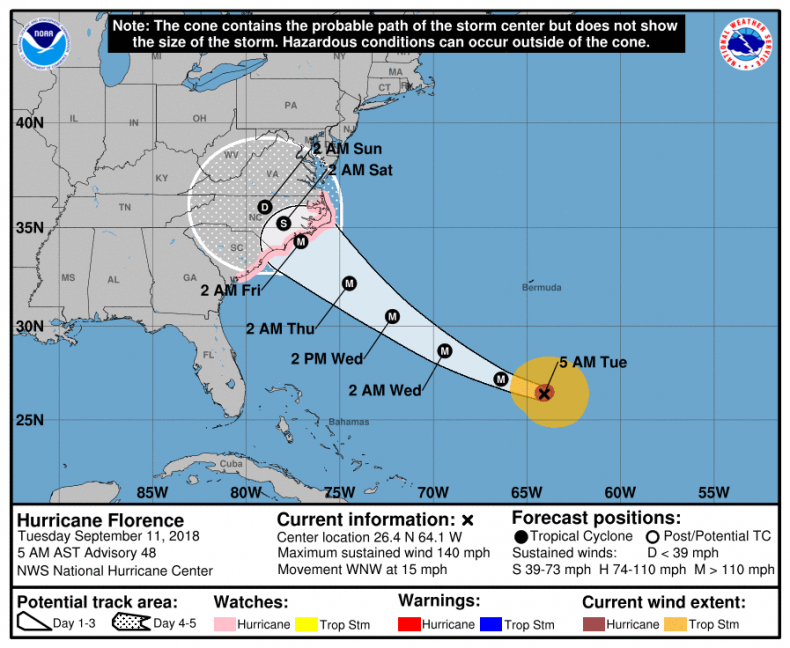 Anyone who lives along the East Coast (and in the path of Florence) should be ready for evacuation orders from local officials. Inland residents should have their hurricane preparedness plan up to date.
More than 1 million South Carolina residents have already been ordered to evacuate from eight coastal counties. The hurricane center has warned surfers to steer clear of beaches as the hurricane has been generating "life-threatening surf and rip current conditions."
Virginia Governor Ralph Northam has instructed nearly a quarter of a million people to evacuate from the state's eastern shore.
North Carolina has issued a mandatory evacuation of Hatteras Island. The northern parts of Outer Banks—including Duck, Southern Shores, Kitty Hawk, and Nags Head—must be evacuated by Tuesday morning.
President Donald Trump issued a message of encouragement to residents of North Carolina and South Carolina, describing Florence as looking "very bad." "Please take all necessary precautions," Trump tweeted on Monday. "We have already began mobilizing our assets to respond accordingly, and we are here for you."
He followed up a short time later saying Florence would be "one of the worst storms to hit the East Coast in many years. Please be prepared, be careful and be safe. Federal Government stands by, ready to assist 24/7."