Hurricane Florence Photos and Videos Show Damage, Flooding and Rescues During Storm
As Florence hits North and South Carolinas, pictures and videos of the Category 1 storm have appeared on Friday. Florence made impact on the coast of North Carolina on Thursday night and has moved inland throughout the day.
The eyewall of the storm reached the coast of the Carolinas 6 a.m. Eastern time, according to the National Hurricane Center. The Category 1 storm had winds of 90 miles per hour as it made landfall, according to the center.
Authorities still warned residents and evacuees that the storm still had the potential to bring catastrophic flooding and storm surges. Despite the downgrade of the storm, the hurricane did a lot of damage. In this photo, volunteers from the Civilian Crisis Response Team assist people to higher ground after rescuing them from a flooded home.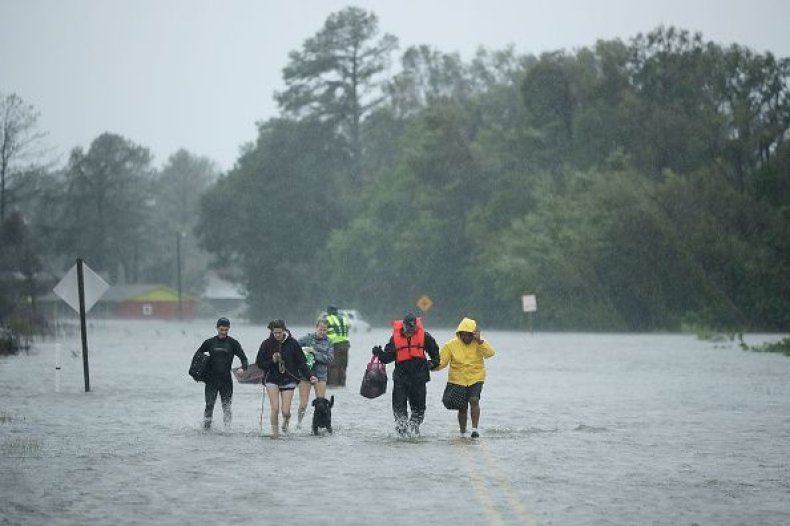 As of 4 p.m. Friday, the eye of Hurricane Florence is still moving slowly westward toward the North Carolina-South Carolina border, according to the National Hurricane Center. The center reported that there were wind gust of 76 mph in Atlantic Beach, North Carolina, and 69 mph winds in Myrtle Beach, South Carolina.
Officials have asked residents to evacuate from the deadly storm. Federal Emergency Management Agency administrator Brock Long said during a press conference on Thursday to leave, noting that "inland flooding kills a lot of people unfortunately and that's what we're about to see." In this photo, members of the North Carolina National Guard 105th Military Police Battalion look for evacuees during the storm.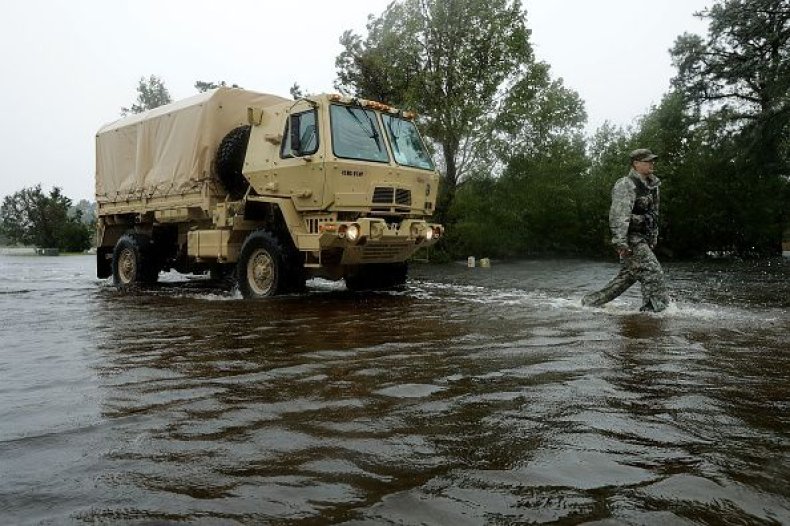 More than 320,000 people in North Carolina had lost power before the storm reached land on Friday. There were storm surges up to 10 feet reported in Morehead City, North Carolina. In this photo, a man stands in the wind and rain during the storm.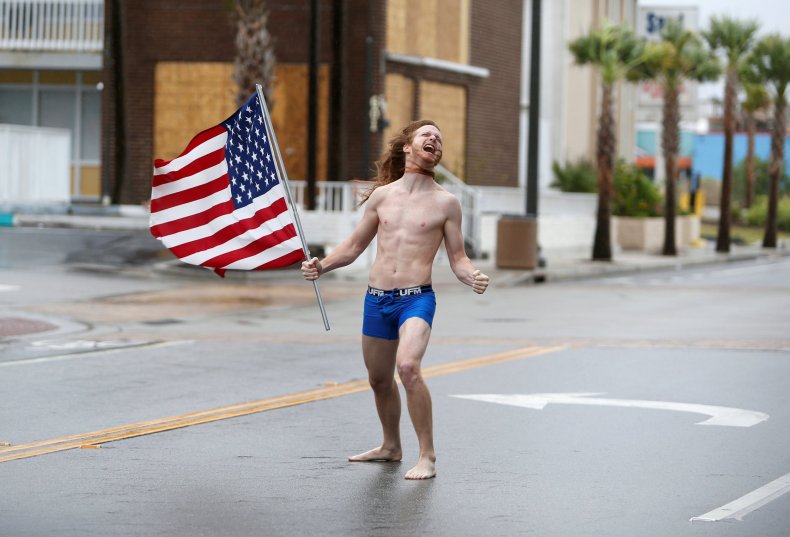 Here are some photos and videos compiled by Getty, Reuters, and Twitter:
Rainwater flooding the streets of North Carolina during the storm: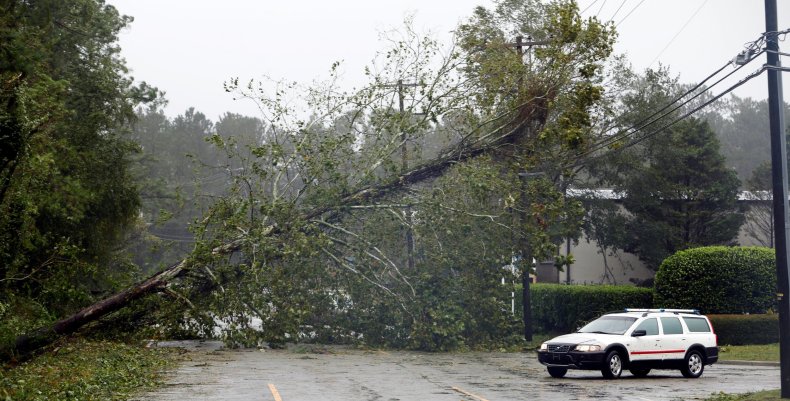 This video shows rain and flooding posted by the National Weather Service of Newport/Morehead City in North Carolina at 9:30 p.m on Thursday:
The storm is impacting parts of Washington D.C. as well. In this photo, a bench is submerged by flood water from the Washington Channel.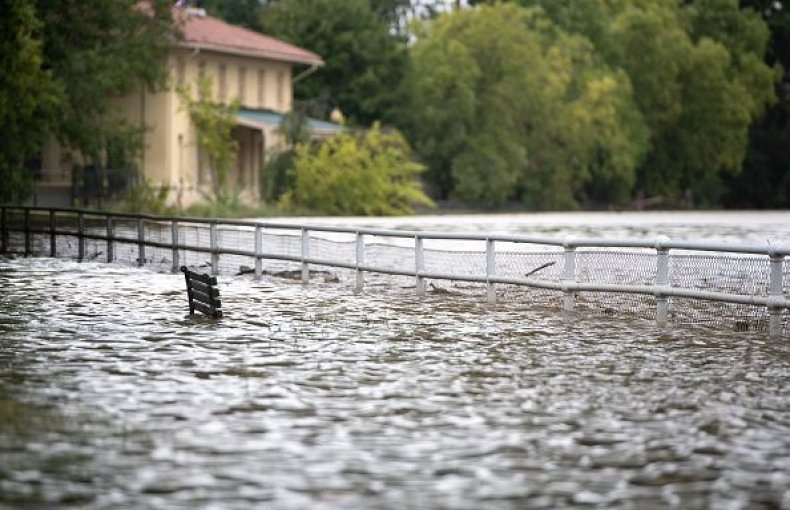 In this video, The South Carolina National Guard shows transportation and equipment to help provide people with assistance during the hurricane.
"A look at pre-staged #SCGuard transportation and equipment assets ready to roll in response to #HurricaneFlorence to support #TeamSC. We are urging all citizens to heed advisories from @SCEMD and stay off roads when impacts of winds & rain impact your area," the agency tweeted.
In this photo, a family walks past the flooding at the Trent public housing apartments in New Bern, North Carolina.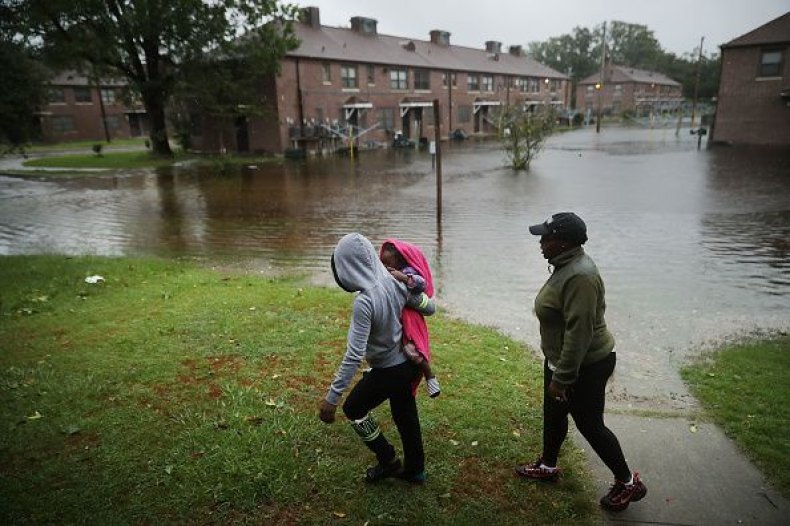 New York City Emergency Management tweeted out a video of water rescuers trying to save people during the storm.
"Water rescues are underway in River Bend, NC. US&R NY-TF1 Bravo and partners are hard at work," the agency tweeted.
​