Hurricane Florence Power Outage Map, Forecast Updates: Millions Expected To Lose Electricity
Hurricane Florence was downgraded to a Category 2 storm on Thursday but it is still expected to cause catastrophic damage in some areas along the Eastern seaboard—including massive power outages along North Carolina, South Carolina and some parts of Virginia.
Here's the latest information on potential power outages stemming from Hurricane Florence.
Potential Power Outages
The Carolinas are slated to see the bulk of the potential destruction. Duke Energy, the predominant power holding company in North and South Carolina, estimated between one and three million customers could lose electricity during the storm, which is expected to hit the Carolina coast from Thursday night to Saturday.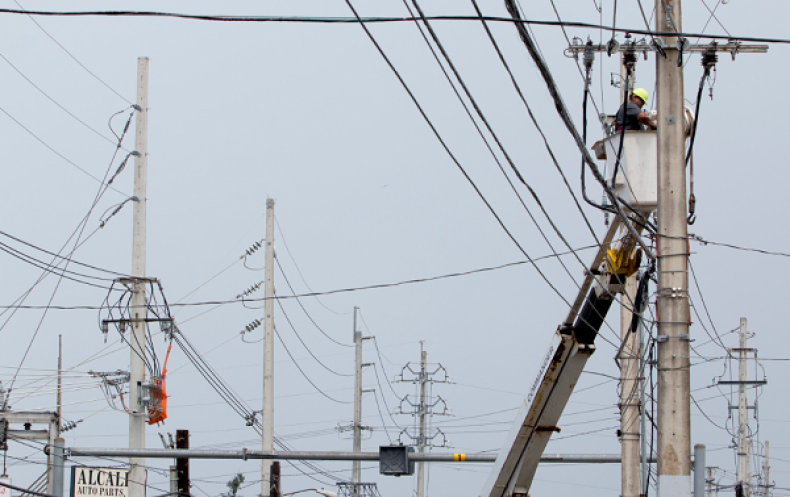 "The magnitude of the storm is beyond what we have seen in years," Howard Fowler, Duke Energy's incident commander said in a statement. "With the storm expected to linger, power restoration work could take weeks instead of days."
Preparing For Power Outages
In preparation for potential outages, Duke Energy enlisted more than 20,000 workers to help restore power following the storm, marking the company's largest resource mobilization in its nearly 115-year history. Roughly 1,700 electricians from Duke Energy Midwest and 1,200 people from Duke Energy Florida are in place to help the company's 8,000 Carolina-based workers.
The additional resources may not be enough considering the intensity of the storm, which is reportedly on pace to hit the Carolina coastline for 24 hours straight, bringing with it damaging winds topping 100 miles per hour. Fowler warned residents to be prepared for the worst. "It's important for people to know this is no ordinary storm and customers could be without power for a very long time—not days, but weeks," he said.
Meanwhile, Virginia residents aren't expected to see nearly as much damage now that the storm has seemingly changed paths southward. Northern Virginia Electric Cooperative (NOVEC) still urged residents to plan for outages, although the state isn't expected to see as many downed lines or homes without power as the Carolinas.
Downed Power Lines
Dan Swingle, Electric System Operations vice president, warned the heavy rainfall combined with the constant showers the state has received all summer long could result in "more rain-soaked trees growing outside our right-of-way corridors to fall on power lines."
"People should prepare now in case they lose service," Swingle said in a statement released Wednesday.
Folks in the Carolinas and North Carolina were advised to stay clear of downed lines and report outages.
Anyone in the Carolinas facing a power line problem can contact Duke Energy Carolinas at 800-769-3766 and Duke Energy Progress at 800-419-6356. Virginia residents needing to report power outages and downed lines can contact NOVEC at 703-335-0500 or 1-888-335-0500.
Current Outages
-Duke Energy reported 1,400 customers were already without electricity on Thursday morning due to the storm. The first of the power outages were located in the Acme-Delco area as well as New Brunswick, North Carolina.
-North Carolina Department of Public Saftey lists power outages across the state at 16,711. Areas facing the most outages included Carteret, Craven and Pender counties.
-More than 365,000 people across North Carolina were without power as of Friday morning, 7 a.m. ET. The majority of the outages were located in counties including Beaufort, Carteret, Craven, New Hanover, Onslow, Pamlico, and Pender.
-In South Carolina, approximately 96,720 power outages were reported as of 7 a.m. ET on Friday.
-Nearly 2,290 people in Virginia were reported with loss of electricity as of 7 a.m.m ET on Friday.