Hurricane Florence Power Outages Map Update: More Than 670,000 Still Without Electricity in North Carolina
Despite weakening to a tropical depression, Florence is expected to continue to batter the Carolinas with heavy rainfall on Sunday. The constant rain mixed with strong winds is slated to increase the risk of flooding, makin restoring power to people in North and South Carolina more difficult.
Duke Energy, one of the biggest electricity providers in North and South Carolina, was able to restore power to some customers on Saturday. The company said more than 637,000 customers had their electricity turned back on as of Saturday morning, but winds and rainfall throughout the night brought additional outages.
More than 670,000 people remained without power in North Carolina as of Sunday, ABC News' North Carolina affiliate reported. The most effected areas include cities within the following counties: Beaufort, Bladen, Brunswick, Carteret, Columbus Craven, Duplin, New Hanover, Robeson, Sampson, Wake, Wayne, Pamlico, Pender and Onslow.
Meanwhile nearly 59,000 in South Carolina were still in the dark.
Duke energy said it could take several days for all outages to be restored due to continued high winds, heavy rainfall, flooding and blocked roads damaged by the storm. "Our crews during the past 24 hours have made significant progress restoring power in areas of the Carolinas where it is safe to do," Howard Fowler, Duke Energy incident commander, said in a statement.
"However, we unfortunately have been unable to make repairs in some of the hardest-hit coastal areas due to continuing high winds and road access problems caused by major flooding," Fowler said.
He added: "In those hard-hit areas, total power restoration might take weeks, not days, due to widespread flooding and significant damage to power lines, utility poles and other key components of the electric grid."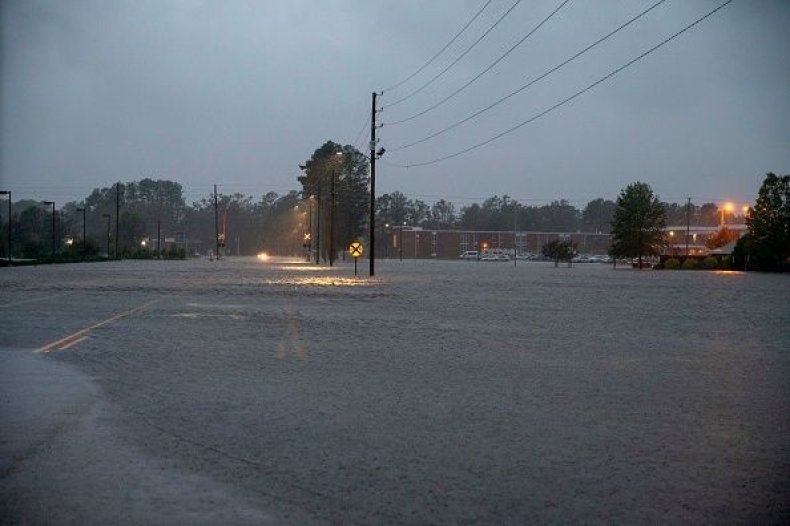 Tropical Depression Florence's path is headed northwest and is expected to move across the western Carolinas and then recurve over the Ohio Valley and Northeast U.S. on Monday and Tuesday, the National Hurricane Center said in a statement released early Sunday. The projected pathway is expected to bring flash flooding from heavy rainfall to those residing in the western areas of North Carolina.
"The flood danger from this storm is more immediate today than when it... made landfall 24 hours ago," North Carolina Governor Roy Cooper said in a statement on Saturday. "We face walls if water at our coasts, along our rivers, across our farmland, in our cities and in our towns."
The catastrophic storm has so far resulted in the deaths of 13 people, including a mother and her child in Wilmington, North Carolina.