Hurricane Florence's Expected Record Rainfall Combined With Wet Summer Heightens Flooding Dangers
An unexpectedly wet summer could make matters even worse for the Southeast this weekend as approaching Hurricane Florence is expected to bring a record-breaking amount of rainfall to the region.
Areas in North Carolina, South Carolina and Virginia experienced eight more inches of rainfall than usual during the month of August. Throughout the summer the amount of rainwater in those states, especially along the coastline, has been above normal.
This has kept lakes and water basins near their capacity levels, leaving almost no room for the disastrous amount of rain Hurricane Florence is predicted to bring starting Thursday morning.
"This storm will produce so much rain that regardless of whether the region was wet or dry this summer we are going to see flooding," Todd Hamill, a hydrologist at the National Weather Service's Southeast River Forecast Center, told Newsweek.
"You have to get to higher ground," Hamill warned residents living in especially low-lying areas in the Southeast. He shakes his head at those who are preparing to stay and wait out the storm, calling it a "whole other issue."
"They really need to get out because they just can't prepare for a lot of the things that could happen due to heavy rain," he said. Hamill added that those who choose to stay in areas that are being urged to evacuate are putting an extra strain on the area's emergency response teams.
For the first three days, from Thursday to Sunday morning, the heaviest rain will be right along the coast of North Carolina and South Carolina. As the storm makes its way inland, the rain will taper off and become less intense the further it moves away from the shoreline.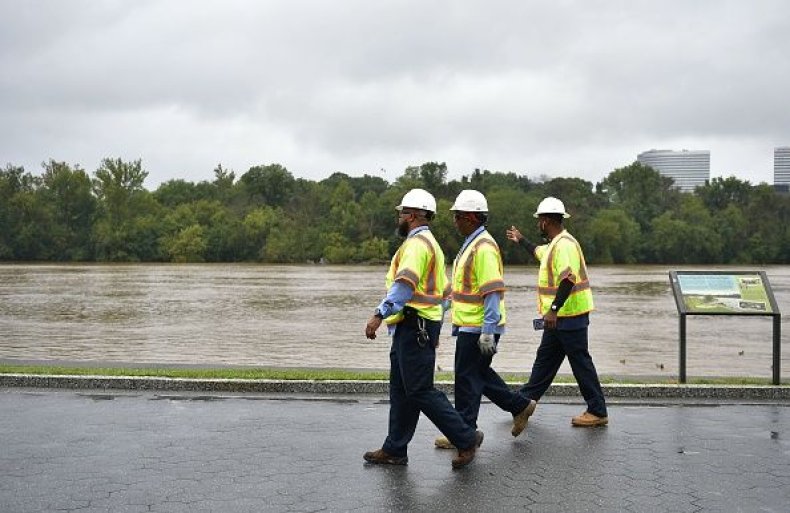 With the ground already permeated from the summer rain, Hamill said that the first area of concern for residents is flash flooding. Those floods happen suddenly and begin to form within six hours of the hurricane's landfall. Most often people evacuating the storm at the last minute get stuck in flash flooding while driving.
The rainfall could also cause the overflow of the area's river basins, which could lead to flooding that will last anywhere from one to three weeks. Hamill said the National Weather Service is closely monitoring Cape Fear, Lumber River and the Yakdin-Pee Dee River basins for potential flooding due to heavy rains. Reports say Cape Fear could flood up to 22 feet.
Rain bands were already "well inland" as of 11 a.m. local time on Thursday morning, the National Weather Service tweeted. And while Florence has been downgraded to a Category 2 hurricane, rainfall totals are still expected to be over 40 inches in more isolated areas.