Hurricane Florence Rainfall Totals Friday, Predictions, Maps for North Carolina and South Carolina
Hurricane Florence made landfall in North Carolina early Friday, signaling the beginning of what is expected to be days of rainfall and many inches—in some cases multiple feet—of precipitation falling on the Carolinas.
Forecasts indicate the hurricane will linger, with heavy and excessive rainfall causing catastrophic and life-threatening flooding.
Here are the latest predictions and maps for rainfall totals in North and South Carolina, Virginia and elsewhere.
Rainfall Totals
The southeastern coast of North Carolina and far northeastern portion of South Carolina were expected to experience 20 to 25 inches of rain, but isolated areas could be hit with 30 to 40 inches, according to a National Hurricane Center advisory issued at 8 a.m. Friday.
"This rainfall will produce catastrophic flash flooding and prolonged significant river flooding," the advisory said.
The rest of North Carolina, South Carolina and southwest Virginia will likely see 5 to 10 inches of rain and up to 15 inches in isolated areas, which will also produce life-threatening flash flooding.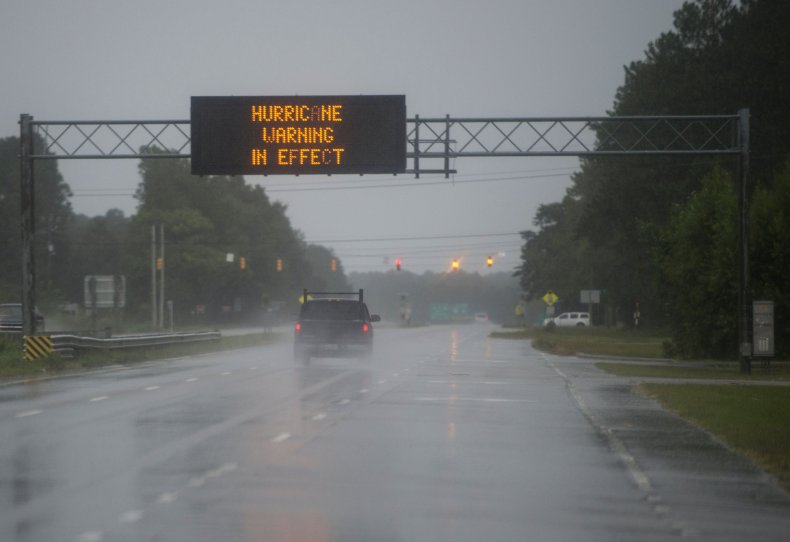 At 1 p.m. Friday, the National Hurricane Center issued an advisory stating that Florence was weakening as it moved farther inland over northeastern North Carolina, but that "torrential rains will continue." Heavy rain pounded Oriental in Pamlico County, with 20.37 inches of rainfall recorded.
More than 30 inches of rain were measured in Atlantic Beach by the United States Geological Survey, which would break North Carolina's record for rainfall from a tropical cyclone if confirmed by the National Weather Service (NWS).
"The sun rose this morning on an extremely dangerous situation and it's getting worse," North Carolina Governor Roy Cooper said, and called Florence a "thousand-year rain event."
Forecast, Predictions
In a Facebook live event at around 7:30 a.m. Friday, National Hurricane Center Director Ken Graham said that Charlotte could get 10 to 15 inches of rain and Roanoke could see 6 to 10 inches. Rainfall totals will depend on the speed of the storm, he said.
"Depending on the track, depending on speed, some values could shift back and forth, so be careful if you're living right on the edge, thinking, Looks like this is going to be OK," Graham said of the rainfall predictions. "Well, this could shift."
Heavy rain bands from #Florence will continue to pass over eastern NC through Friday, causing flash flooding to continue. Follow us here to get the latest warnings.
The NWS forecast office in Newport/Morehead City, North Carolina, on Friday mornign tweeted that "heavy rain bainds" would pass over the eastern part of the state through Friday and cause flash flooding.
"This storm will be a marathon vs. a sprint," the NWS tweeted. "In addition to the ongoing, dangerous storm surge and flash flooding, will be a long-term river flood threat WELL INLAND as very heavy rainfall continues to fall in the coming days."
What It Means
The excessive rain, expected to persist through the weekend, means the Carolinas should brace for a week of river flooding. The longer the hurricane winds continue, the longer water can be pushed inland, Graham said.
"Rivers normally flow south when it rains. This water is blown right up into river basins. As a result, it piles up. You're really far inland with some of the high values of the surge," he explained. "The other fact is, it blocks some of the drainage of the rain, so you put a lot of rain on this, trying to drain onto these rivers, you start backing them up, see flooding."
The biggest threat brought by Florence, which has been downgraded to a Category 1 storm, is not wind but water.
"It cannot be emphasized enough that the most serious hazard associated with slow-moving Florence is extremely heavy rainfall, which will cause disastrous flooding that will be spreading inland through the weekend," the National Hurricane Center said in an advisory at 5 a.m. Friday.
Meteorologist Eric Holthaus predicted that Florence will be a 1,000-year rainfall event for portions of North Carolina and that it could pan out to be the heaviest rainstorm to hit the East Coast in history.