Latest Update: Invest 98L (Florence Remnants) Path Threatens North Carolina With Rain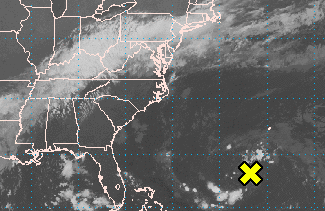 The National Hurricane Center doesn't expect the remnants of Florence to deliver any hard blow next week to North Carolina, but it is possible the eastern part of the state could get some rain from the system that's still churning in the Atlantic.
Dubbed Invest 98L by the NHC, the Florence remnant is a "broad area of low pressure located between Bermuda and the Bahamas" that "continues to produce limited shower and thunderstorm activity."
"The strong upper-level winds currently affecting the system are expected to diminish, and this could favor some development during the next couple of days," the NHC said.
The National Hurricane Center gives Invest 98L a 30 percent chance of developing into a named tropical depression or storm within the next five days, according to its latest update Sunday morning. The next named storm would be Leslie.
The area of low pressure is currently located about 300 miles south-southwest of Bermuda, and while the latest models do show it advancing toward flood-ravaged North Carolina, the system is expected to encounter upper-level winds along its path.
"The low is forecast to move westward and west-northwestward at about 10 mph over the southwestern Atlantic Ocean and by Tuesday or Wednesday, upper-level winds are forecast to strengthen again, likely limiting the development," the NHC said Sunday. "By then, the system is expected to be moving by the southeastern coast of the United States."
Eastern North Carolina may get rainfall from this system next week but as of this update it isn't expected as anything significant, forecasters said Sunday.
"The main impact of this system may be an uptick in the chance of showers in eastern North Carolina, possibly the Virginia Tidewater, Tuesday into early Wednesday before the system glides into the north Atlantic Ocean," reported weather.com. "No heavy rainfall is expected from this system."
Meanwhile, more than a week after Hurricane Florence devastated North Carolina, "treacherous" floodwaters still persist in the state, its Governor said, impacting travel with continued roads and Interstates closures.
Gov. Roy Cooper said this weekend that nine of North Carolina's river gauges are a major flood stage and that four others are at a moderate stage. He also advised that key travel routes, notably Interstates 95 and 40, will be impacted for another week or more, according to the Associated Press.
"Hurricane Florence has deeply wounded our state, wounds that will not fade soon as the flood waters finally recede," Cooper said.
Parts of I 95 and I 40 remained closed due to flooding in southeastern and south-central North Carolina, causing motorists to utilize detours. These Interstate closures may last another week or more in North Carolina. Visit here for more on flooding road closures in the state.