Before Hurricane Florence, Republican Lawmakers Ignored Scientists' Warnings of Rising Sea Levels in North Carolina
As Hurricane Florence barrels its way through the Southeast this weekend, residents are dealing with potentially deadly storm surges and flooding due to possible record-breaking rainfall.
But Stanley Riggs, a coastal and marine geologist, told The Washington Post that the problems could have been mitigated if Republican lawmakers had listened to a study prepared by a team of scientists on the rising sea levels in North Carolina.
The study predicted that due to climate change, the sea level would rise 39 inches by 2100. The report, written in 2010, said that projection should have guided "policy development and planning procedures."
The report also suggested that the state should "consider installing tide monitoring stations" and "establishing a program for continuously monitoring and measuring land subsidence on the coastal plain."
But the report got lost during the 2010 election, which saw Republicans take over the majority in North Carolina's General Assembly. In 2012 lawmakers passed a law denying state agencies the right to base policy decisions on predictions of rising sea levels. All scientific recommendations, like the one from Riggs' team, were tabled until 2016.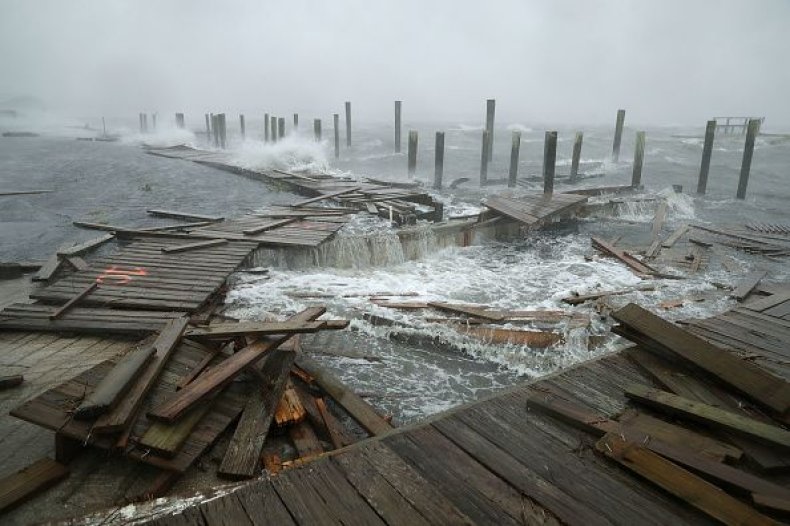 Hurricane Florence had been downgraded to a Category 1 storm as it made landfall near Wilmington, North Carolina early Friday morning. But the most dangerous part of the storm is the expected heavy rainfall.
Todd Hamill, a hydrologist at the National Weather Service's Southeast River Forecast Center, confirmed to Newsweek Friday morning that Florence could dump up to 10 trillion gallons of rainwater over the next several days.
"It is a big number, and a lot of water, but what we would expect from a storm like this," he said.
The rain will result in flash flooding, especially in the state's low-lying areas around the coast. The National Weather Service warned on Friday that the storm surges and floods that will result from the onslaught of rainfall could be "life-threatening."
Riggs told the Post that if the state had not rejected their proposal, their shoreline would not be in such bad shape.
"Beaches are collapsing and have to be re-nourished over and over again with new sand. All that sand will be gone after today or tomorrow. We'll have to do it all over again," he said.
Riggs has not responded to Newsweek's request for comment.
Hurricane Florence is expected to continue on its path through the Carolinas, Virginia and parts of Georgia over the next few days. The heaviest rainfall will happen along the coasts of North and South Carolina through Sunday. As the storm makes its way inland, the rain will taper off and become less intense.
Before Hurricane Florence, Republican Lawmakers Ignored Scientists' Warnings of Rising Sea Levels in North Carolina | U.S.