North Carolina Residents Ignoring Hurricane Florence Evacuation Orders Told To Inform Next of Kin
North Carolina residents who decide to ride out Hurricane Florence and ignore the warnings of local first responders have been directed to inform their next of kin of this ill-advised decision should they fall victim to the storm.
As millions of North and South Carolina residents evacuated their homes over the past few days, North Carolina Governor Roy Cooper issued a statement urging those remaining to follow suit. Several North Carolina residents reported they were asked to write Social Security numbers and other identifying marks on their body in case they end up as hurricane fatalities, although local law enforcement told Newsweek this may simply have been "scare tactics."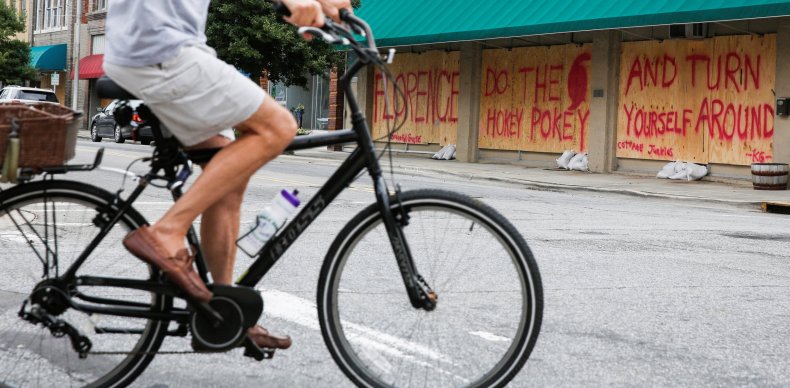 A Carolina Beach Fire Department officer told Newsweek that residents have been repeatedly informed to leave their residences through several different methods. "[Residents were] advised via social media to evacuate the beach. We went around making public PA announcements using fire vehicles yesterday encouraging people to leave."
Wrightsville Beach Police told Newsweek that Chief Dan House informed locals that "any residents that stayed on the island" are to "give somebody their next of kin in the event that they don't make it off the island."
Land developer Jerry Helms watched neighbors along his tree-lined street on Oak Island hastily pack up to get out of Florence's path. "This one is a bad storm," he told Newsweek. "Anybody that's not prepared should leave. This is going to have wind flood and waves—it's not a good place to be."
But that doesn't mean he or his wife left when they had the chance, and he now realizes he's on his own. "Don't use me as advice to stay. We're not worried, and we're prepared," he said.
Cooper told CBS This Morning, "There is still time to leave. The winds may be down a bit, but the one-two intense punches that we are expecting are still there. This storm surge can be deadly and then the flooding that will come thereafter, with rain being measured in feet instead of inches. We know that this is an extremely dangerous situation."
Helms said he has spent his entire life on the island, and he's seen Mother Nature's wrath in past storms and survived. For Helms, Florence will come and pass. "We're native, so we've seen them all and been through our share of hurricanes," he said.
Nobody knocked on Helms's front door, but he said he's aware that there has been a mandatory evacuation since Wednesday evening on all the barrier islands and coast, which he is willingly disregarding.
Further northeast in Carolina Beach, a retiree named Len Simpson is also staying put, in a ground-floor apartment where he's lived for 13 years. The 75-year-old former cabbie, whose car features a logo of a wheel in the middle of a hurricane, said he "can handle" Florence.
"It's my choice," he told Newsweek, adding that he has heard firetrucks roaming through the area warning residents from a speaker system: "You need to evacuate!"
Simpson said he has enough water and food, as well as a portable radio and lamps. He boasts of having a great deal of camping experience. "I'm good," he said.
Meanwhile, his street has become virtually deserted, save for a couple of neighbors.