Overflowing waste water plants sent more than 31 million gallons of sewage into waterways during last year's Hurricane Harvey. A bridge collapsed, and two dams performed controlled releases to avoid calamitous failures.
The infrastructural failures emphasized the dire state of public facilities. A year later, as rain from Hurricane Florence continues to cascade and storm surges lash coastal areas, infrastructure in North Carolina, South Carolina and Virginia is at risk. While the hurricane's impact will be damaging, it won't be a surprise.
"What I took away from Harvey is everything that we knew could happen did happen," former president of the American Society of Civil Engineers (ASCE) Wayne Klotz told Newsweek. "I guarantee you the engineers in North and South Carolina will feel the same."
The ASCE 2017 Infrastructure Report Card, which ranks an array of U.S. systems, gave the country a D+. The nation's bridges received a C+, while its wastewater treatment plants were given a D+. Dams were given a D grade.
Almost 10 percent of bridges in South Carolina and over 10 percent in North Carolina were structurally deficient, according to the American Road and Transportation Builders Association. Only 5.9 percent of Virginia bridges were structurally deficient, a description which Klotz said meant they were carrying loads that they were not designed to hold -- not that they would imminently collapse.
"There's not a lot of bridges waiting to fall down," he told Newsweek. But he also said the structures were not designed "to accommodate three to four feet of rain at a time." CBS News reported that "more than 16 inches of rain have fallen in southeast North Carolina and another 20 to 25 inches is on the way," citing the National Hurricane Center.
When this happens, Klotz said, water traveling at high velocities scours away the soil around bridge columns, jeopardizing the support system. While bridge collapses are rare, the damage could require repairs.
Dams in the Carolinas were neglected, as well.
South Carolina has 178 high hazard dams, which the government defines as a facility "where failure will probably cause loss of human life. Such facilities are generally located in populated areas or where dwellings are found in the flood plain and failure can reasonably be expected to cause loss of life; serious damage to homes, industrial and commercial buildings; and damage to important utilities, highways, or railroads."
More than 1,400 of North Carolina's 5,700 dams are classified as high hazard, the Charlotte Observer reported. While these dams were not likely to rupture, according to Klotz, they could need to release excess water during Florence, causing downstream flooding.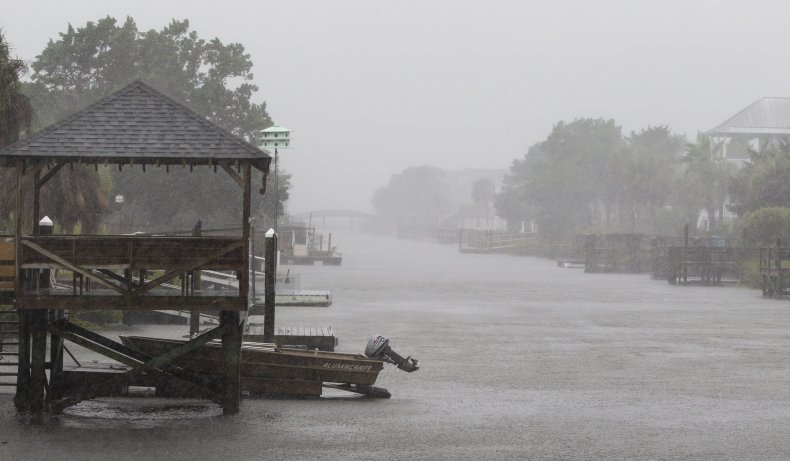 And while power loss is expected, the outages can have derivative impacts. More than 700,000 people have lost power, AccuWeather reported.
In heavy storms, the outages lead to health impacts. "Power loss can also affect water treatment facilities, which can be damaged," policy analyst at Bipartisan Policy Center Jake Varn told Newsweek. Electricity failures -- or flooding -- could also disable waste water plants, leading to sewage overflows, Klotz said. "Most waste water plants are located near waterways. If you get heavy enough flooding, you can also knock wastewater plants offline."
While dangerous, some of these potential infrastructure failures were avoidable, Klotz, Varn and Director of Infrastructure at Bipartisan Policy Center Michele Nellenbach told Newsweek.
"We've underinvested in all these resources for the last couple of decades. We didn't keep up in terms of operations and maintenance," Nellenbach said.
New, stronger and more environmentally sustainable materials are available, but public funding has not been used to upgrade degraded structures, Klotz said.
"Candidly, for the last 30 to 40 years we have just chosen at the public level not to adequately maintain our infrastructure," he told Newsweek. "None of it's free. You tell the public it's going to cost this many dollars to fix this treatment plant and we might have to charge you more on your water rates, and that's the end of the conversation."