Tornado Watch Map: Where Hurricane Florence is Bringing Tornado Warnings and Watches in North Carolina
Hurricane Florence made landfall in parts of North Carolina early on Friday morning. In addition to destructive winds and heavy rainfall, the storm now poses a potential tornado threat. Tornado warnings were issued in five counties across the state on Thursday, however, the number of counties in possible danger of a tornado embedded within the hurricane increased significantly by Friday morning.
The National Weather Service (NSW) issued a tornado watch for portions of Eastern North Carolina's coastal areas on Friday morning at 6:55 a.m. ET. The watch is expected to last until 5 p.m. ET on Friday.
More than 20 counties across North Carolina were put on tornado watch: Beaufort, Bertie, Carteret, Chowan, Craven, Dare, Duplin, Edgecombe, Franklin, Greene, Harnett, Hyde, Johnson, Jones, Lenoir, Martin, Nash, Onslow, Pamlico, Pitt, Sampson, Tyrrell, Wake, Washington, Wane and Wilson.
Tornado warnings were issued in North Carolina cities Arapahoe, Bayboro and Oriental until 9:15 a.m. ET.
The service said that "a couple" of isolated tornados could possibly make landfall on Friday, bringing damaging wind gusts up to approximately 75 miles per hour. There is also a chance of isolated hail storms.
People residing in those areas during the storm were advised to be on the lookout for tornado sirens and take shelter immediately.
Tornados in the midst of tropical storms aren't uncommon. They can form in thunderstorms embedded within a hurricane, the National Hurricane Center (NHC) said. Although the NHC deemed tornadoes within hurricanes as "relatively weak and short-lived," the twisters are still considered dangerous and pose a threat.
According to the National Oceanic and Atmospheric Administration, nearly all cyclones that make landfall in the United States bring one tornado as long as "enough of the tropical cyclones circulation moves over land."
After being reduced to a Category 1 storm, Hurricane Florence's eyewall made landfall near Wilmington at 7:15 a.m. on Friday, bringing with it crushing winds of more than 90 miles per hour and three inches of rainfall an hour. Florence's center is expected to remain along coastal North and South Carolina for another day, potentially raising flooding levels significantly.
In the North Carolina town of New Bern, storm surge was already reported at 10 feet on Friday.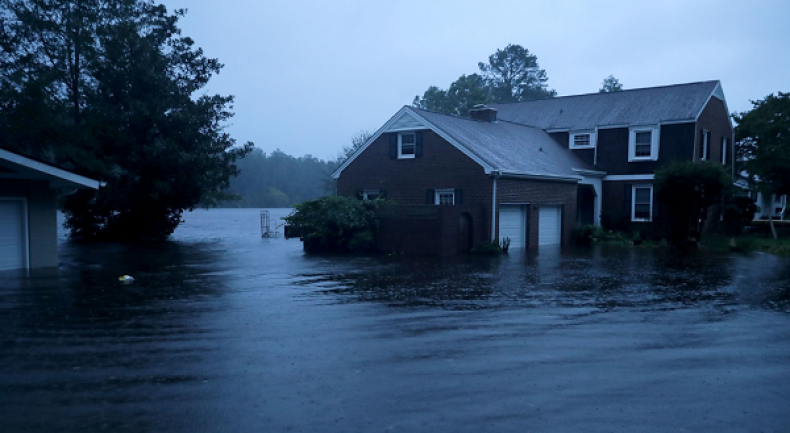 The NHC said life-threatening, catastrophic flash flooding and prolonged river flooding could spread across areas of both North and South Carolina and the central Appalachians through next week.
More than 300,000 power outages were reported as of Friday morning. The areas most affected by the loss of electricity included New Hanover, Carteret, Onslow, Pender and Craven. It is possible that power could be out for weeks due to statewide damage brought by the hurricane.