Hurricane Florence Track Path Sunday Update: Heaviest Rainfall Yet, 'Catastrophic' Flash Flooding Predicted As Storm Moves West
Experts have predicted that North Carolina will experience the heaviest of its Hurricane Florence rainfall on Sunday in the wake of the catastrophic storm which has left at least 13 people dead, including a mother and her child.
Early Sunday morning, the National Hurricane Center (NHC) revealed "an increase in forward speed" is expected later today as Tropical Storm Florence moves northwest.
"On the forecast track, Florence's center will move across the western Carolinas today and then recurve over the Ohio Valley and Northeast U.S. Monday and Tuesday," the center said in a statement posted at 2 a.m. Eastern Time.
According to Weather Service Meteorologist Lauren Carroll, Sunday will be "the main event" for those in Western North Carolina as heavy rainfalls are expected to result in flash floodings.
"(Winds) do die down by Sunday morning for the most part," Carroll said, reported Citizen Times, "and that's when the heavy rainfall threat ramps up."
The projection has prompted authorities in North Carolina to warn drivers from travelling down Interstate 95, asking them instead to detour around the entire state via Tennessee onto Interstate 75.
"The one thing I want to prevent is thousands of people stranded on our interstates or US routes," Jim Trogdan, the state's Transportation Secretary, said.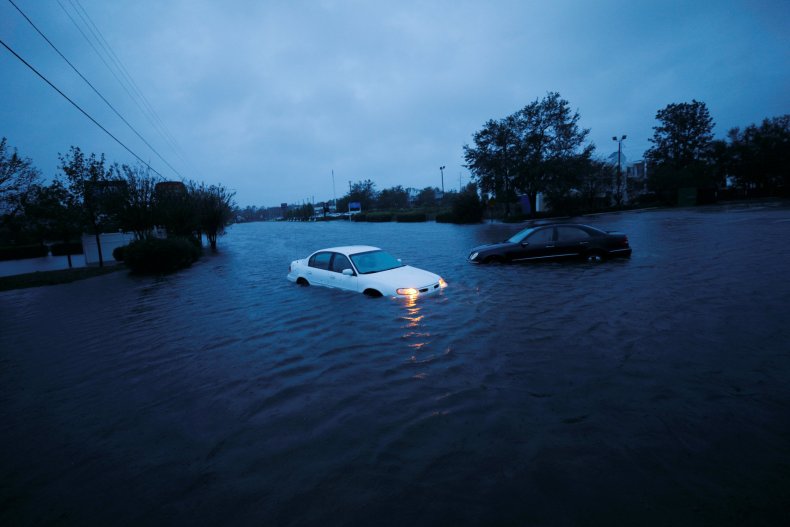 On Saturday morning, North Carolina Governor Roy Cooper warned that the floods were still yet to reach its peak.
"The flood danger from this storm is more immediate today than when it ... made landfall 24 hours ago," he said, reported CNN. "We face walls of water at our coasts, along our rivers, across our farmland, in our cities and in our towns."
At 11 p.m. Eastern Time last night, the NHC said heavy rains are continuing across North Carolina, which has caused flash flooding and major river floodings throughout the state.
"Life-threatening, catastrophic flash floods and prolonged significant river flooding are likely over portions of the Carolinas and the southern to central Appalachians from western North Carolina into west-central Virginia and far eastern West Virginia through early next week, as Florence moves slowly inland," the center said in a statement.
"In addition to the flash flood and flooding threat, landslides are also possible in the higher terrain of the southern and central Appalachians across western North Carolina into southwest Virginia."
At 4 a.m. on Sunday, the National Weather Service Prediction Center said estimated "rainfall across southeastern NC are above 20" with some areas over 30" b/t Wilmington & New Bern. This catastrophic, life-threatening flash flooding & river flooding will persist as rain bands from Florence continue."
North Carolina's Department of Public Safety announced that around 789,000 homes were out of power throughout the state yesterday, as Duke Energy added that 3 million people could potentially experience power outages in the coming week caused by the Hurricane.