Hurricane Florence Track Shifts to Left, Could Impact U.S. East Coast Next Week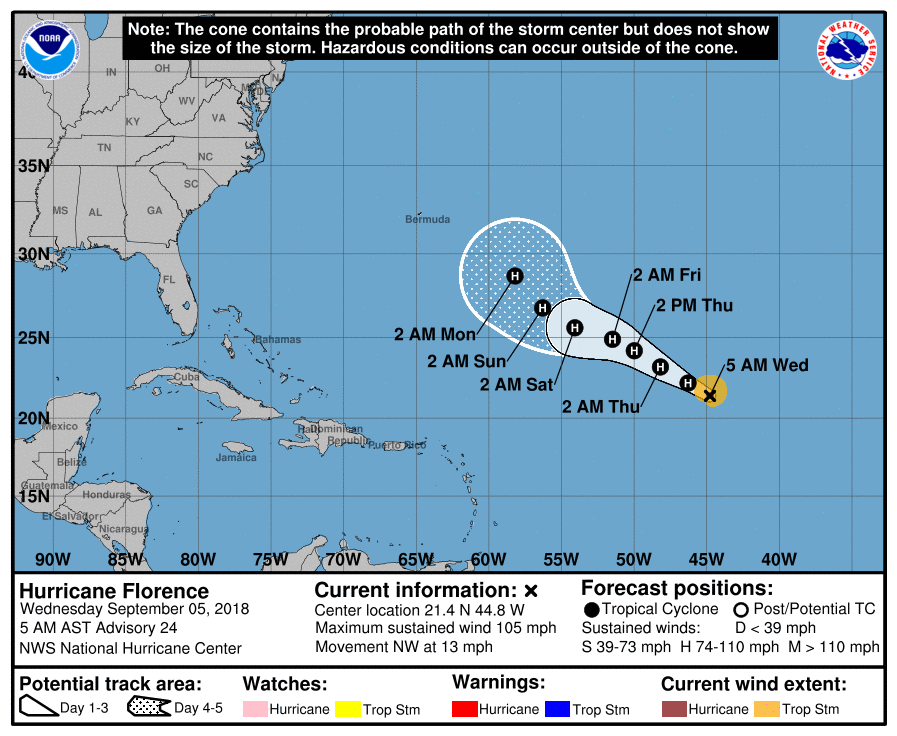 Hurricane Florence is expected to track more to the left in the Atlantic in the latest forecast update, increasing odds that it may impact the United States East Coast.
A strengthening category 2 storm with winds of 105, Florence is still far out in the Atlantic away from land, but the storm merits close observation because it could impact or hit Bermuda, before taking a path to the left toward the United States next week. Overnight, the National Hurricane Center said that a subtropical ridge is weakening that could have steered Florence out to sea, away from land interests, on a recurve -- increasing odds of U.S. impact since the NHC said it has adjusted the Hurricane Florence forecast track "to the left."
"The ECMWF model track forecast has shifted significantly toward the left this evening, closer to the other global models and their ensemble means, indicating less steering influence from the predicted growing weakness in the subtropical ridge," the NHC said in an advisory Wednesday.
Florence is the third Atlantic hurricane of 2018. The storm was expected all along to recurve, avoiding land, but models won't let go of a more westerly track. It will be this weekend before forecasters know for sure if Florence will threaten land next week but odds, albeit slight, have been increasing that the U.S. East Coast could see an impact in seven days or so.
"… if Florence weakens, the storm will tend to be steered by the atmospheric flow at lower levels of the atmosphere, which favors a more west-northwesterly track," Accuweather reported late Tuesday. "In this scenario, endorsed by the 0Z Tuesday run of the UKMET model, Florence would avoid recurvature, and get trapped to the south of strong ridge of high pressure. Florence would continue moving to the west-northwest, posing a threat to Bermuda on September 10 - 11, and to the U.S. East Coast later next week."
It's still early in the forecast, but The Weather Channel forecasters agree Florence needs watching closely.
" For now, it's too early to determine the long-term track of Florence beyond five days since that will depend on the evolution of the upper-level weather pattern and the future strength of Florence.
"An increasing number of ensemble forecast models is indicating Florence may track close enough to impact Bermuda early next week. Interests in Bermuda should closely monitor the progress of Florence."
Hurricane Florence Track Shifts to Left, Could Impact U.S. East Coast Next Week | U.S.