Hurricane Florence Tracker, Live Updates Friday: Major Damage, 300,000 Without Power, 10-Foot Storm Surges, People Await Rescue
UPDATE: 4:47 p.m. EDT–Florence was downgraded to a tropical storm on Friday afternoon, the National Hurricane Center said in an update. The storm was moving west at 3 mph, packing winds of up to 70 mph.
UPDATE: 7:42 a.m. EDT–Hurricane Florence made landfall near Wrightsville Beach, North Carolina, the National Hurricane Center confirmed. The storm brought maximum winds of around 90 miles per hour.
UPDATE: 7:07 a.m. EDT–The National Weather Service issued a tornado watch for parts of North Carolina on Friday morning. The watch was to remain in effect until 5 p.m.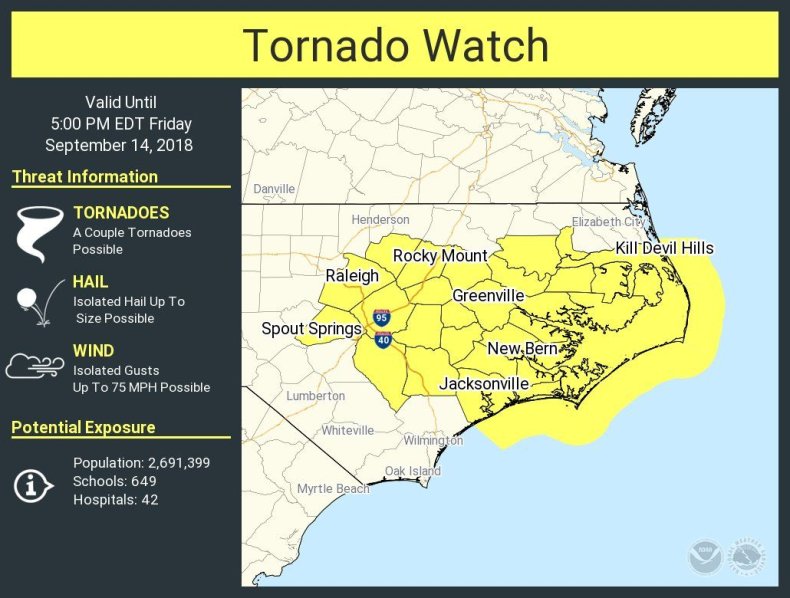 Original story:
The eyewall of Hurricane Florence was onshore in Wilmington, North Carolina, early Friday morning, the National Hurricane Center said in an update. The center was expected to make landfall shortly. Florence was a Category 1 storm on Friday—packing maximum winds of 90 mph.
Even before fully making landfall, the storm brought surges of up to 10 feet, severely damaged structures in the region and left some 300,000 people without power.
Here's the latest on Hurricane Florence's track, the damage it's produced and more.
Tracker/Path
In the latest path update released at 6 a.m. EDT, the National Hurricane Center showed the storm making landfall early Friday morning, bringing hurricane force winds to the coast and tropical storm force winds further inland.
The path showed the storm was expected to hover there for more than 24 hours, moving west into South Carolina before weakening into a tropical storm. Florence was forecast to move northwest into Tennessee, Kentucky and the western tip of Virginia Monday morning befor veering northwest on Tuesday.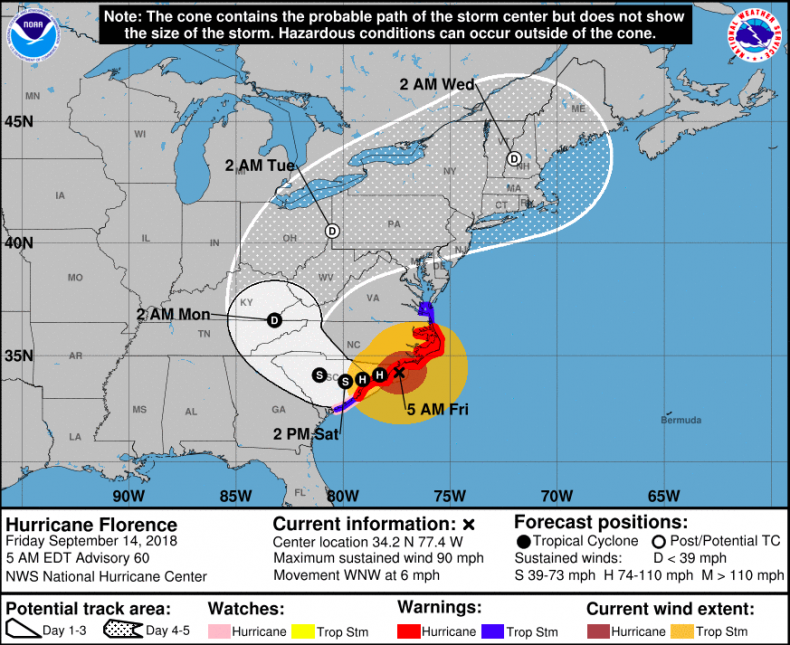 Storm Surge
A storm surge of up to 10 feet was reported in Morehead City, North Carolina, as the storm approached land. An estimated 150 people were awaiting rescue after a storm surge in New Bern, The Weather Channel Reported.
Damage
Initial photos and videos showed major damage from the storm, particularly in Morehead, North Carolina. Images on social media showed some structures had already been virtually destroyed by early morning—even before the storm officially made landfall.
300,000 Without Power
At least 300,000 people were already without power as the storm closed in on the region Friday morning, The Weather Channel Reported.
As of 6 a.m. Friday, North Carolina Emergency Management officials said 321,692 people were without power in the state alone. The top counties affected were New Hanover, Carteret, Onslow, Pender and Craven.
Emergency management officials previously said the storm could knock out power for days or weeks.
Flooding
The National Weather Center said life-threatening, catastrophic flash flooding and prolonged significant river flooding were likely over portions of the Carolinas and southern and central Appalachians through early next week due to Florence slowing down as it moved inland.
Flash flood warnings were in effect for Clayton, Smithfield and Selma, North Carolina, as well as Myrtle Beach, North Myrtle Beach and Little River, South Carolina. In a 6 a.m. update, the National Hurricane Center reported that already-elevated water levels would likely continue to rise.
"The water levels in Pamlico Sound and Emerald Isle remain elevated," the Hurricane Center said. "These waters are expected to rise as the tides come back in."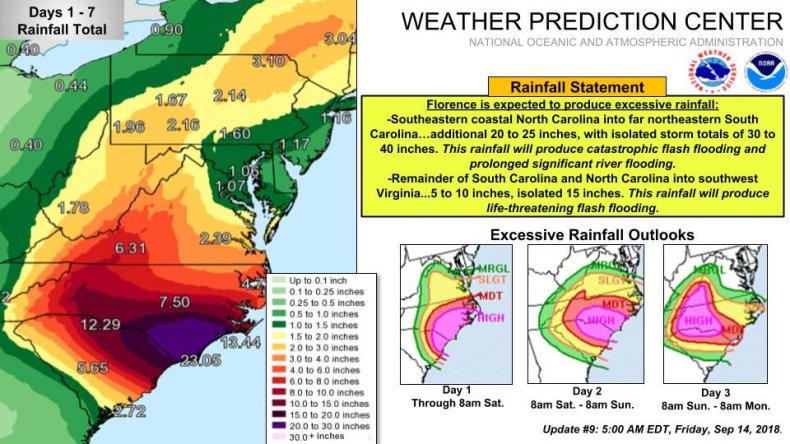 Flight Delays/Cancellations, Airport Closures
Six airports in the mid-Atlantic region will remain closed throughout Friday, including major airports in North and South Carolina. Atlanta's Hartsfield-Jackson International Airport was also affected.
A comprehensive list of cancellations and delays is available here.
This is a developing story and will be updated as more information becomes available. Check back with Newsweek for the latest.