Trump Says Hurricane Florence Is 'Tremendously Big, Tremendously Wet'
Hurricane Florence is "tremendously big and tremendously wet," President Donald Trump said during a White House address on Tuesday as he advised residents to flee.
"The places that are in the way and in the most jeopardy would be Virginia, North Carolina and South Carolina," he said. "They haven't seen anything like what's coming at us in 25 to 30 years, maybe ever. It's tremendously big and tremendously wet. Tremendous amounts of water."
Trump added, "I have spoken with the governments of North Carolina, South Carolina and Virginia; they are prepared, we are prepared, we are working very well in conjunction with the governors."
The Category 4 hurricane—expected to affect the lives of millions of Americans later this week once it reaches the East Coast, was called a "life-threatening situation" by authorities from the National Hurricane Center (NHC) on Wednesday, given the risk of sudden storm surges and rainfall. Concerned residents should stay up to date, using the official public advisory notices, available here.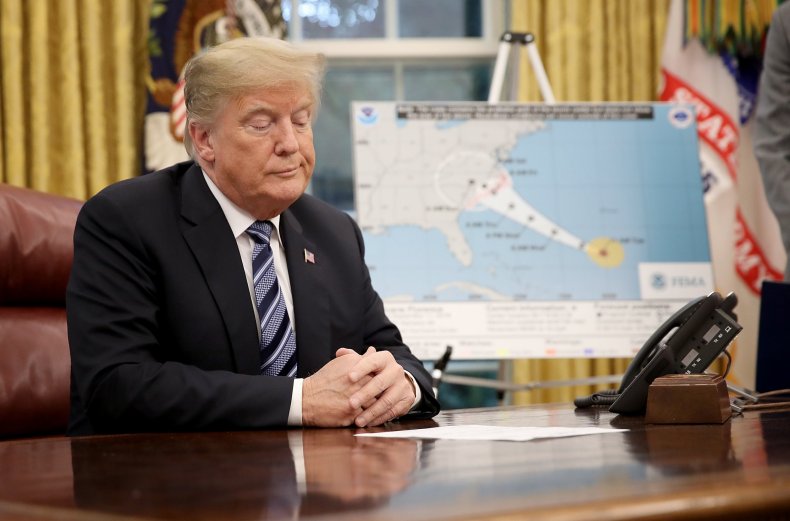 Earlier, Trump said that U.S. citizens were his priority and that "no expense" would be spared.
"We are totally prepared, we are ready," he told reporters. "We are as ready as anybody has ever been. It looks to me, and it looks to a lot of very talented people that do this for a living, like this is going to be a storm that is going to be a very large one. Far larger than we have seen in perhaps decades. Things can change, but we doubt they will at this stage, it's a pretty late stage."
Asked what message he would relay to any East Coast residents who have not yet been able to evacuate the region, following the warnings of weather officials, he said, "That's very risky."
Trump continued, "Again, we have never seen anything quite like this, on the East Coast at least, and if it turns out to be as bad—you know—we go out there, you have people that actually go fly through these storms. These are very brave people but they fly through, and from what I'm hearing, the sights they are seeing have not been seen on the Cast Coast before."
He added, "I would say everybody should get out. You have to listen to local authorities. Whether you are up land or down land, but depending on where you are, you have to listen, you have to get out."
Florence is forecast to be an "extremely dangerous major hurricane" when it nears the coast, the NHC has warned. As visualized by Statista, it is not the only storm to threaten significant harm to the U.S. recently. Other examples are Matthew (Category 1) and Maria (Category 4).
This is how Florence stacks up in comparison to recent storms: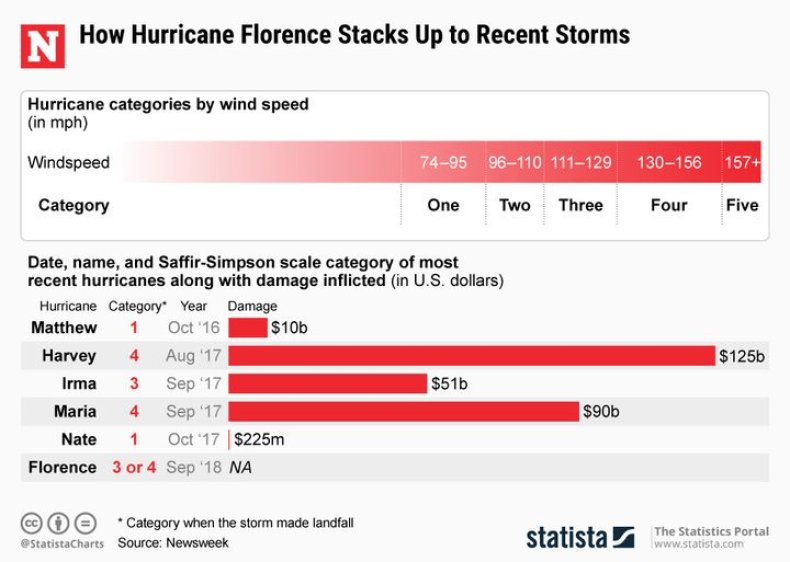 This article has been updated to include an infographic.