Hurricane Florence: U.S. Navy Sends Virginia-based Warships Out to Sea to Avoid Storm
The U.S. Navy sent its ships docked at Naval Station Norfolk—the world's largest base—out to sea on Monday as Hurricane Florence neared with 115 mile per hour winds.
Admiral Christopher Grady, the commander of U.S. Fleet Forces, instructed almost 30 ships in Hampton Roads, southeastern Virginia, to sail to sea to protect them from Florence, a major hurricane predicted to hit North Carolina on Thursday evening.
The vessels, including guided-missile destroyers, cruisers and submarines, left from Naval Station Norfolk and Joint Expeditionary Base Little Creek on Monday.
"Our ships can better weather storms of this magnitude when they are underway," Grady said in a statement.
A Navy statement confirmed that the ships "will be directed to areas of the Atlantic where they will be best postured for storm avoidance."
Not all vessels were evacuated Monday. The warships currently undergoing maintenance will remain to weather out the strom, while taking precautions, such as dropping their anchors and disconnecting their power lines to avoid damage.
"We're moving out assets in preparation of potentially dangerous conditions in the path of the projected storm. We do that so that they can immediately return and begin rescue and recovery operations after the storm passes," Public Affairs Specialist 3rd Class Joshua Canup told Navy Times.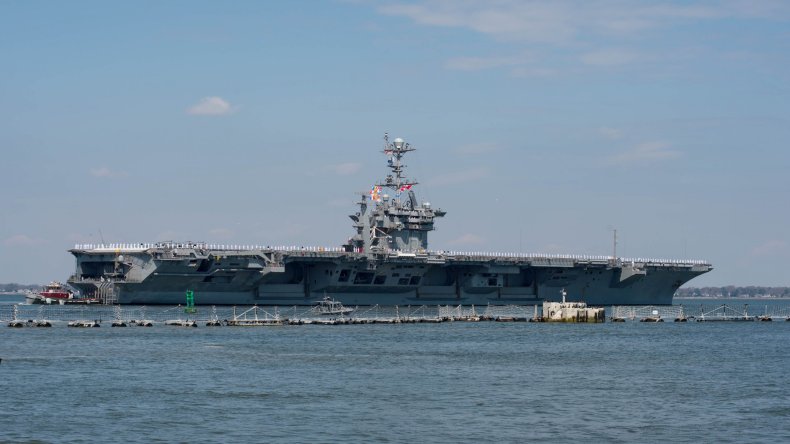 At the Navy base, sailors have started safeguarding the facility from potential damage by sandbagging buildings, banning vehicles from flood prone zones, fueling generators and moving dumpsters and equipment.
On Monday morning, hardware and grocery stores in the area saw masses of shoppers stocking up emergency supplies for their families.
Kevin Robinson, a spokesperson for the Defense Commissary Agency, said that commissary officials were adjusting operation hours to better suit people needing to complete their shopping. "If there are early predictions of a coming storm we always adjust to provide extra storm-related supplies," he said.
The Marine Corps Recruit Depot Parris Island in South Carolina opened its doors Monday, despite it usually being closed on Mondays, to meet the demand of Navy personnel and their families.
Last night, President Donald Trump declared a state of emergency in North and South Carolina after Hurricane Florence was upgraded to a Category 4 storm.
According to the National Hurricane Center, the storm could evolve into a Category 5 before it makes landfall.