Latest Photos of Carolinas' Floods, Still Rising Long After Hurricane Florence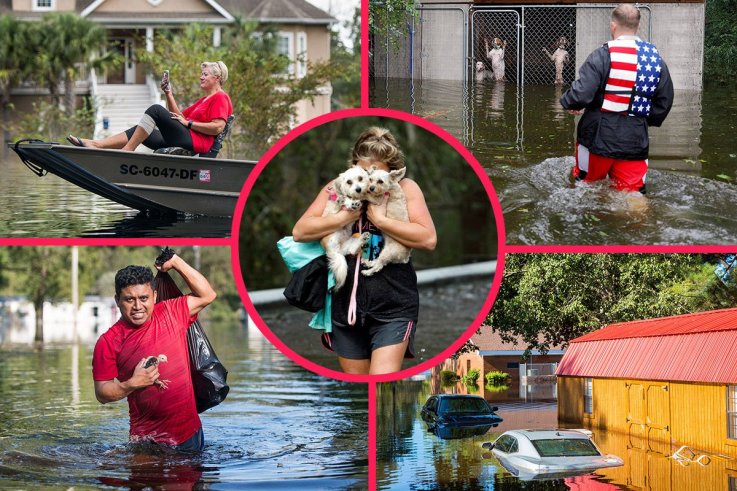 More than a week after Hurricane Florence hit the Carolinas, the floodwaters are still rising. As many as 8,000 people in and around the city of Georgetown, South Carolina, have been urged to evacuate ahead of expected severe flooding from two rain-gorged rivers.
Between 5 to 10 feet of water is expected to inundate Georgetown and surrounding communities by late this week as the Pee Dee and Waccamaw rivers burst their banks along the low-lying tidal flats where they converge at Winyah Bay, which flows into the Atlantic.
State transportation crews have been working to erect temporary dams on either side of U.S. Highway 17, the main coastal route through the area, and National Guard engineers have been installing a floating bridge at Georgetown in case the highway is washed out at the river.
About 100 miles up the coast, a commercial section of downtown Wilmington, North Carolina, by the Cape Fear River, was under a foot of water, with flooding expected to rise by a further 2 feet with high tide, city spokesman Dylan Lee said.
The storm dumped 30 to 40 inches (75 to 100 cm) of rain on the Wilmington area alone after making landfall nearby on Sept. 14. Nine days after Florence came ashore, the National Weather Service said flooding would likely persist in coastal parts of the Carolinas for days as the high-water crest of numerous rivers keeps moving downstream toward the ocean.
Floodwaters have begun to recede farther inland, but remnants of the once-mighty storm brought heavy rains across a swath of the country, prompting flood watches and warnings from Texas to Virginia and Maryland, at least through Monday, the weather service said.
About 5,000 people across North Carolina have been rescued by boat or helicopter since the storm made landfall, twice as many as in Hurricane Matthew two years ago, according to state officials. Thousands of people remain in shelters. At least 40 deaths have been attributed to the storm, with most of those in North Carolina.
— Reuters contributed to this report.