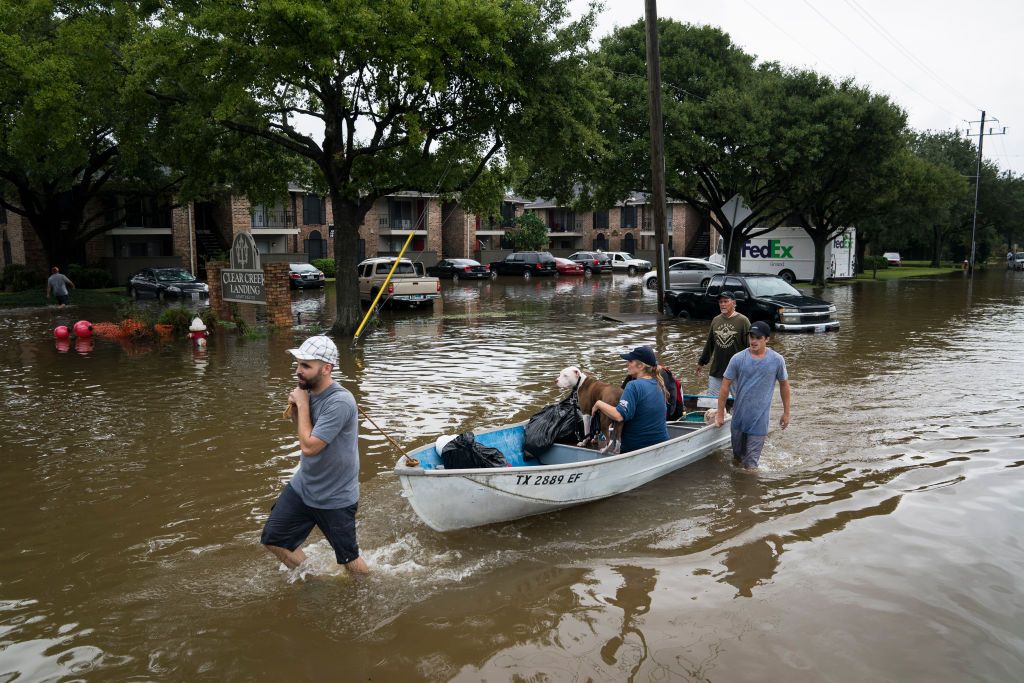 More than 22 inches of rain pour down on America's fourth-largest city in 24 hours, three days after Hurricane Harvey struck
At least five people have been reported dead in what the National Weather Service calls "unprecedented" floods around the Houston area
The White House announced President Trump will visit Houston Tuesday in the aftermath of "historic" flooding
Harvey, once a Category 4 hurricane but now re-qualified as a tropical storm, could cause four more days of massive downpour, meteorologists estimate
The blackout spreads through Texas as 316,000 people have now lost access to electricity
Dallas is turning its main convention center into a "mega-shelter" which will host 5,000 evacuees
Update 5:57 a.m. ET - Evacuations have been ordered in neighborhoods and counties across the Houston area as record levels of water flow from Lake Conroe Dam, local broadcaster ABC13 reported. Two of the levee districts in Sugar Land, Texas, are under mandatory evacuation, while other residents have voluntary evacuation.
This comes after Houston's Mayor Sylvester Turner on Sunday defended the decision not to evacuate Harris County, which saw some of the heaviest rainfall in Houston, warning that it could lead to worse consequences.
"If you think the situation right now is bad, you give an order to evacuate, you are creating a nightmare. Especially when it's not planned," Turner said during an update Sunday on the city's response to Hurricane Harvey, ABC News reported.
Update 7:12 a.m. ET - The U.S. Army Corps of Engineers will begin releasing water from two reservoirs in Houston. The release will cause flooding in nearby homes but is necessary—if water in the reservoirs rises too quickly, it could lead to uncontrolled water flowing from the dams.
Water from the Addicks and Barker reservoirs will be released into the Buffalo Bayou river.
"If we don't begin releasing now, the volume of uncontrolled water around the dams will be higher and have a greater impact on the surrounding communities," Galveston District Corps commander Colonel Lars Zetterstrom said.
Update 7:31 a.m. ET - Footage of a local TV reporter rushing to the rescue of a Houston truck driver trapped in the rising flood during her broadcast has gone viral. Brandi Smith, reporting for KHOU 11 News, alerted a passing Harris County Sheriff's pickup truck that was towing a boat, then told the truck driver a boat was coming to help.
Update 8:04 a.m. ET - U.S. emergency authorities are estimating that over 30,000 people will need shelter from the flooding caused by tropical storm Harvey, the Federal Emergency Management Agency's administrator announced Monday.
"The sheltering mission is going to be a very heavy lift," FEMA's Brock Long said at a news conference in Washington, D.C., USA Today reports. The storm has affected up to 50 Texan counties, Long told journalists.
Director of the National Weather Service Louis Uccellini described the flooding as "catastrophic" and warned that more areas would likely be affected. The storm is forecast to return to the Gulf of Mexico, from whence it came, today, but also is set to make a second landfall near the Texas-Louisiana border by midweek.
Update 8:51 a.m. ET - Watch volunteers from Austin arriving to help.
Update 9:09 a.m. ET - The White House has approved Louisiana Governor John Bel Edwards's request for a federal state of emergency in his state as well as in Texas. Federal services will now aid state and local authorities in Louisiana.
"This action will help alleviate the hardship and suffering that the emergency has inflicted on the local population, and provide appropriate assistance for required emergency measures," the White House said in a statement Monday.
Update 10:47 a.m. ET - Harris County Sherrif Ed Gonzalez has fired off a warning to anyone planning to take advantage of the disarray and burgle victims of Harvey.