Hurricane Harvey vs. Katrina: History Shows Americans are Still Exposed to Bacteria and Chemical Risks After Floods
Even before Hurricane Harvey finished hammering Houston, doctors were concerned about the potential impact of floodwater or its residue on city residents. Floodwater not only carries debris but is easily contaminated with copper, zinc, oil and gas, sewage, chemicals and pathogens trapped in the soil.
As the storm unfolded, people in Houston reported chemical and sewage spills, and one resident caught a flesh-eating infection after kayaking through the floodwaters.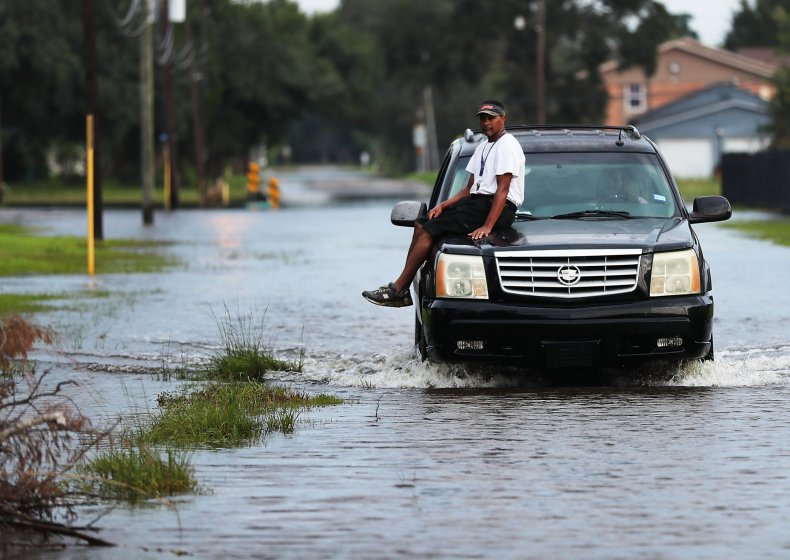 But scientists have struggled to get a handle on exactly what could have contaminated the water, and in which areas of the city. "Mostly what we saw was obviously significant sewage contamination," Qilin Li, an environmental engineer at Rice University, tells Newsweek.
So far, at the sites Li has seen test results from, chemical contamination hasn't been a problem. That's not surprising for people in her field, who know that germs are an equally dangerous threat.
After Hurricane Katrina, which devastated New Orleans in 2005, germs were a major problem. More than 1,000 people caught diarrheal infections, and there were a few dozen cases of skin infections.
But there are some differences between Katrina and Harvey and their aftermaths that shed light on how flooding recovery works.
In Houston, responding to the cleanup after Harvey has been handled by the Texas Commission on Environmental Quality and the Environmental Protection Agency's (EPA) Region 6 office—which covers Texas and neighboring states—whereas the cleanup after Katrina had more federal involvement.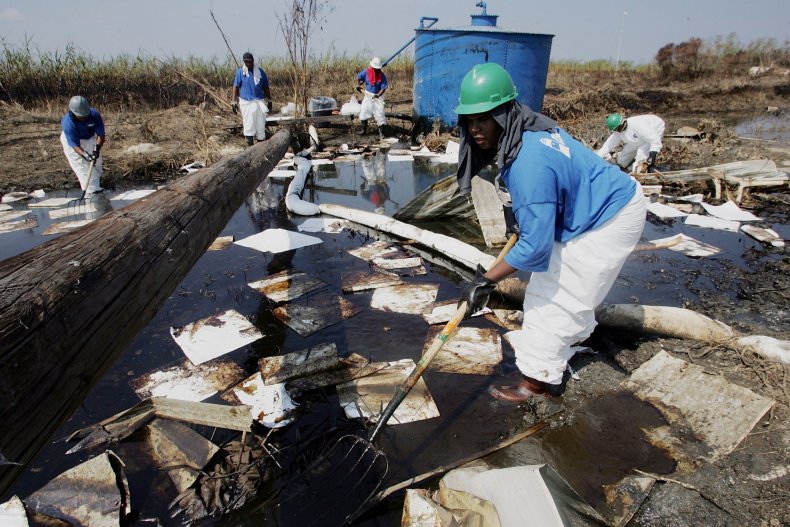 John Pardue, an environmental engineer at Louisiana State University, whose team sampled standing water after Katrina, says the response to Harvey appears to have been focused at the regional level. "I've been surprised. Like everybody else, I've been looking for that same sort of scope of effort."
The worry is, he says, that the EPA is missing an opportunity to tap into the expertise it holds in other offices. "I'm so confused about why the regional labs haven't been engaged."
Pardue also says that particularly in the early days of the Harvey response, he didn't see as much communication from the EPA about what its tests were finding as after Katrina. The EPA's Harvey response has been criticized specifically regarding highly polluted Superfund sites, after the Associated Press published a story saying it was able to access sites the EPA said staffers were not yet able to reach. The New York Times and other media outlets have conducted their own floodwater sampling and implicitly criticized the EPA for not publicizing its sampling results.
The EPA did not respond to Newsweek's requests for comment.
Danny Reible, a chemical engineer at Texas Tech University who has studied the Katrina response, notes that emergencies like Harvey and Katrina aren't built into any agency's procedures except at FEMA, meaning that the response to every disaster can be different.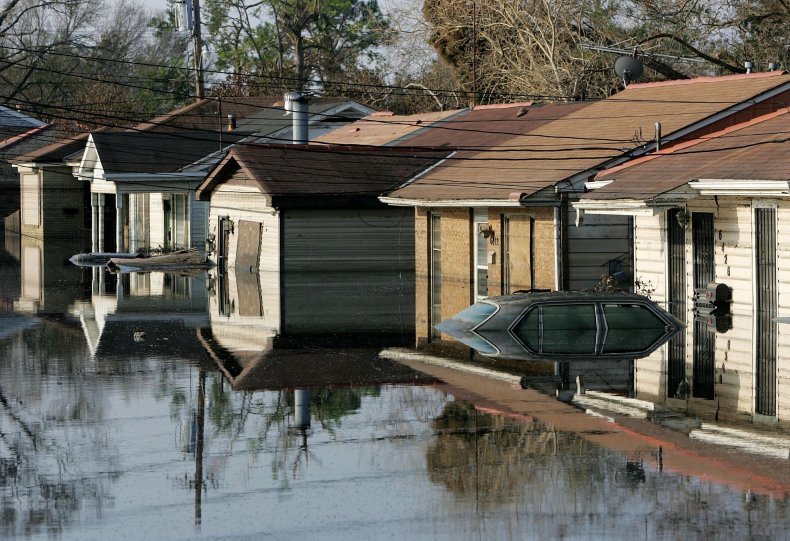 Many early concerns in Houston focused on the large industrial sector built up around its shipping channel. And both Pardue and Reible emphasized that storage tanks can be real threats when they do actually fail—but unlike the containers holding chemicals in people's houses, industrial tanks are designed to withstand a storm's rough treatment.
With Katrina, because much of New Orleans is below sea level the floodwaters lingered, and it took about six weeks before the city was fully "de-watered." In Houston, on the other hand, while a few neighborhoods are still flooded, most of the city dried out within days of the rain stopping. At the most basic level, Reible points out, that means people generally have a better handle on the situation Harvey has left behind than at this point after Katrina. It also means the water has stopped spreading germs and chemicals, although sediments left behind and belongings exposed to the water may still contain them.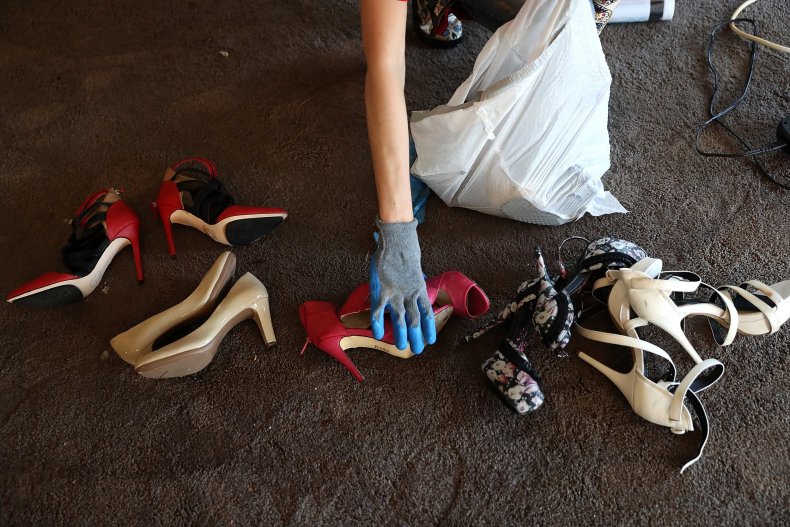 Both Reible and Pardue note that the thing about floodwaters is that even though they pick up concerning substances, they also, by their nature, dilute them. Harvey is unlikely to be an exception, particularly given the heavy rainfall. "Nine trillion gallons of water, you can do some math on that and you can see that that dilutes even the most toxic chemicals that are there," Pardue says. That may hold true even for the biological contaminants that are drawing headlines, he adds.
At least in Katrina's case, despite the concerns about floodwaters, there was little increase in contaminants lingering after the storm, according to Reible. "I would say that the post-flood sampling largely indicated that there wasn't a lot of change," he said. He adds that change is particularly important in an old urban environment like New Orleans, which carries the traces of decades of lead use in paint and gasoline. After the storm, about 40 percent of tested areas were above the 400 parts per million screening standard—but that was the case before the hurricane hit as well.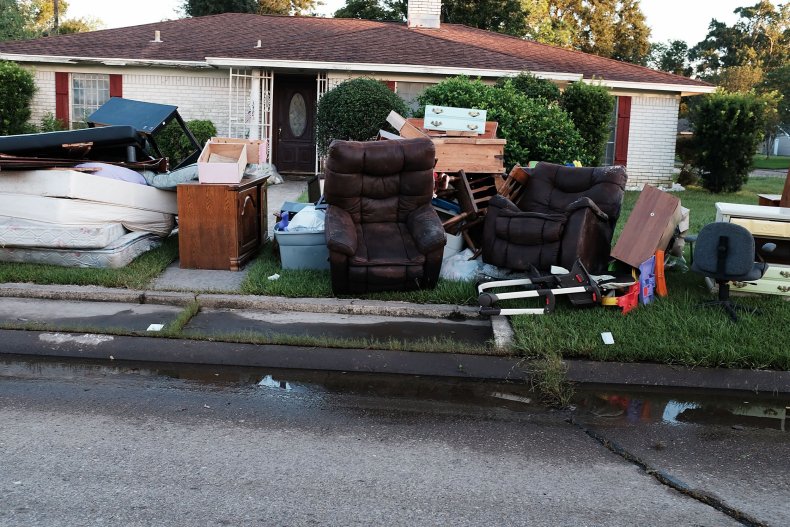 One of the key tasks being overseen in the storm's aftermath was dealing with the sheer amount of debris left after the storm. Personnel collected stray tanks and gas cans, identifying what they contained and sorting them to be disposed of safely. The EPA also had people out on the streets talking to returning homeowners to divert household chemicals like bleach, paint and pesticides away from landfills. The traveling contractors were accompanied by people stationed at the landfills to flag chemicals.
Pardue hasn't heard yet whether similar efforts are taking place after Harvey, although he notes that the state government relaxed landfill standards, a fairly common step after a major flood. But it's indicative of one of the biggest questions about the Harvey recovery: How long will the EPA stay in the area? Pardue notes that after Katrina, EPA and Army Corps of Engineers staff were in New Orleans for several years, and that affected what work they were able to do.