Texas Pastor Joel Osteen Responds to Hurricane Harvey Criticism After Church Remains Closed to Victims
Texas pastor Joel Osteen has responded after the televangelist was slammed for not opening his megachurch to victims of Hurricane Harvey.
Osteen, the lead pastor of Lakewood Church—which is located at a 16,800-seat stadium that previously hosted the NBA's Houston Rockets—said in a statement issued late on Monday that the church had "never closed our doors."
"We will continue to be a distribution center to those in need. We are prepared to house people once shelters reach capacity. Lakewood will be a value to the community in the aftermath of this storm," said Osteen in the statement quoted by ABC News.
The church also circulated photos that it said showed flooding in and around the Lakewood Church Central Campus, which is located in Houston, Texas.
The church had come in for heavy criticism on social media after it claimed that the church was flooded and could not be used as a refuge shelter for victims of the hurricane, which has displaced tens of thousands of people and killed at least seven.
Read more: Hurricane Harvey makes police trade beats for boats as they rescue flood victims and cattle
Some observers posted photographs from outside the church that appeared to show that the building had not been flooded.
Others criticized the perceived lack of response from Osteen, the author of two New York Times bestsellers who is reportedly worth tens of millions of dollars.
Lakewood Church said it had launched a fundraising campaign for victims of the hurricane and was acting as a collection site for supplies for shelters in Houston. The church said that it would begin collecting infant and adult diapers, baby formula and baby food as of 12:00 p.m. local time on Tuesday.
The church had announced on Saturday that all weekend services had been cancelled due to the "weather impact of Hurricane Harvey and concern for the safety of our members."
A Houston journalist, Charles Clymer, also circulated an unverified photo on Monday evening that claimed to show air mattresses being inflated at Lakewood Church and cited an unnamed source who claimed the church would soon open to those displaced due to Hurricane Harvey.
The George R. Brown Convention Center has been transformed into the largest shelter for victims of Harvey, housing more than 6,000 people, according to ABC News. Places of worship including mosques and churches have also opened their doors to victims.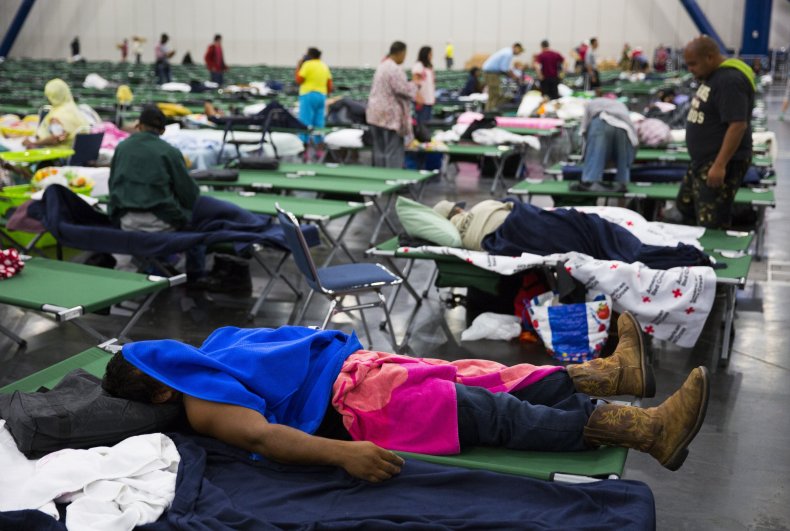 Lakewood Church is the largest megachurch in the United States, with an average weekly attendance of more than 40,000 people, according to a database maintained by the Hartford Institute for Religion Research. The church hosts services in English and Spanish.