Women Are More at Risk From Disasters Like Hurricane Harvey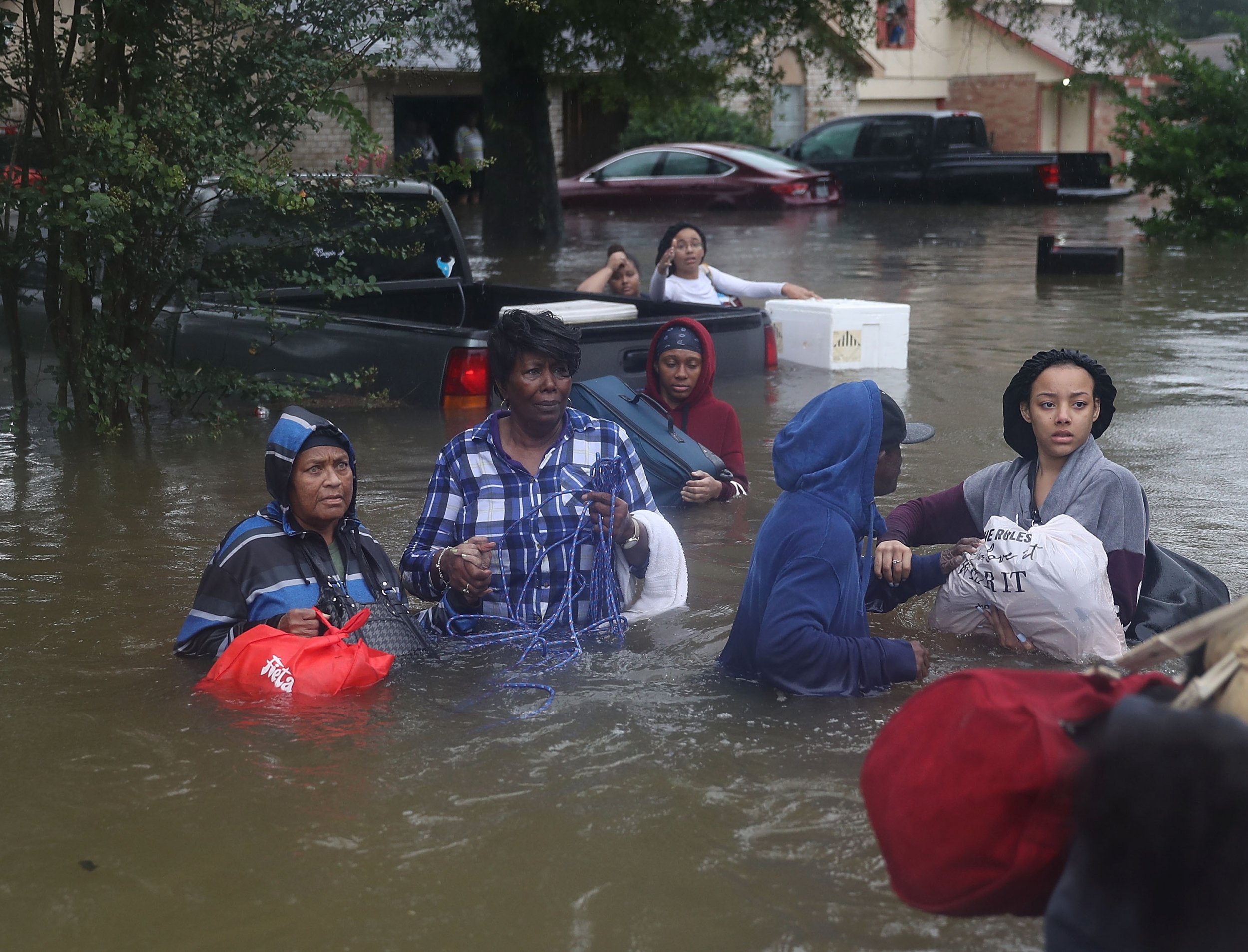 When disasters like Hurricane Harvey strike, women are far more likely to be negatively affected than other groups.
A study published in 2007 by researchers at the London School of Economics and the University of Essex found that natural disasters in 141 countries killed decidedly more women than men between 1981 and 2002.
"In other words, natural disasters (and their subsequent impact) on average kill more women than men or kill women at an earlier age than men," the researchers wrote.
Among other consequences, women are also more likely to become victims of domestic or sexual violence following a disaster.
After Hurricane Katrina, there were numerous reports of sexual assault. Sadly, this is a far too common trend when it comes to disasters.
What is the explanation?
Rachel E. Luft, a Hurricane Katrina survivor and a professor at Seattle University focusing on race and gender intersectionality in the context of social movements, tells Newsweek that "pre-existing structural inequalities...determine our experience of disaster, and race and gender are intrinsic to these processes."
"Every stage of disaster—preparation, impact, recovery—happens in ways that reinforce our raced, classed and gendered experiences.... It's not as simple as some people being more competent or resilient to survive disaster. It's that those people have often been structurally enabled to have more resources to work with," Luft says.
Luft points to women's extra caregiving responsibilities as a prime example.
She says, "Women, and especially women of color, are overwhelmingly tasked personally and professionally with caring for children, the elderly and people with disabilities. So even the simple decision about whether to evacuate in advance of a disaster often means being responsible for multiple people. This isn't a deficit in women; it's an extra responsibility that makes personal survival decisions and the resources to support them much more difficult."
To put it another way, disasters exacerbate existing inequalities, meaning marginalized groups tend to get hit the hardest.
Moving forward, what can be done to change this?
As Elaine Enarson, whom Luft described as "the godmother of the field of gender and disaster," put it in an article on Katrina for the Social Science Research Council in 2006, "Gender-fair emergency relief is essential, and steps can be taken now to make girls and women safer...promote women's economic recovery, provide respite care and support for long-term caregivers—the list goes on."
Enarson added, "But we have learned that the most urgent need of all is for those most affected to reclaim their sense of place, some degree of control and autonomy, and the certain knowledge that their views count too in the re-imagining of the future."
Echoing these sentiments, Luft says, "Recovery processes should be led by the people most affected by disaster—they know best what they need and how they need it."
Along these lines, it seems imperative that we as a society make a more concerted effort to elevate and listen to the voices of women who've lived through disasters.
In Luft's view, we also need to recognize that nothing will change in a drastic way unless we alter our behavior and take issues like sexual assault more seriously "before and between disasters."
"As racial justice organizers said in New Orleans after Katrina, 'The storm began a long time before Katrina,'" Luft says.