Hurricane Harvey Makes Police Trade Beats for Boats as They Rescue Flood Victims and Cattle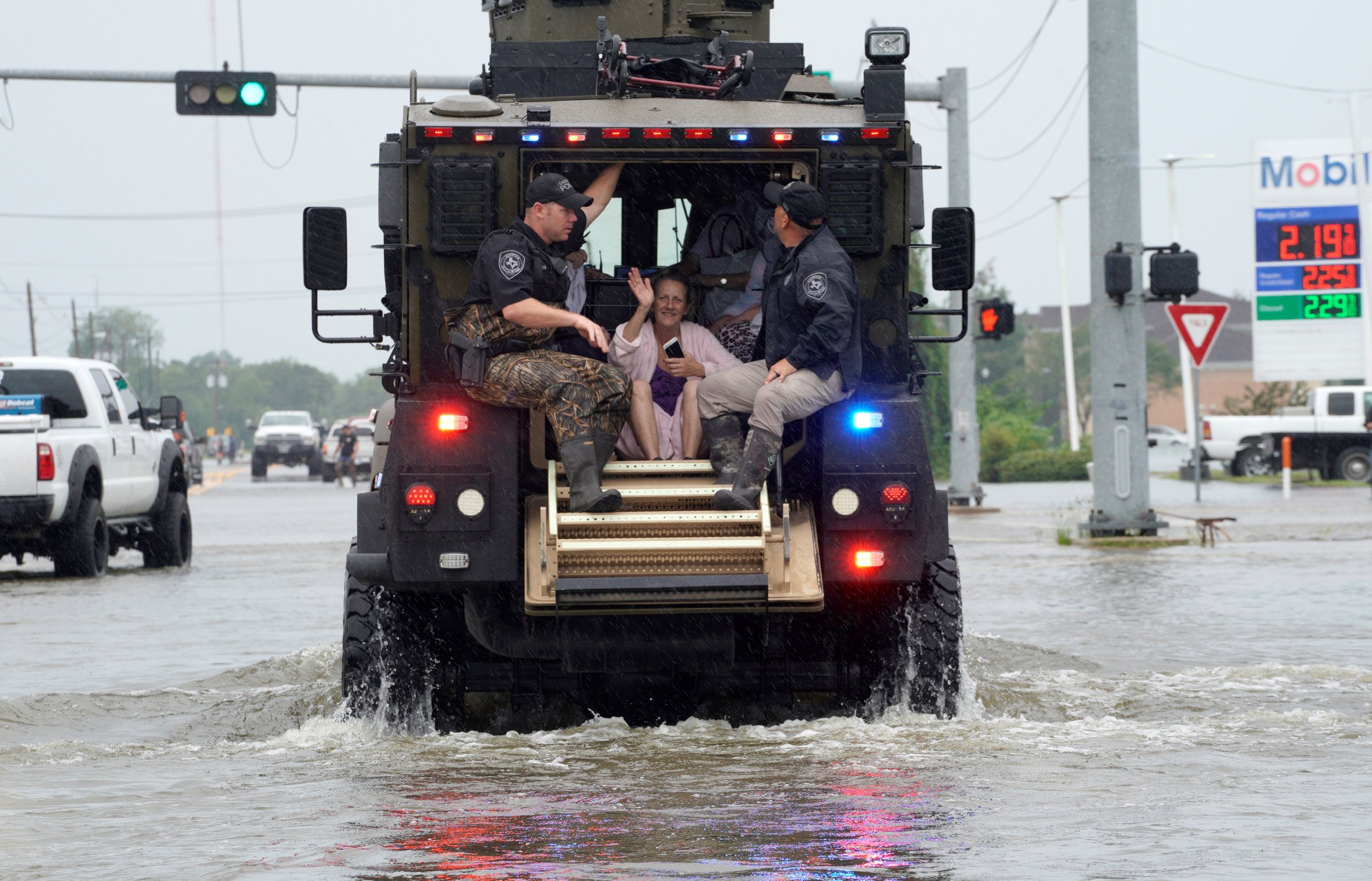 The sheriff in Galveston County, which is more water than land even during a drought, spent so much time in the water Sunday that he ruined his cellphone. "I started walking through the water and rescuing folks before the sun come up, and I changed clothes at sundown and went back out," Sheriff Henry Trochesset tells Newsweek. "I was wet all day. That's why my phone got soaked."
Local police and sheriff's deputies who usually spend their days writing speeding tickets or chasing robbers have switched focus to protect Gulf Coast and South Texas residents from a greater threat—Hurricane Harvey—and Houston police have already rescued about 2,000 people from flooded homes and cars.
Trochesset says a shortage of solid ground forced his deputies to direct their rescue operations from Interstate 45, which runs between Houston and Galveston. "We were using the freeway as a boat ramp," the sheriff says, adding that his deputies, working alongside state and military emergency workers, rescued about 100 people each hour on Sunday," says Trochesset. "I was stationed there for about 12 hours. We probably rescued over 1,000 people."
Deputies from the Galveston County Sheriff's Office, who normally patrol the county and respond to 911 calls, were instead saving flood victims by navigating the office's five boats, driving county dump trucks and riding along in National Guard boats to provide local knowledge and directions to the guardsmen. "We saturated the area that was flooded, people could hear the boat, walk out and get in," Trochesset says. "That's how we were able to rescue so many in such a short time."
Local police and deputies across the region also switched their focus from crime-fighting to search-and-rescue. A Houston Police SWAT officer in camouflage pants carried a mother and her year-old-son through knee-deep water after rescuing them from their flooded home Sunday. Police in Richmond, about 30 miles down Interstate 69, used their black cruisers Sunday to warn drivers away from a sinkhole big enough to swallow a bus. And uniformed Houston police officers linked arms later that day to form a human chain across a bayou to save a bald-headed and barefooted man who was clinging to a tree.
The most perfectly classic "Lone Star State" example came when Liberty County Sheriff's Office deputies drove a herd of cattle down a wet highway, helped along by men on horseback and a pack of loping dogs. "Where are you taking them?" asked a CNBC producer who tweeted a video of the emergency cattle drive, as the deputies and riders drove the cows past a Hartz Chicken Buffet restaurant northeast of Houston. "Higher ground," a deputy told her.
Some local law enforcement facilities suffered damage themselves as the hurricane pummeled the land. At least 35 emergency vehicles that belong to the Aransas County Sheriff's Office, on the Gulf Coast in South Texas, were out of commission after the storm smashed in their windshields and rain shorted out their electrical systems, Sheriff Bill Mills told the Associated Press. The hurricane also created leaks in the Aransas County Jail, which sent 144 inmates to a safer facility earlier this week, and destroyed the building's front gate, according to local newspaper The Eagle.
Trochesset also said his deputies were involved in the operation to save the Dickinson nursing home residents, who were rescued after an image of them trapped in waist-deep water went viral on Twitter.
"Most of my days are going to meetings and making sure little problems are handled," Trochesset says, explaining that Hurricane Harvey has made for a "dramatic" difference in the daily responsibilities faced by him and his deputies—and that the flooding is the worst he's seen since Tropical Storm Claudette almost 40 years ago. "This is a giant issue and I have not seen anything on the parallel to this since 1979."