Hurricane Harvey Update: Chemical Spills Could Pollute The Gulf And Cause Temporary Vomiting, Diarrhea and Skin Reactions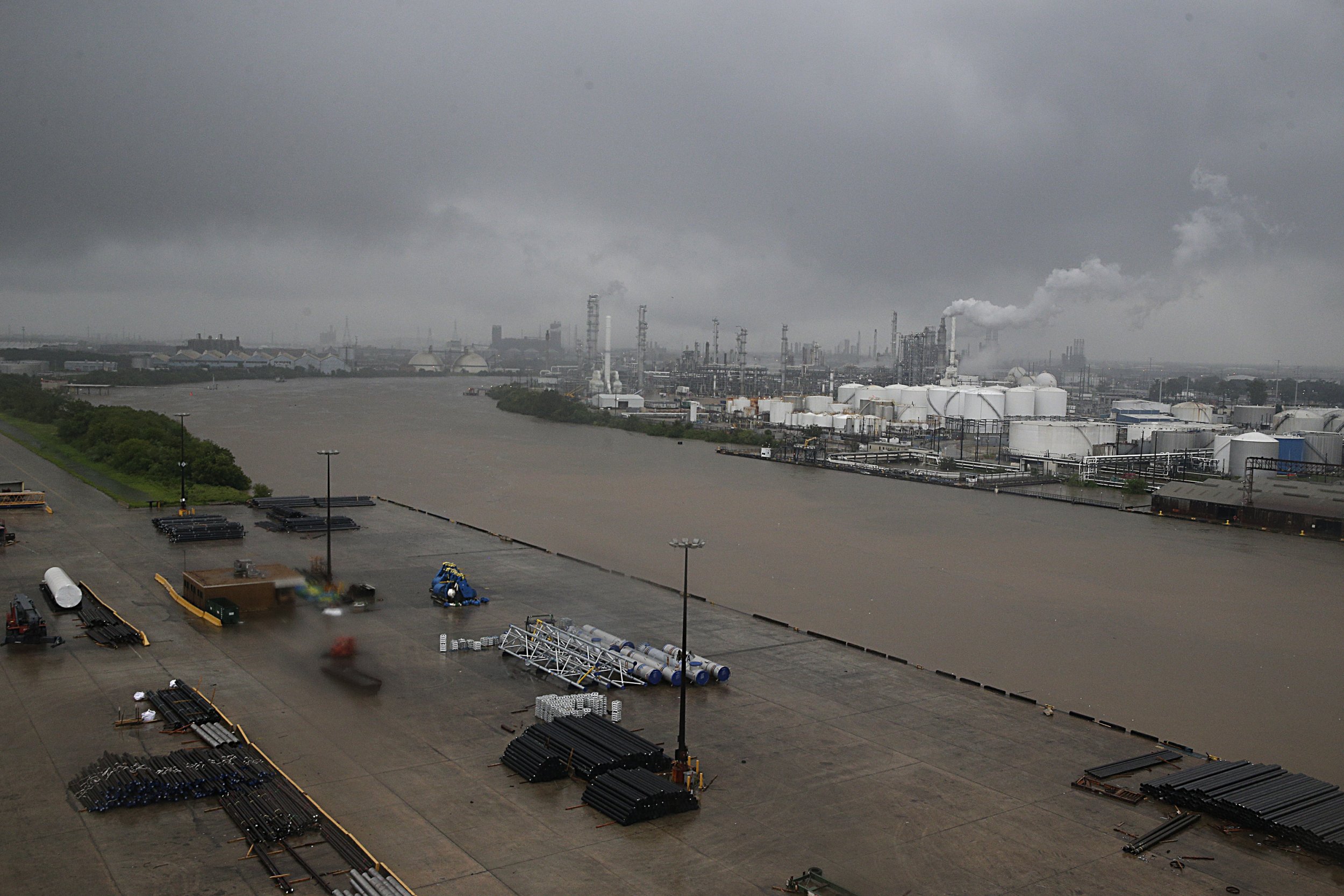 By Tuesday, even before the worst of the storm hit, Hurricane Harvey had caused spills of more than 750 gallons of chemicals—which could cause health problems, including vomiting and respiratory issues, in people who come in contact with them—in a dozen separate incidents, with more reports to come.
That's according to the Coast Guard's log of calls made to its National Response Center, which is a few days behind the disaster. The center collects reports from both companies and bystanders on the ground of oil spills and chemical releases.
How detailed the reports are varies: some lack specific chemicals or quantities. But the incidents include oil discharged into the Gulf of Mexico and the Houston Ship Channel, which could damage the Gulf's ecosystem, which is still recovering from the 2010 Deepwater Horizon spill of millions of gallons of crude oil.
At least two reports specify that crude oil or a residual mix of oil and water was released directly into open floodwaters. Brief skin exposure to oil can still cause mild vomiting, diarrhea, and skin conditions, among other symptoms.
Another spill released about 200 gallons of methyl acetate, a moderately toxic chemical found in glues and nail polish removers, and methanol, which can cause breathing problems, headaches and nausea, into a storm water ditch after a waste tank overflowed.
Two spills released transformer oil, a class of non-flammable oils that sometimes includes polychlorinated biphenyls, which could cause cancer, although both reports specify that the caller wasn't sure whether PCBs were involved.
Fortunately, the single largest spill reported to date, of 527 barrels of gasoline, was into a containment area, which is now being cleaned out.
The Coast Guard is also collecting reports about air pollution, including a handful of high-profile cases of refineries releasing in some cases more than a thousand pounds of chemicals as they shut down to weather the storm. Those chemicals include sulfur dioxide, nitrogen oxide, and anhydrous ammonia, all of which can cause respiratory problems.
These reports don't yet reference other known incidents releasing chemicals into the environment, like the explosions at the Arkema plant that took place early this morning.
According to natural disaster research, a flood event typically causes about 1.1 chemical releases for every 100 facilities in the area. Those numbers don't play out well in a region that produces nearly half of the U.S. supply of gasoline and petrochemicals.
When Hurricane Ike hit the area in 2008, almost 300 facilities released chemicals and an Associated Press report published a month after the hurricane calculated that a half million gallons of oil was spilled in the Gulf.
The National Response Center recorded calls about Hurricane Ike damage from as much as a month after the hurricane struck—which means it will likely take just as long to gather realistic tallies of the chemical spills caused by Harvey.