Hurricane Harvey was the worst extreme weather event to affect the United States in the previous decade, according to a report published in the meteorological magazine Weatherwise.
Using data from the National Hurricane Center and the National Oceanic and Atmospheric Administration, the report ranks extreme weather events according to resulting deaths and injuries, associated economic costs, size, and meteorological rarity.
"Every year that goes by seems to bring a new round of record-breaking weather events, many with devastating consequences," Douglas Le Comte, Weatherwise contributing editor and author of the report, wrote. "Powerful hurricanes that bring large economic and human losses, massive wildfires, floods and droughts, and record-smashing heat waves."
"We often talk here at Weatherwise about the need to track these events to gauge how our climate is shifting in a warming world," he wrote. "As we enter the next decade of the 21st century, we wanted to take a look back at some of the biggest weather stories in the United States and their impacts."
Hurricane Harvey was a Category 4 storm which devastated Texas and Louisiana in August and September, 2017. It was the wettest storm on record, producing an incredible 30-60 inches rain which caused catastrophic flooding—particularly in the Houston-Beaumont area. In fact, at one point more than a third of Houston was underwater. Meanwhile, the 60.58 inches of rainfall recorded near Beaumont was the highest total for a tropical cyclone ever measured in the United States.
So extreme was the rainfall produced by Harvey that a study conducted for the U.S. Army Corps of Engineers by MetStat estimated that 72-hour totals for the storm would expected to be seen just once every 86,000 years.
Other factors that contributed to Harvey's top ranking on the list were the fact that the storm directly caused at least 68 deaths. It also had a huge economic cost totaling around $125 billion, making it the second-costliest on record after Hurricane Katrina in 2005.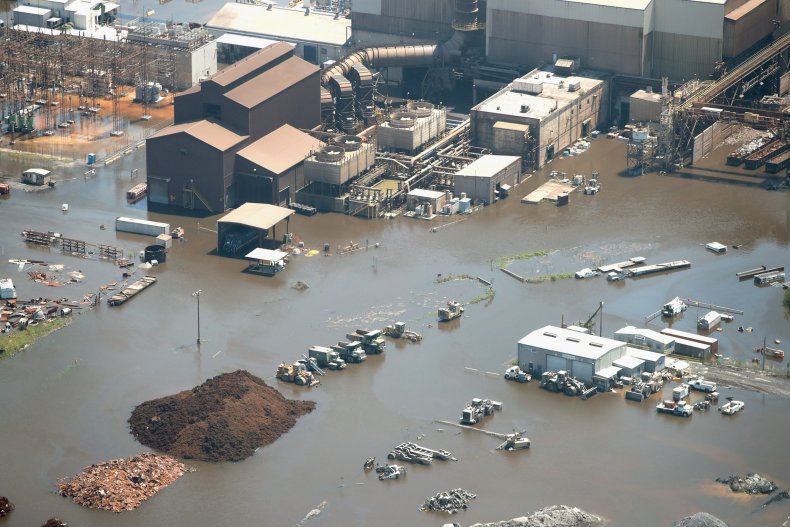 "It is tough to overestimate the impact Harvey had on Texas and the region," Le Comte told Newsweek. "[It] hits on all cylinders when it comes to rarity, given the way the storm made landfall south of Houston, came back out to the Gulf, and became almost stationary as it swirled around, hurling enormous amounts of moisture inland."
Harvey is followed on the list by hurricanes Sandy and Maria which made landfall in 2012 and 2017 respectively. Sandy was one of the most intense and damaging storms to ever strike the U.S. East Coast, flooding the Jersey Shore and low-lying areas of New York City and Long Island, causing around $70 billion worth of damage.
"Sandy was a close second," Le Comte said. "'Superstorm Sandy' was officially 'Post-Tropical Cyclone Sandy' as it had transitioned to a mid-latitude extratropical storm before making landfall on the New Jersey coast. The destruction caused $70 billion in damage, making it the third costliest on record."
"I could go on and on about how unique this storm was, but will just mention that Sandy's impact is still being felt now, as there are signs posted at New York City area subway stops advising riders that repairs to the previously flooded subway platforms are ongoing in 2020!"
Hurricane Maria, meanwhile—a Category 4 storm—devastated Puerto Rico after causing damage in the U.S. Virgin Islands. In what was the worst natural disaster to strike the island in modern history, the storm is thought to have claimed around 3,000 lives, while severely damaging infrastructure across the territory.
The graphic below, provided by Statista, shows the global cost of extreme weather events.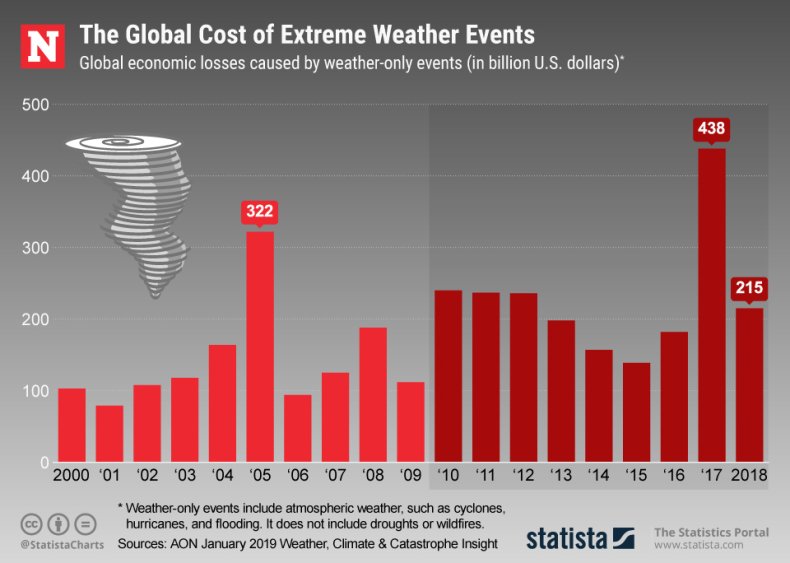 The top five on the ranking is completed by Hurricane Irma which struck the U.S. Virgin Islands and Florida in September 2017; and the intense drought that affected the Corn Belt between June and August 2012.
In sixth place comes the tornado outbreak of April-May, 2011, during which hundreds of twisters wreaked havoc across parts of the country, claiming nearly 500 lives. This outbreak included the largest recorded number of tornadoes produced by a single weather system.
In seventh place is the drought experienced by the Southern Plains between October 2010 and September 2011, which was blamed for nearly 100 deaths and $14 billion in economic losses. And in eighth spot are the devastating wildfires that affected California between 2017 and 2019.
The final events on the list are Hurricane Michael which made landfall on Florida's Gulf Coast in October 2018, and the severe California drought that lasted for four years between 2012 and 2015.
In total, the 10 extreme events on the list resulted in the deaths of more than 4,000 people while costing over $400 billion in damages.
"One reason I did the article, is that there are rankings out there based on single criterion such as cost or fatalities, but not so many rankings based on combined criteria," Le Comte said.
This article was updated to include additional comments from Douglas Le Comte and a graphic.