Hurricane Hector: Category 4 Storm Regains Strength as It Moves Toward Hawaii
Hurricane Hector restrengthened into a Category 4 storm on Monday, August 6, as it made its way toward Hawaii. The hurricane is projected to reach Hawaii's Big Island by August 8, according to the National Hurricane Center (NHC).
Hector had maximum sustained winds of 140 miles per hour the evening of August 5 and was moving west at around 15 mph. In an advisory issued Sunday night, the NHC said Hector was moving west-northwest at an "increased forward speed"and would likely continue to do so through Tuesday. The hurricane is expected to move westward Tuesday night through Friday.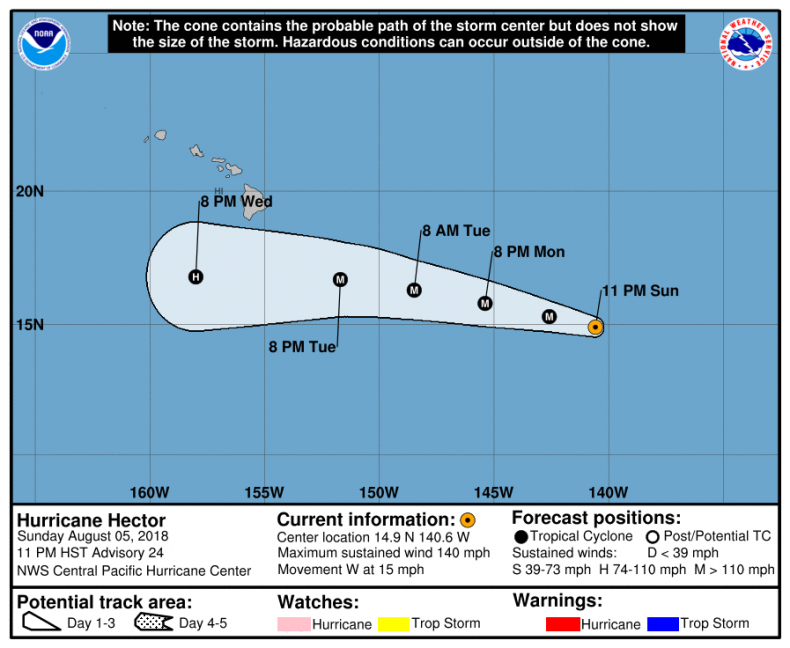 No watches or warnings have been issued, but the hurricane center noted that Hector's progress should be monitored by "interests in the Hawaiian Islands." The hurricane is currently located about 1,215 miles east-southeast of Honolulu.
Some storm projections placed Hurricane Hector on the path to collide with the Kilauea volcano, which has been erupting and spewing lava since May 3, Reuters reported.
Hector's hurricane-force winds extend outward up to 35 miles from its center, and tropical-storm-force winds extend out up to 105 miles, the NHC said. Hurricane-force winds are reached at 74 mph, while tropical storm–force winds are reached at 39 to 73 mph. The hurricane center said Sunday it expected Hector to experience a "gradual weakening" Monday night through to Wednesday.
It remained unclear whether Hector would hit or brush past the Big Island, a meteorologist at the National Weather Service's Weather Prediction Center in College Park, Maryland, told Reuters.
The NHC was also tracking two other storms in the Pacific. Tropical Storms John and Ileana were not expected to threaten land as they moved off Mexico's southwestern coast.
Tropical Storm John has intensified rapidly in the eastern Pacific Ocean, reaching maximum sustained winds of 60 mph, the NHC said. John was located about 335 miles southwest of Manzanillo, Mexico, on Monday, and was moving west-northwest at 8 mph.
Tropical Storm Ileana, which has maximum sustained winds of 65 mph, was also expected to strengthen, the hurricane center said. Ileana was located about 305 miles southeast of Manzanillo on Monday, and was moving northwest at 17 mph.
Ileana prompted the Mexican government to extend a tropical storm warning eastward from Lázaro Cárdenas to Tecpan de Galeana. According to the NHC, there was a hurricane watch in effect for Punta San Telmo to Playa Perula on Monday. There was also a tropical storm warning from Tecpan de Galeana to Cabo Corrientes, and a tropical storm watch for Los Barriles to Todos Santos.