Hurricane Hector Hawaii Path Update: Islands on Alert, Track Uncertainty Remains in Latest Forecast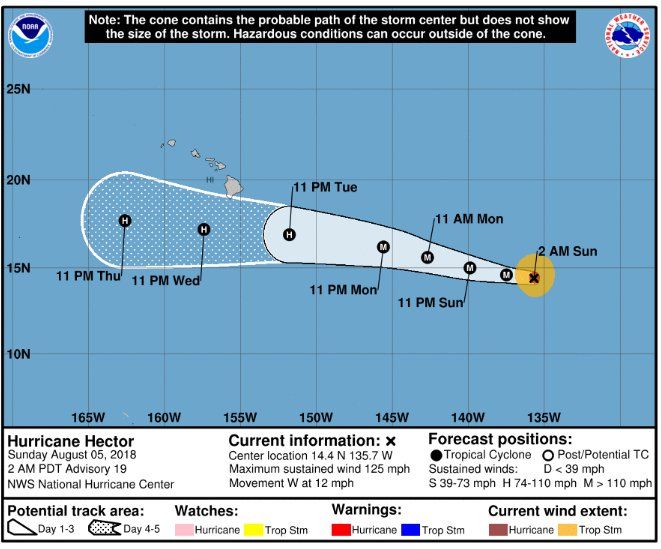 Hawaii visitors and residents remain on official alert, watching the path of Hurricane Hector as it continues tracking west toward the islands.
Hector is a major hurricane, classified category 2 by the National Hurricane Center (NHC) Sunday morning, with maximum sustained winds of 125 miles per hour. The storm is 1300 miles southeast of Hawaii, moving west at 12 miles per hour. The NHC said two forecast models are bringing Hurricane Hector "within 60 (nautical miles) of the Big Island" of Hawaii on Wednesday, a brush that could deliver significant conditions in the area of the Kilauea volcano that's erupting.
Hawaii islands including Kauai, Oahu, Molokai, Lanai, Maui, and the island of Hawaii, and the more populous islands with more visitors, including Oahu and Maui, are a bit more to the north than the Big Island and they are not in the track as of Sunday morning. Still, that could change forecasters warn, suggesting vigilance.
The location of the jet stream will determine Hawaii's fate with this storm so it will be closely watched over the next 48 hours.
"A southward plunge of the jet stream in the northern Pacific Ocean well north of Hector will weaken the aforementioned steering high enough to bend Hector a bit northward early this week," The Weather Channel reported.
"How far north it bends is critical."
The latest Hurricane Hector path update from the National Hurricane Center does not show a direct strike on the Hawaii islands, but rather a close pass to the south that could cause tropical winds and a dangerous rip tide.
But uncertainty remains in the forecast – a shift north for a more direct strike remains possible -- and it has the island state closely watching this category 3 storm.
"While the official forecast track continues to lie south of the Hawaiian Islands, it is too soon to determine what kind of impacts might occur in the state, since track errors can be large at long time ranges," the National Hurricane Center said in its Sunday morning update. "This remains a good time for everyone in the Hawaiian Islands to ensure they have their hurricane plan in place."
If Hurricane Hector stays on its current forecast path, it would begin approaching the Hawaii islands early Wednesday morning, moving to the south overnight Wednesday, likely as a category 1 storm with winds of 105 miles per hour. Earlier this week the Hawaii Emergency Management Agency (HI-EMA) warned residents to prepare for the storm, stockpiling rations including food and water for 14 days.
"Hector remains a major hurricane this morning," The National Weather Service said Sunday morning. "Those with interests in Hawaii should continue to monitor its progress."