Hurricane Humberto Path Update: Storm Brings High Surf and Dangerous Current to Southeast Coast
Tropical storm Humberto increased to a Category 1 hurricane on Monday and is expected to continue gaining intensity as it trails along the Southeast coast, according to the National Weather Service (NWS).
The storm passed by the Bahamas, bringing rough winds tracked at about 70 miles per hour on Saturday, but as the weekend continued the storm increased in strength with wind speeds reaching 75 miles per hour as of Sunday.
Its path began heading east-northeast towards the island of Bermuda in the early hours of Monday morning with sustained winds reaching 85 miles per hour. Humberto is expected to continue moving away from the Southeast coast of the U.S., the NWS said.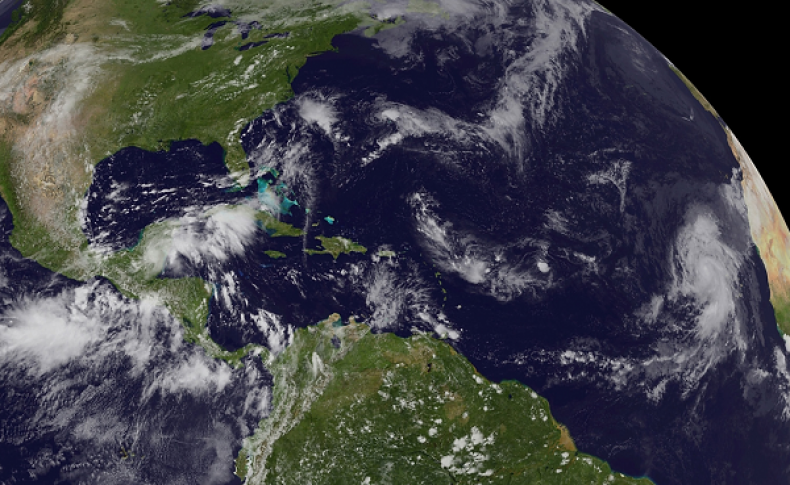 Humberto isn't expected to pass through Bermuda until Wednesday or Thursday — it's currently positioned 785 miles west of the island. The National Hurricane Center (NHC) suggested the storm would become a Category 3 well before then, likely by Tuesday, resulting in incredibly high surf and dangerous currents in waters along the Southeast coast in addition to dropping heavy rainfall on Bermuda.
Although the storm isn't expected to head northwest toward Florida and the East Coast, due to the suspected intensity of surf and tide, the NHC warned swimmers in Florida to stay out of the water throughout the week. Humberto's eye is positioned far off from the rest of the Eastern seaboard, but there is possibility rip currents and high surf may reach the East Coast and affect the waves and shores near the Sunshine State.
Weather reports initially suggested Humberto would hit parts of the northwestern Bahamas, which were recently ravaged by Hurricane Dorian. However, the brunt of the storm steered clear of the already-battered islands.
Hurricane Dorian, a Category 5 storm, touched down in the Bahamas in early September bringing damaging winds, widespread flooding and immense destruction to Great Abaco and Grand Bahama in particular. Homes and businesses by the thousands were destroyed in the storm and at least 50 people were confirmed dead as a result of Dorian. More than 1,000 people were still considered missing when Humberto began moving closer towards the Bahamas as a tropical storm.
Although rescue teams and aid to the Bahamas was paused in light of preparation for Humberto, Bahaman Prime Minister Hubert Minnis said locating missing persons was still a top priority for the government.
"We will first and foremost put the priority on notifying families and giving them the help they need to grieve," he said in a statement on Sunday, noting the Bahamas was still in great need of support.
"We are a nation in mourning," he said. "We will need as many spiritual resources as we will need physical resources to rebuild lives and to recover."
Weather advisories have been issued in Bermuda.
Hurricane Humberto marks the third hurricane to impact the Atlantic so far this year.