Hurricane Humberto Path Update: Strengthening Expected As Storm's Center Approaches Bermuda
Hurricane Humberto is expected to strengthen as the storm's center approaches Bermuda, bringing rain and wind to the island.
After forming in the Atlantic Ocean, Humberto strengthened into a hurricane and, as of Tuesday morning, had maximum sustained winds of 90 miles-per-hour. These speeds made the storm a Category 1 hurricane on the Saffir-Simpson Hurricane Wind Scale.
During a Category 1 hurricane, impacted areas should expect damage to the roofs of well-constructed homes, power outages and snapped tree limbs.
As the storm neared Bermuda, it was expected to strengthen and could have wind speeds near 115 miles-per-hour as it passes the island. At 115 miles-per-hour, the storm would be classified as a Category 3 hurricane—considered a "major" hurricane.
Currently about 570 miles from Bermuda, the storm was moving at about eight miles-per-hour in an east-northeast motion on Tuesday morning. The National Hurricane Center forecasted that the storm's center would approach Bermuda on Wednesday night.
"It is still too early to give a good estimate as to how close the core of the hurricane will come to Bermuda," the NHC said. "Interests should not focus on the exact forecast track; only a slight deviation to the right could bring the center near or over the island."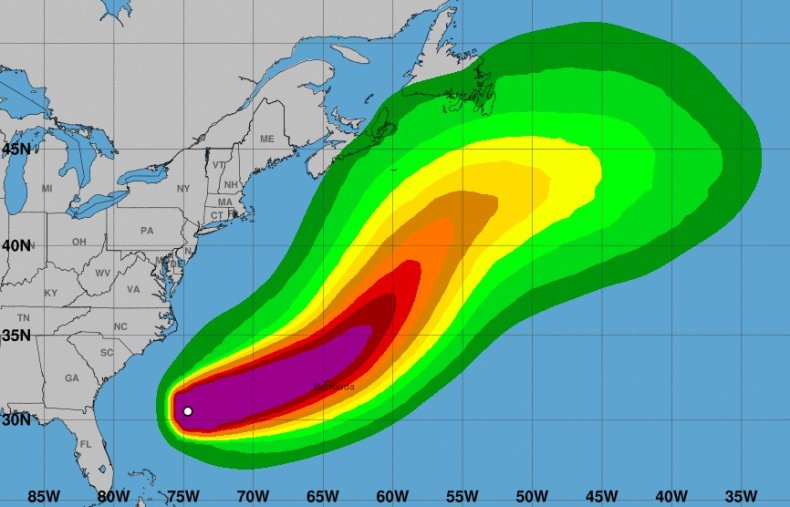 Along with one to three inches of rainfall beginning on Tuesday, the storm was expected to bring large swells to Bermuda's coast, potentially causing life-threatening surf and rip current conditions.
Ahead of the storm's potential arrival, a Tropical Storm Watch was issued for Bermuda, meaning tropical storm conditions were possible within 48 hours.
Bermuda isn't the only area that could experience Humberto's impact. The NHC explained that beginning in east-central Florida and going up the coast to North Carolina, there could also be life-threatening swells.
After passing by Bermuda, the storm was expected to weaken to a Category 2 hurricane with 105 miles-per-hour wind speeds on Thursday. As a Category 2, the storm would no longer be considered a major hurricane.
As the storm weakens, it was forecasted to make a sharper north-east turn, heading farther out in the Atlantic Ocean, parallel with Washington, D.C., Philadelphia and then New York. Once parallel with Albany, New York, forecasted to occur on Saturday, the storm was expected to turn northeast again, making it parallel with St. John's.
On Monday, the storm was expected to weaken to maximum sustained winds of 65 miles-per-hour, making it a tropical storm.