Woman Waterproofing Her House Against Hurricane Ian Goes Viral: 'You Tried'
A viral video posted on Tiktok showed the devastation Hurricane Ian wreaked upon one Florida woman's home after her attempt to secure it from the elements failed.
Posted by East Coast DIY, the video is captioned "I thought I could waterproof my house" and showed teacher turned TikTok star Cori Bosco attaching panels to the front of her waterfront home in Daytona Beach in preparation for the storm.
The video has since gone viral with 636,000 likes and 10.9 million views. Bosco previously went viral on TikTok after she renovated her entire home by herself while her husband was deployed.
Hurricane Ian ripped through Florida and the Carolinas last week causing tens of billions of dollars in damage and killing an estimated 83 people, according to Reuter's latest figures.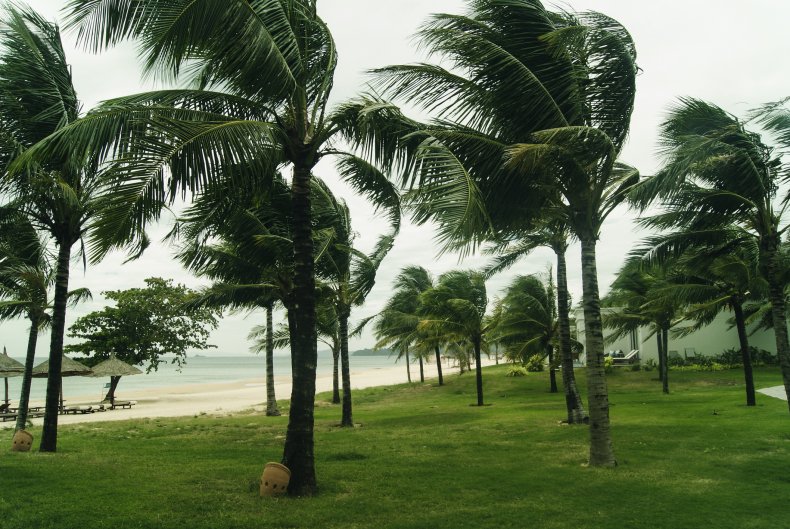 In the second half of the TikTok video, Bosco showed water lapping at the door and walls, as the camera panned toward the ocean to reveal the outside area was completely flooded.
A follow-up video showed her family's living room covered in roughly six inches of water and mud. Her daughters and husband were trying to salvage whatever they could from the flood.
Bosco commented on her video, "We are so fortunate to be able to save some of our belongings. So many people had it so much worst. My prayers go out to everyone."
TikTok user Lynn Marie Anderson commented, "You tried that counts! So sorry!"
Cailyn Marie Carsey wrote, "I can't imagine how you feel, I've been watching you redo your house from the beginning. I'm so sorry."
Other commenters weren't as sympathetic to Bosco's plight.
Kammronn commented, "If your next door neighbor is the ocean what did you expect."
Lucas Johnson-Cooper said, "No, for that kind of weather you need an outer rim of sand bags then an inner wall to fully protect it."
Florida Governor Ron DeSantis said at least 700 rescues were predominantly by air after 150 mph winds ripped through Puerto Rico, Florida and the Carolinas. According to the latest data from poweroutage.us, 119,585 homes are still without power in Puerto Rico, along with 614,003 homes in Florida.
During the Category 4 storm, people had to get creative, like TikTok user Beth, who waited out the hurricane floating in a child's inflatable pool in her flooded home, while a Channel 7 cameraman dropped his camera mid-filming to help a Naples resident wading through the water.
It's now predicted that Florida is set to be hit by drought and fire in the wake of the hurricane.
"Locally critical fire weather conditions are expected across far southwest Georgia, southern Alabama, the western Florida Panhandle, southern Mississippi, and south Louisiana," the National Interagency Fire Center said in a statement.
Newsweek reached out to Bosco for comment.