Hurricane Ian Leaves 1 Million People in Florida Without Power
More than 1 million customers in Florida have been left without power as Hurricane Ian continues to unleash catastrophic floods and storm surges.
As of Wednesday at 4:06 p.m. local time, 1,031,722 outages had been reported across Florida, according to PowerOutage.us. The highest number of outages are in Lee, Charlotte, Sarasota and Collier counties, which are near the eye of the storm.
The number of power outages climbed rapidly on Wednesday as the Category 4 storm made landfall along the state's southwestern coast. There were roughly 483,000 outages shortly after 2 p.m., however, the number jumped to over 600,000 just 10 minutes later. Around the same time Hurricane Ian made landfall around 3:05 p.m., more than 681,000 outages had been reported.
Eric Silagy, the president and CEO of Florida Power and Light (FPL), has warned that the storm would cause "significant damage," including sections that can't be repaired and will require rebuilding.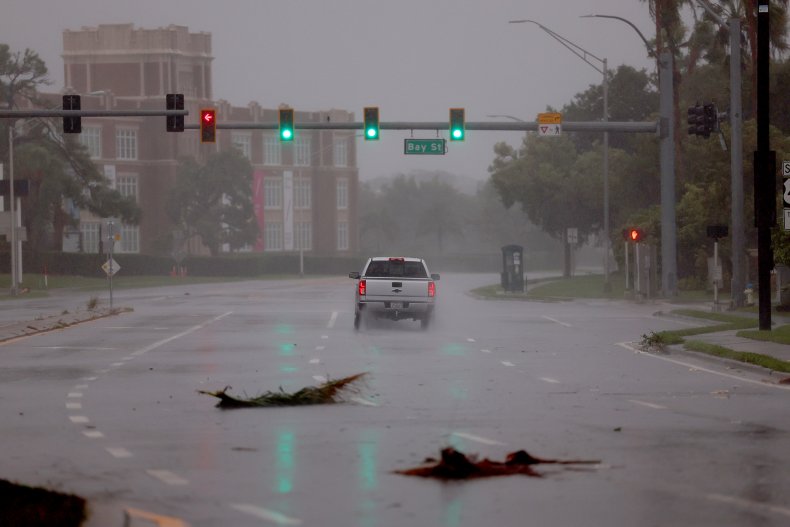 "Ian is going to be a life-changing event," Silagy told CNN on Wednesday afternoon. "This is a very powerful, catastrophic storm that is going to do significant damage."
Silagy's company has deployed 19,000 workers throughout Florida so far, and over 270,000 customers have had their power restored in the last 24 hours. He was unable to provide a timeline for when all power would be restored.
"As soon as it is safe to do so we will be on the ground and in the air assessing damage and deploying crews," FPL tweeted on Wednesday afternoon. "We work around the clock to return service to the largest number of customers in the shortest amount of time."
"We urge you to not let your guard down, regardless of where you live," the company wrote in another tweet. "We are expecting widespread, extended outages from Hurricane Ian across much of our service area. Please be prepared and stay safe."
Florida officials have been warning for days that there could be power issues as a result of the storm, and only increased the urgency after Ian knocked out all power in Cuba when it hit the island on Tuesday.
"This is going to be a storm that we talk about for many years to come," National Weather Service Director Ken Graham said at a Wednesday press briefing.
The National Hurricane Center (NHC) is expecting Ian to remain at hurricane strength for the remainder of the day, and for the storm to eventually weaken overnight or early Thursday morning. Officials forecast that Ian will still be a strong tropical storm by the time it reaches Florida's eastern coast.
"We have the center of the storm right near the east Florida coast tomorrow evening," NHC's acting deputy director Michael Brennan told CNN on Wednesday.
Update 09/28/22, 4:41 p.m. ET: This article was updated with additional information and background.