Videos Show Hurricane Ian Massive Storm Surge: 'Like Inside the Titanic'
As Hurricane Ian made landfall Wednesday afternoon, videos posted online showed the massive storm surge brought on by the winds of the Category 4 hurricane.
In stark contrast to images shared just hours earlier, new videos from Fort Meyers Beach showed coastal flooding that had risen to nearly 6 feet above ground.
As homes were destroyed by the hurricane, some footage showed only the roofs of buildings peaking out of the water. One video posted to Facebook also showed vehicles submerged in a parking garage in Naples as water continued to pour in.
Taylor Wirtz, a news anchor for WINK News, shared a video that captured water climbing up the first floor of a hotel. "Looks like the inside of the Titanic. Cars are fully underwater," she wrote on Twitter.
Florida officials had predicted Ian, a Category 4 storm with winds just shy of Category 5, would produce a "catastrophic" storm surge, which the National Hurricane Center (NHC) describes as "an abnormal rise of water generated by a storm, over and above the predicted astronomical tides."
"Along the coast, storm surge is often the greatest threat to life and property from a hurricane," the NHC's website says. Hurricane Katrina is often pointed to as the most notable example of the devastation caused by a storm surge.
The National Weather Service has predicted Ian to become "a historic event."
Ian made landfall along Florida's southwest coast at 3:05 p.m. ET on Wednesday, with winds of 150 mph, according to the NHC.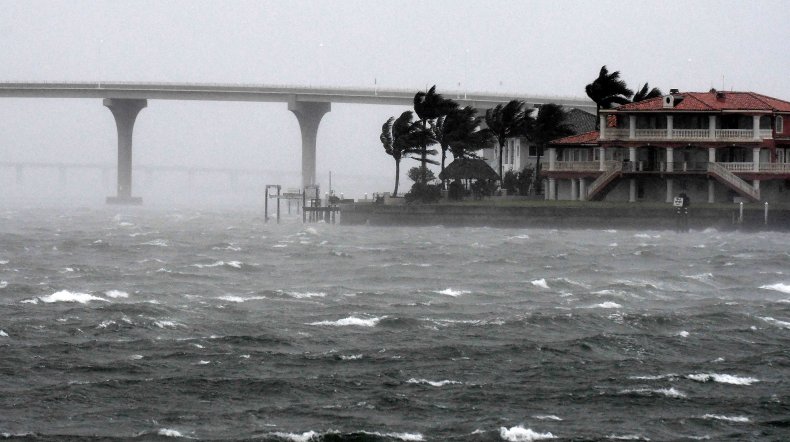 Residents who did not evacuate ahead of the storm have been advised to stay indoors. More than 2 million Floridians were placed under evacuation orders in preparation for the storm.
People in the path of the hurricane who are sheltering in place have been asked to fill out a survey to help first responders assist them as soon as possible.
According to PowerOutage.us, more than 800,000 customers have been left without power as of 3:35 p.m. ET.
Eric Silagy, the president and CEO of Florida Power & Light, warned that the storm would be "a life-changing event."
"This is a very powerful, catastrophic storm that is going to do significant damage," he said at a press conference Wednesday afternoon. Silagy was not yet able to provide a timeline on when power would be restored.
Michael Brennan, the acting deputy director at the NHC, is forecasting that Ian will remain at hurricane strength for the next 24 hours, with the storm expected to weaken overnight or early Thursday morning.
"It will still be a strong tropical storm when it reaches the east coast of Florida," Brennan told CNN. Ian is expected to move northeast, moving across Florida diagonally before going offshore somewhere between Cape Canaveral and Jacksonville.