Hurricane Ida Developed Into a 'Dangerous, Catastrophic' Cat 4 Storm Overnight
Night has fallen across the entire Gulf of Mexico and the coastlines surrounding it. Meanwhile, Hurricane Ida fiercely gained intensity into through the darkness, and its landfall along the Louisiana-Mississippi border on Sunday could be more impactful than Hurricane Katrina, whose 16-year anniversary mark is also Sunday.
The last update from the National Hurricane Center on Sunday morning indicated that Ida is now a Category 4 storm packing sustained winds of 130 mph. The eyewall of Ida has become more defined, and the storm has begin looking like some of the monsters that have clobbered the Gulf Coast in years past.
The only thing stronger is a Category 5 storm, which happens when the sustained winds are greater than 155 mph. Ida went from a Category 2 to a Cat 4 within just a few hours, meaning the winds whipped up immensely.
The hurricane center at 10 p.m. CT on Saturday said Ida is expected to "strengthen rapidly before landfall. Life-threatening storm surge, potentially catastrophic wind damage, and flooding. Rainfall expected to impact the Northern Gulf Coast beginning Sunday morning."
The latest forecast on Sunday morning indicated that Ida has strengthened into a Category 4 storm. Storms hit category Category 4 status when their winds reach 130 mph.
Though Ida is now moving as a Cat 4 storm in the night, it's moving across very warm waters in the central-to-northern Gulf, with water temperatures at 84 degrees or higher. That's like adding more kindling to a fire that's just getting hot.
Several parishes in southeast Louisiana issued mandatory evacuations, but many who live in South Louisiana have already begun their own evacuations—something ignited by the shellshock of Katrina, and one menacing storm after another over the last fie years, 10 years, 16 years and last century.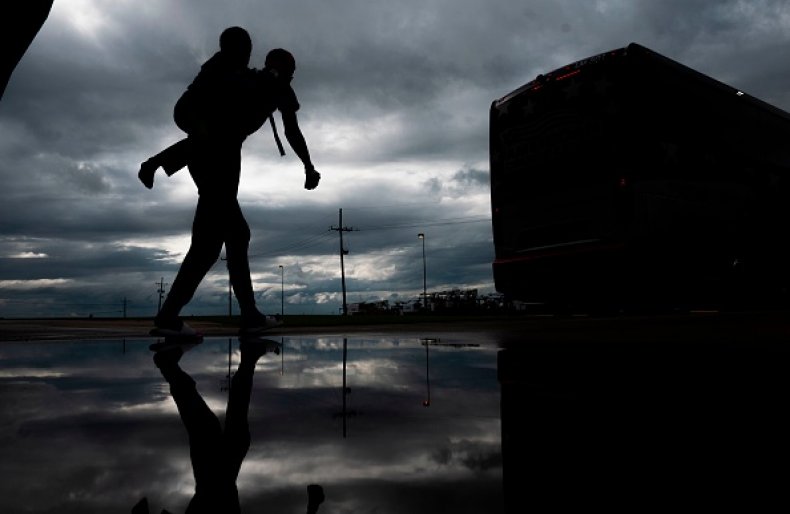 Louisiana Gov. John Bel Edwards said Saturday that Hurricane Ida could be one of the most devastating storms to hit the state since the 1850s, which is before the U.S. Civil War.
"One of the things we were told today by the National Weather Service during our unified command group meeting is that they are are extremely confident in the current track and the intensity as forecasted for Hurricane Ida. And you don't really hear them speaking very often about that level of confidence," Edwards said.
"So, we can sum it up by saying this will be one of the strongest hurricanes to hit anywhere in Louisiana since at least the 1850s."
Ida formed as a tropical storm in the Caribbean Sea a few days ago and gained intensity as a Category 1 storm Friday as it moved over Cuba. By Saturday afternoon, as the storm was moving northwest of Cuba, the outer bands reached from Cuba to Lafayette, Louisiana, and all the way east to the Naples and Fort Meyers region of southwest Florida.
Hurricane Katrina took a similar path as Ida in 2005, moving over South Florida and the Florida Keys as a Category 1 storm before quickly growing into a Category 5 storm aiming for New Orleans. Katrina dropped in windspeed and eventually shifted east and battered the Mississippi coast as a high-level Category 3 storm, wiping out towns like Pass Christian and Long Beach.
Katrina's rainfalls in southeast Louisiana, and specifically New Orleans, caused a levee to breach, completely flooding the city's Ninth Ward, some houses with water on the second levels.
Flights going in and out of Louis Armstrong Airport in New Orleans on Sunday have already been canceled. Edwards and local officials are warning residents who have not evacuated that time is running short, and to either go north or hunker down and hope for the best.
"We can also tell you that your window of time is closing, it is rapidly closing," Edwards said. "By the time you go to bed tonight, you need to be where you intend to ride this storm out and you need to be prepared as you can be."
Hurricane Katrina landed as a Category 3 storm in 2005, with its eyewall going just east of Louisiana and thrashing the Mississippi coast line. There were more than 1,800 lives lost in the aftermath of Katrina.