In Hurricane Ida Chaos Police Chief Warns Patrol Cars Flooded, Station Losing Roof
As Hurricane Ida makes landfall in Louisiana, one police chief reported Sunday afternoon that his station was being battered by the storm.
"We're still in the middle of this thing," the police chief in Grand Isle, Louisiana, Scooter Resweber, told the Donaldsonville Chief.
"We're losing the roof to the police station, the lower floor and all of the police cars are flooded," he added.
Other law enforcement officials and first responders in the state said Sunday that they were being strained by the hurricane.
Officials with the Lafourche Parish Sheriff's Office and the Terrebone Parrish Office of Homeland Security warned they would have to suspend emergency services during the storm.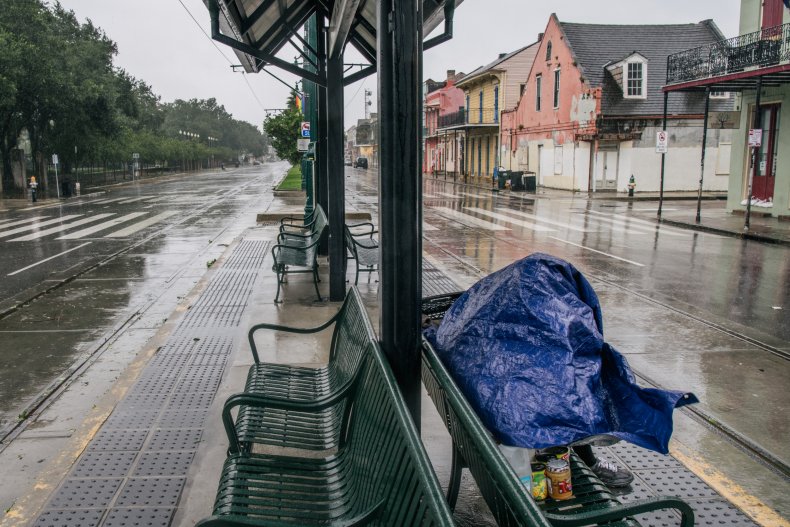 The office in Terrebone Parrish said that "due to the increasing intensification of hurricane winds," nine local fire departments and an ambulance service would have to halt their operations.
"All these first responder agencies will resume service when it is safe to do so," the office said on Facebook.
It also said that due to "dangerously high winds," EMS is no longer operating in the parish.
"Please remain indoors and away from windows. Stay safe Terrebonne!" the office said.
The Lafourche Parish Sheriff's Office said Sunday afternoon that "conditions are rapidly deteriorating" in the area.
"If you have an emergency, call 911, and emergency services will attempt to respond when it's safe. Otherwise, we'll see you on the other side of this storm," the office said on Facebook.
Police in Gretna were also taking their officers off the road on Sunday, according to Ramon Antonio Vargas, a writer with The Times-Picayune, who tweeted the news.
Some local officials announced curfews Sunday. Sharon Weston Broome, the Mayor-President of Baton Rouge, implemented a curfew for East Baton Rouge Parish between dawn Sunday and dusk on Monday.
Acadia, Lafayette, Iberia and St. Martin parishes also have curfews Sunday, The Acadiana Advocate reported.
During a press conference on Sunday, New Orleans Police Chief Shaun Ferguson said his department will "not permit" and "not allow" any looting as the storm bears down.
"We will be out there to enforce that," Ferguson said.
"So as I am asking and begging and pleading with you, please hunker down now, as we will have to hunker down at some point in time ourselves, when we will not be able to respond. But as soon as we are able to do so, as conditions improve, we will be able to do so."
On Saturday, Louisiana officials announced they had evacuated 1,400 inmates from jails in Orleans and Plaquemines parishes to state prisons, in preparation for the hurricane, WDSU reported.
Police in Grand Isle, Louisiana could not be immediately reached by Newsweek on Sunday.