Hurricane Ida Makes Landfall as Cat 4 Storm, Aims Toward New Orleans
Hurricane Ida made landfall Sunday near Port Fourchon, Louisiana as a dangerous Category 4 storm that was nearly strong enough to be a Category 5 hurricane. Ida has catastrophic winds, dangerous flooding and a life-threatening storm surge. Ida's winds reach 150 mph before landfall, and the swath of damage will likely reach from central Louisiana all the way to Biloxi, Mississippi.
With the storm just making its landfall, any reports of widespread power outages, flooding, stranded evacuees, other weather-related events or injuries are unknown. Before the storm made landfall, there were approximately 64,000 people without power. That number is expected to meteorically rise.
Newsweek is working to get updates as the powerful storm moves toward New Orleans, Lake Ponchartrain and other inland areas.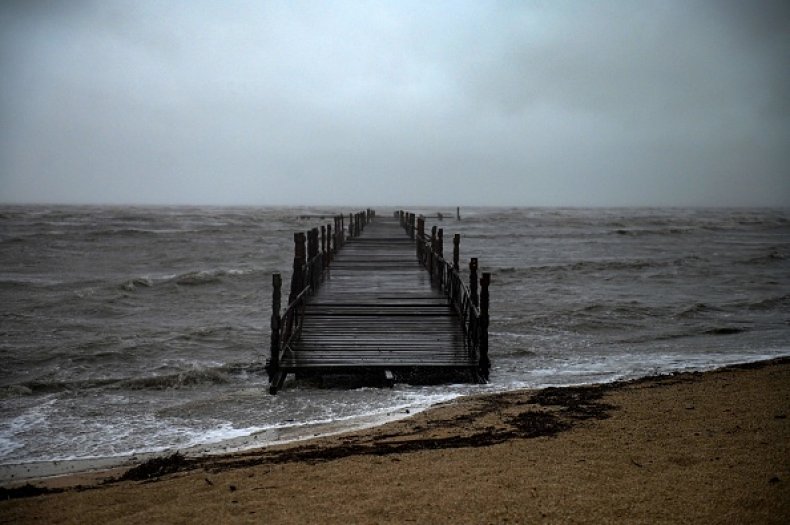 Hurricane Ida quickly went from a Category 2 storm packing 105 mph winds overnight to a Category 4 storm with sustained winds of 130 mph, in just more than an hour of observation by the hurricane center. It gained even more momentum in the daylight hours, with winds at 150 mph during the latest advisory. A Category 5 storm occurs when the winds top 155 mph
Ida made landfall Sunday exactly 16 years after Hurricane Katrina hit the same area as a major Category 3 storm that led to more than 1,800 deaths in 2005.
The governors of Louisiana, Mississippi and Alabama had each declared a state of emergency in advance of Ida's landfall, and several parishes in southeast Louisiana were under mandatory evacuation orders. The city of New Orleans, which was devastated by Hurricane Katrina, did not order mandatory evacuations as its mayor said it was "too late" by Friday night.
Ida remains a hurricane while working its way inland, and it now has a path projected to continue northward through the Mississippi River valley while likely downgrading to a tropical storm by the time it reaches north Mississippi.
Ida's path could crawl into the Tennessee Valley. Combined with the heavy rains expected during its trek, Ida could cause extreme downstream flooding that could test levees and dams. Its path is projected to work its way through the Appalachian Trail and into the eastern seaboard by Wednesday or Thursday, according to the National Weather Service.
One model shows the storm, still with some definition, hovering Washington, D.C., by Thursday.
Several parishes in southeast Louisiana had previously issued mandatory evacuations, but many who live in South Louisiana had already evacuated. This caused a major traffic jam on interstate highways and major state roads.
Ida formed as a tropical storm in the Caribbean Sea last week and gained intensity as a Category 1 storm Friday as it moved over Cuba. By Saturday afternoon, as the storm was moving northwest of Cuba, the outer bands reached from Cuba to Lafayette, Louisiana, and all the way east to the Naples and Fort Meyers region of southwest Florida.
Hurricane Ida became a Category 2 storm by Saturday afternoon, and then it developed a more, well-defined eyewall in the warm Gulf waters while churning toward southeast Louisiana.
Prior to the storm making landfall, Louisiana Gov. John Bel Edwards said Saturday that Hurricane Ida could be one of the most devastating storms to hit the state since the 1850s.
"One of the things we were told today by the National Weather Service during our unified command group meeting is that they are are extremely confident in the current track and the intensity as forecasted for Hurricane Ida. And you don't really hear them speaking very often about that level of confidence," Edwards said on Saturday.
"So, we can sum it up by saying this will be one of the strongest hurricanes to hit anywhere in Louisiana since at least the 1850s."