Hurricane Ida Photos Taken From ISS Show Storm Swirling Above Gulf of Mexico
Hurricane Ida was spotted swirling above the Gulf of Mexico by astronauts on board the International Space Station (ISS).
Photos published online by NASA show the huge storm as seen from space on August 28. In one of the images the ISS appears to be positioned almost directly over the storm's eye, providing a bird's-eye view down through its center.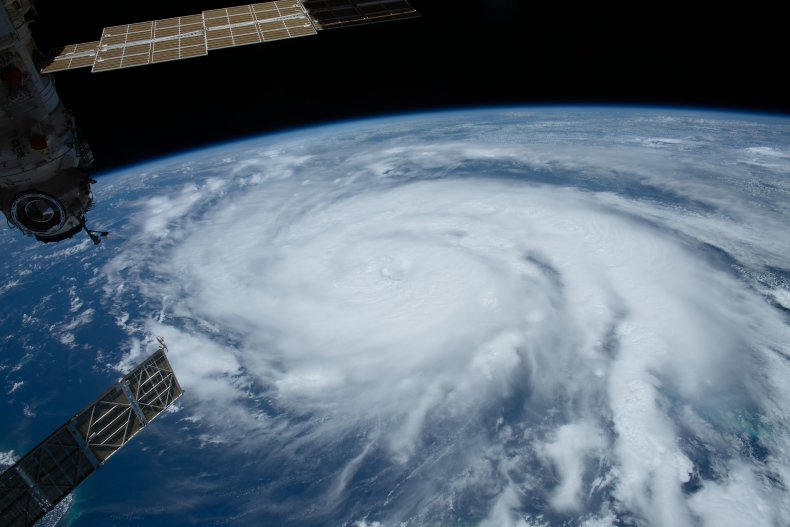 In Focus
Hurricane Ida as seen from the ISS as it orbited above the Gulf of Mexico on August 28. Millions are still without power after the storm made landfall in the U.S.
Launch Slideshow

4 PHOTOS
Additional images were shared by European Space Agency (ESA) astronaut Thomas Pesquet, who is aboard the ISS. He said on Twitter: "Looking down the eye from above gives perspective of how high these clouds are… thinking of all those affected. Stay safe!"
Hurricane Ida made landfall on Sunday and pummelled parts of the U.S., killing at least four and injuring a number of others, according to NBC.
Two of those who died were killed after a highway collapsed in southern Mississippi in the wake of the storm late on Monday. Two others are reported to have been killed in Louisiana.
Ida has also left more than 1 million people without power, the majority of those being in the state of Louisiana, according to PowerOutage.US.
The storm was reclassified from a hurricane to a tropical storm over southwestern Mississippi in the early hours of Monday, according to an National Weather Service (NWS) bulletin issued at the time.
Still, Ida continues to cause considerable bad weather and the NWS warned at 4 a.m. CDT (5 a.m. EDT) on Tuesday that "considerable heavy rain and flood threat will continue to spread from the Tennessee and Ohio valleys into the central and southern Appalachians and mid Atlantic" through Wednesday. Additional news bulletins and updates can be found on the NWS website here.
The National Weather Service in Boston warned of "significant flood potential" and very heavy rainfall from on Wednesday night into Thursday.
One Louisiana utility company, Entergy, warned in a tweet that it could take "several days" to fully assess the damage caused by the storm and restore power to customers. The company said on Tuesday morning that many areas were still inaccessible.
The ISS is useful for weather researchers due to its vantage point from space, which allows scientists to study storms using various instruments on board.
The orbiting station has advantages over geosynchronous weather satellites because it is closer to the phenomena that are taking place and can also provide worldwide coverage.
Along with Earth-observing satellites, the ISS provides data that helps NASA work with partner agencies such as the National Oceanographic and Atmospheric Administration and the Federal Emergency Management Agency to better understand hurricanes and help with response.